Lady Gaga to Host a Holiday Variety Show with the Muppets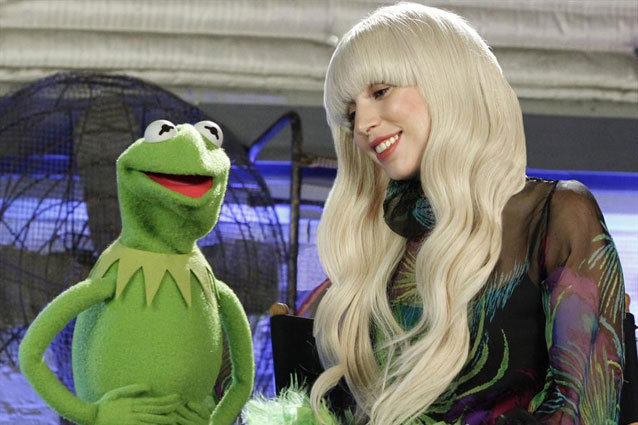 ABC
If you've ever thought that holiday specials were too boring and safe, we have some good news for you: Lady Gaga will host a holiday special this year with the Muppets — presumably in an effort to keep things both festive and family-friendly. Lady Gaga & the Muppets' Holiday Spectacular will feature songs from the singer's latest album, Artpop, as well as some traditional holiday favorites. The hosts will be joined by special guests Elton John, Joseph Gordon-Levitt, and RuPaul, ensuring that it will be the strangest holiday special the world has ever seen. 
According to ABC, the show will be an "avant-garde twist" on traditional holiday variety shows, and is apparently a "dream come true" for Gaga, who has always wanted to perform with the Muppets. She is set to duet with Kermit the Frog and have the creatures join her for a new interpretation of her lead single, "Applause." And for those who would rather watch the puppets than the pop star, the Swedish Chef, Beaker, and Animal will be on hand to put a Muppet-y twist on classics like "Deck the Halls" and "Jingle Bells." The special will also feature a sneak preview of the upcoming film Muppets Most Wanted, which will hit theaters in 2014. 
Gaga has a long history with the Muppets, having taken Kermit as her date to the 2009 VMAs and used pieces from Jim Henson's Creature Shop on her tours. However, her most famous Muppet-collaboration is the jacket she wore in 2009 that was made entirely of Kermit puppets, and might actually beat out the meat dress as the strangest thing she's ever worn. Hopefully, Gaga will avoid turning her co-hosts into clothing this time around, although we predict there will be some kind of fashion showdown between her and Miss Piggy. Gaga was also supposed to have made a cameo in 2011's The Muppets, but the sequence was cut for time. 
This is the second holiday special that the pop star has hosted for ABC, after she headlined A Very Gaga Thanksgiving in 2011. That event featured a duet with Tony Bennett, a sit-down interview with Katie Couric, and a cooking segment with celebrity chef Art Smith, in addition to Gaga performing several tracks from her second album, Born This Way. She even got into the holiday spirit with a performance of White Christmas — although, in true Gaga fashion, she wrote a whole new verse for the song (which you can see below). It's hard to imagine how the superstar will manage to top A Very Gaga Thanksgiving, which was equal parts insane and entertaining, although we're personally hoping it involves an homage to the greatest Christmas movie of all time, The Muppets Christmas Carol.
Lady Gaga & the Muppets' Holiday Spectacular will air on November 28th at 9:30 pm.