Lana Del Rey's 'SNL' to Rerun This Weekend: Will You Watch Again?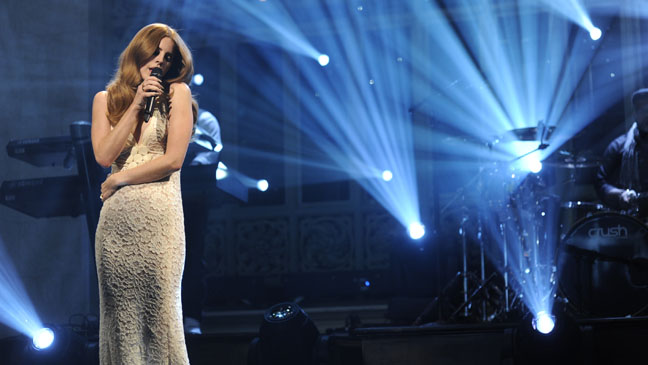 Saturday Night Live won't return with a new episode until May 5, when Super Bowl champ/America's baby brother Eli Manning hosts the show for his first time with musical guest Rihanna — but you should still mark your calendars for this weekend. It will be the first time SNL has aired Daniel Radcliffe's episode from back in January, which featured the infamous Lana Del Rey performance.
Yes, the polarizing singer who spawned immediate Internet backlash and then backlash for that backlash (including support from Radcliffe, Whitney Cummings,  and SNL's own Kristen Wiig) thanks to her wobbly numbers "Video Games" and "Blue Jeans" (her back story didn't help matters much either) will be back on television again this weekend. And you better believe you'll see cries of "Oh my God, it's just as bad as it was the first time!" and "I don't see what the big problem is!" on Twitter when it happens.
Whether or not her infamous SNL visit turns out the defining moment of her burgeoning music career remains to be seen, but the 25-year-old has been keeping as busy as possible since that fateful night. She has since released her eagerly awaited album Born to Die on January 27, 2012, and thus announced her retirement from songwriting in February to the UK edition of Vogue. Del Rey, who helped make SNL a (temporary) distant memory with some other better-received television appearances, will spend her summer touring the U.S. and the UK.
Will you tune in to watch Del Rey's SNL again or was once enough for you? Hey, at the very least you'll get to see Daniel Radcliffe dress up as a dog again! Sound off in the comments section!
[Photo credit: NBC]
More:
Lana Del Rey Lands Vogue Cover
Daniel Radcliffe Makes Comedy Magic on Saturday Night Live
Saturday Night Live Recap: Josh Brolin's Goatee and Gotye Hollywood.com