Lance Armstrong Interview Rakes In 4.3 Million Viewers: Is Oprah Back?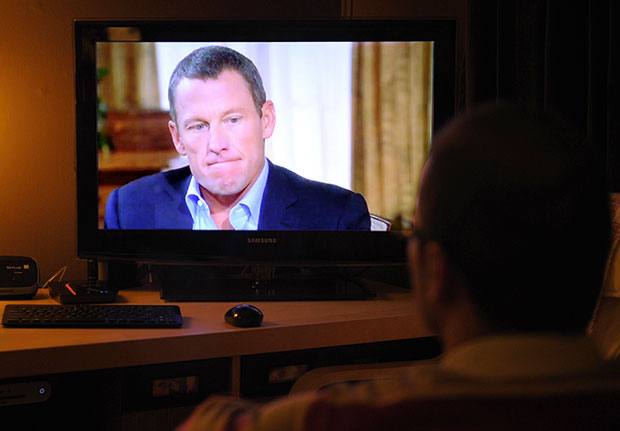 Lance Armstrong's one and only interview on his doping scandal aired Thursday night, and the ratings are in. The disgraced cyclist's no holds barred with Oprah Winfrey was expected to be a huge win for Winfrey's OWN network, but the first part of the interview — in which Armstrong admitted to doping — while big, was not a record breaker.
The much hyped sit-down averaged 3.2 million total viewers in its first airing at 9 PM, and another 1.1 million at 10:30 PM for a total of 4.3 million. While these numbers are respectable, they're nothing to write home about. The first airing didn't even top Winfrey's record-breaking Oprah's Next Chapter interview with Whitney Houston's family, (averaging 3.5 million viewers on March 11). The special's premiere is still ranked as the highest rated weekday telecast in OWN history.
What do these numbers mean for Winfrey? Is she officially back?
Not necessarily. Even when you're not comparing them to other Winfrey interviews, the numbers aren't spectacular. When you compare the Armstrong ratings to a normal week of, say, a Real Housewives episode (any city), the difference is a bit shocking. The Real Housewives of Atlanta brought in 3.7 million viewers this Sunday. And that's only one airing of the episode!
The first 90-mins of the Armstrong interview brought in 3.2 mill viewers, and the second showing brought in the remainder since they aired back to back. Winfrey had to have an exclusive, scandalous, huge, worldwide interview, and air it twice back to back in order to beat one regular, normal episode of the Housewives. That doesn't bode well for Winfrey's future, ratings-wise.
Perhaps the whole Manti Te'o controversy made Armstrong's story feel like old news before the interview even aired. Why watch this old scandalous sports controversy when we could read about this new, exciting, exponentially more bizarre one?
[Photo Credit: Getty Images]
Follow Sydney on Twitter @SydneyBucksbaum
More:
Lance Armstrong's Oprah Confession: 28 Revealing Quotes From the Interview
Lance Armstrong Confesses to Doping in Oprah Interview — Could He Face a Perjury Charge?
Oprah to Talk to Lance Armstrong. What Are Her 10 Most Awkward Interviews Ever?

54 Cutest Celebrity Kids! (Celebuzz)