Lance Armstrong's Oprah Confession: 28 Revealing Quotes From the Interview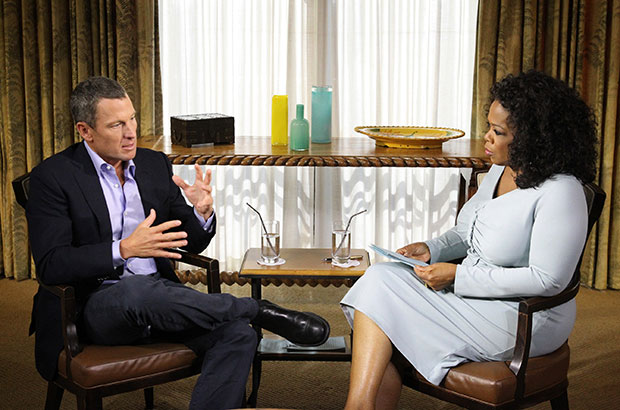 No doubt, on Monday, Lance Armstrong was forced to live strong. After all, that was the day the seven-time Tour de France winner — who has since been stripped of his medals following a doping scandal — faced off against Oprah Winfrey.
And on Thursday, audiences got the opportunity to see Armstrong put on a, well, strong face during the interview, which aired on Winfrey's OWN network. During the 90-minute episode (the first of two parts — the last hour will air on Friday), Armstrong admitted to doping during all seven Tour de France titles, confirming the New York Times report that the cyclist would confess to using banned substances. "I didn't invent the culture, but I didn't try to stop the culture," Armstrong told Winfrey. "And that's my mistake … And the sport is paying the price."
What else did Armstrong reveal? (And how happy is the cyclist that another sports star might have even more secrets to divert away from the disgraced cycling star?) See Armstrong's most revealing quotes from the interview below. The former Tour de France champion, who lost endorsement deals with Nike and Oakley following the U.S. Anti-Doping Agency's accusation against Armstrong in October, might be used to uphill climbs, but is he used to the uphill battle that awaits him? 
1) "Yes." -On whether he ever took banned substances.
"Yes." -On whether he doped through blood transfusions.
"Yes." -On whether he used other banned substances, like testosterone.
"Yes." -On whether he took banned substances during all seven Tour de France victories.
2) "Not in my opinion." -On whether it was "humanly possible" to win without doping through seven victories.
3) "I don't know that I have a great answer. I will start my answer by saying this is too late. It's too late for probably most people. And that's my fault. I view this situation as one big lie that I repeated a lot of times." -On why he's revealing his doping past now.
4) "You win the Tour de France seven times, you have a happy marriage, you have children. It's just this mythic epic story. And it wasn't true."
5) "I didn't invent the culture, but I didn't try to stop the culture. And that's my mistake. … And the sport is paying the price."
6) "I don't want to accuse anyone else … I made my decisions. They are my mistake. And I am sitting here today to acknowledge that and to say I'm sorry for that. The culture was what it was." -On what the doping culture was like.
7) "The idea that anyone was forced or pressured or encouraged is not true. I'm out of the business of calling somebody a liar, but if you ask me if it's true or not, I'm going to say if it's true or not. That is not true."
8) "I don't necessarily remember that, but I'm certainly not going to say that's a lie." -On whether he and his teammates dumped syringes within fan view.
9) "My cocktail, so to speak, was only EPO. But not a lot, transfusions, and transfusions. Which, in a weird way, I almost justified because of my history, obviously, with testicular cancer … Surely, I'm running low."
10) "The accusation and the alleged proof that they say that I doped after my comeback is not true. The last time I crossed the line, that line, was 2005." -On whether he doped in 2009.  
11) "If you're asking me somebody on the team says, 'I'm not going to dope,' and I say, 'You're fired'? Absolutely not … Look, I was the leader of the team. And the leader of any team leads by example, and there was never a direct order or directive to say, 'You have to do this if you want to do the Tour, if you want to be on the team.' That never happened. It was a competitive time. We were all grown men. We all made our choices. But there were people on the team that chose not to." -On whether he pressured teammates to dope during the Tour de France.
12) "That's not true. There was a level of expectation. We expected guys to be fit, to be strong, to perform. But I certainly didn't. I'm not the most believable man in the world right now, I understand, but I didn't do that." -On Christian Vandevelde's claim that he was pressured to dope to avoid getting fired from the team.
13) "I was a bully … I was a bully in the sense that I tried to control the narrative, and if I didn't like what somebody said, and for whatever reasons in my own head, whatever I viewed that as someone being disloyal, a friend turning on you, or whatever, I tried to control that and say, 'That's a lie. They're liars.'"
14) "This is the second time in my life where I can't control the outcome … the first time was the disease, obviously, and now."
15) "I still like to win. But I view it a little bit differently now."
16) "My response on most of these things are going to be different today." -On whether he'd still say Michele Ferrari never had a conversation with him about taking banned substances.
17) "I'd say I was both [a jerk and a humanitarian]. And we saw both. And now we're seeing certainly more of the jerk part than the activist. … I am flawed. Deeply flawed. I think we all have our own flaws."
18) "I don't look around, 'Hey Oprah, I am getting so screwed here.' … Were there days early on when I said that? Absolutely. Those days are fewer and fewer and farther and farther in between. Listen, I deserve it."
19) "Ruthless desire to win. Win at all costs, truly. Serves me well on the bike, served me well during the disease, but the level that it went to for whatever reason is a flaw. And then that defiance, that attitude, that arrogance — you cannot deny it." -On why it was worth risking it all.
20) "I didn't know what I had … I didn't understand the magnitude of that following … The important thing is that I'm beginning to understand that … I see the anger in people. … And betrayal. It's all there. There are people who supported me, believed in me, believed me, not just believed in me, but believed what I was saying, and they have every right to feel betrayed. And it's my fault. And I will spend the rest of my life — some people are gone forever, but I will spend the rest of my life trying to earn back trust and apologize to people for the rest of my life."
21) "I am happier today than I was [while using banned substances] for a whole host of reasons."
22) "I said I'm happier today, not yesterday." -On whether he's still happier today following the controversy.
23) "Because they asked me to. This is impossible for me to answer this question and have anybody believe it — it was not an exchange for any cover-up." -On why he donated to UCI, and whether it was an attempt to cover up failed tests.
24) "It's a major flaw. And it's a guy who expected to get whatever he wanted and to control every outcome. And it's inexcusable. And when I say there are people who will hear this and will never forgive me, I understand that. I do. And I've started that process. All of this is a process for me. One of the steps of this process is to speak to those people directly and to say to them, 'I'm sorry. I was wrong and you were right.'" -On why he would sue others for telling the truth about his use of banned substances.
25) "The comeback didn't sit well with Floyd [Landis] … That period began this." -On whistleblower Floyd Landis' doping accusations against Armstrong.
26) "I do. We wouldn't be sitting here if I didn't come back." -On whether he regrets his comeback in the sport. 
27) "I'd do anything to go back to that day. Because I wouldn't fight. I wouldn't sue them." -On what he thought when the USADA announced they'd be opening the case against Armstrong in 2012.
28) "I love cycling. I really do. And I say that knowing that I sound like — people will see me as somebody who has disrespected the event, the sport, the color yellow, the jersey. I did … But, if we can — and I stand on no moral platform here. It's certainly not my place to say, 'Hey guys, let's clean up cycling.' If there was an effort to, if there was a truth and reconciliation commission — again, I can't call for that. I've got no cred. [But] if they had it, and I'm invited, I'd be the first man in the door." -On whether he'd work with the USADA to clean up the sport.
[Image Credit: George Burns/Harpo]
More:
Lance Armstrong Confesses to Doping in Oprah Interview — Could He Face a Perjury Charge?
Oprah to Talk to Lance Armstrong. What Are Her 10 Most Awkward Interviews Ever?
Lance Armstrong's Scandal and Why We Can't Believe Anything Anymore

Craziest Celebrity Swimsuits (Celebuzz)