Last Minute Valentine's Day Ideas, With a Little Help From Leslie Knope and Shoshanna Shapiro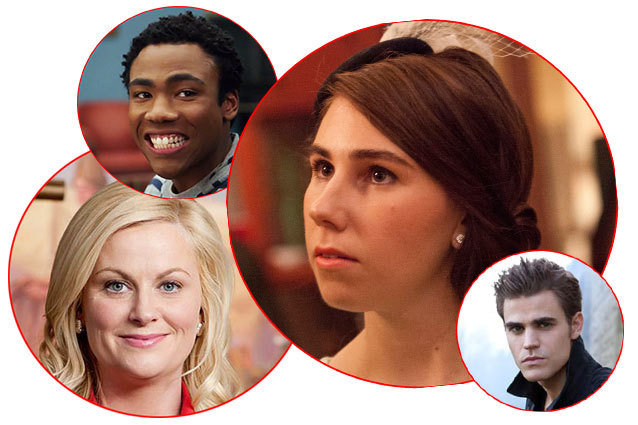 It's Valentine's Day, and if you don't already have plans, you're probably panicking right now. Luckily, you're not going to get stuck filling your cart with sparkly pink items from the dollar section at Target as a last-minute effort, because we've gathered a few fool-proof* last-minute plans inspired by your Valentine's favorite TV characters.
*Cannot guarantee fool-proof.
If your valentine is a Shoshanna Shapiro:
For starters, you can't just invite a Shoshanna to dinner. You have to wow her. Like w-o-w. Send your lady love a message written completely in emoji so that she must decode it in order to figure out where to meet you. The meeting place will be her couch (because you're currently in between apartments), with a Sex and the City 2 DVD, pink champagne, and that frozen hot chocolate mix from Serendipity. You should also be ready to cuddle. A lot.
RELATED: Valentine Cards from TV Characters – PICS
If your valentine is a Leslie Knope:
Dinner is easy. Your Leslie protege won't want a fancy dinner, she'll just want some quality time with you, so make some food at home. We suggest homemade waffles with at least one entire can of whipped cream as topping, and no matter what, do not make your lady calzones for dinner. (They are pointless.) But the Leslies of the world aren't able to take too much time to focus on themselves. Your date will probably want to make sure her single best friend is having a nice Valentine's Day too, so pack snacks (candy necklaces are recommended) for the two of you while you stakeout that beautiful tropical fish's Valentine's Day date to ensure that she too gets the happy ending she deserves.
If your valentine is a Troy Barnes:
Step 1: Give him a giant cookie in the shape of a heart. That will never not work. Step 2: Build a blanket fort and watch the real life version of Inspector Spacetime, Doctor Who, on a laptop. Very low key. Very Community college. Very Troy. The only problem is, you're probably going to have to invite your Troy's Abed along, too.
RELATED: 'Beautiful Creatures': Perfect Valentine's Day Date Movie or Dealbreaker?
If your valentine is a Stefan Salvatore:
Believe it or not, you don't need the cure for this last-minute Valentine's Day treat. If your guy is like Stefan, he's probably feeling pretty low right now, because his heart was recently broken. You've got to treat a sweet, caring guy like Stefan right, especially when he's hurt. So, keep things easy — take your Stefan on a moonlight drive into the wee hours of the morning, and when the sun starts to rise, watch it together. You'll get to have long, philosophical discussions about the nature of good and evil, and when it's time for the sun to rise, you'll get a little kissin' and cuddlin' time in too.
Of course, not every valentine will appreciate a last-minute planning frenzy, so take our advice with a grain of salt. But for the TV-loving lover, these plans will be sure to have him or her looking at you with stars in their eyes.
Follow Kelsea on Twitter @KelseaStahler
[Photo Credit: Hollywood.com]