'Last Resort' 'Badass' Autumn Reeser Tells Us What The Big Mystery is All About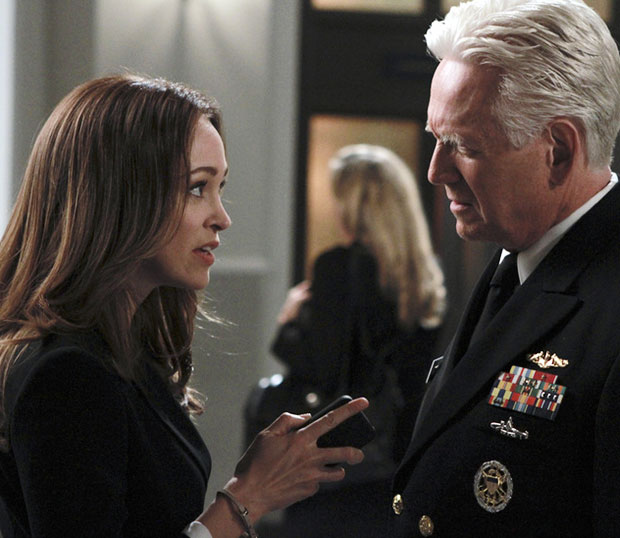 We've already established that
Last Resort
isn't another Lost reincarnate
, but it does have one thing in common with the classic ABC sci-fi series: a big, hulking mystery. Of course, the mystery is so hulking because it's made up of quite a few different parts: Who's ordering U.S. ships to attack each other? What does the prototype device on the U.S.S. Colorado do and does it have something to do with why the government is targeting its own ship? Who's on whose side? There are many questioned begged by the pilot episode of the brand-new ABC series, but when Hollywood.com spoke with
Autumn Reeser
(who plays Kylie, the D.C. weapons lobbyist) she gave us an idea of what the overarching, all-important question really is. 
"The central question of the show really is 'What is patriotism?'" she says. "And that really depends on how you individually define patriotism." Reeser points out that while most of the characters in the show view standing up for what's right — even when the person doing wrong might be the leader of your nation — as the strongest form of loving one's country, to some people, the meat of the word is in following your nations leaders. "Ultimately, it's up to you," she adds. 
And that's something her character will wrestle with this season. And Kylie's changing. "She's used to getting what she wants and it's not working anymore … she's becoming a badass," says Reeser. While we were introduced to Kylie in her underwear, straddling a hunk in her bedroom, that's not going to be the character's focus for much longer, now that the Colorado has ignited this internal war. "That's the crux of her journey this season, deciding whether to make a choice because it's right or because it's right for her," says the actress. 
Reeser was tight-lipped as to what direction Kylie's ties will fall, but she's definitely going to be on a mission as the Colorado crew continues its rebellion. Of course, she's not really able to get in on the island action (for obvious reasons), but she'll have a little adventure of her own. "She's going to have her own mini movie, All the President's Men sort of thing … It's hard to keep it tied in, but her story is central to life on the Colorado," she says. 
And with all the weight on her tiny shoulders, as well as the pressures on Lieutenant Grace on the the Colorado, and Sam's wife Christine, Last Resort is series where women kind of rock. But Reeser knew that going in. "That was one of the reasons I wanted to do this show … I love the way Shawn [Ryan] writes women characters," she says. They certainly do get their share of action and espionage on the military drama. 
The second episode of Last Resort premieres Thursday at 8 PM ET on ABC. Will you tune in?
[Photo Credit: ABC]
From Our Partners:

(Moviefone)

10 Kid-Friendly Scary Movies
(Moviefone)