'Last Resort' EPs on 'Lost' Comparisons & Scott Speedman's Romantic Potential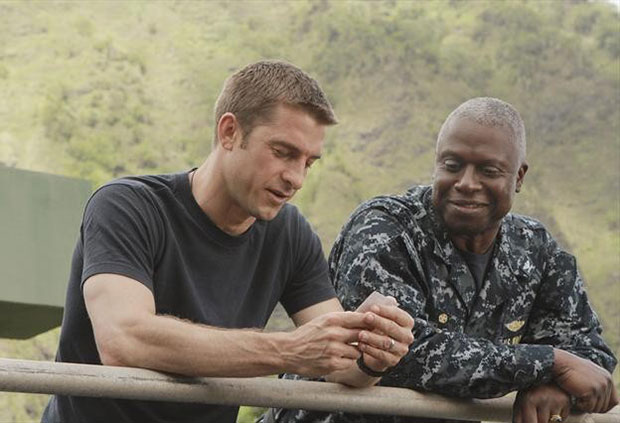 You may know of ABC's new fall drama
Last Resort
as "That Submarine Show" or "The One With Ben from
Felicity,
" but once you see the pilot episode, your notions of whittling it down to such a narrow scope will be squashed. This show has a whole lotta plot. And to help clear a bit of it up, we chatted with executive producers
Shawn Ryan
and
Karl Gajdusek
when they hopped on a conference call, and they shared a few enlightening tidbits about the intriguing new series, including just how much it resembles
Lost
and what sorts of romantic trouble we'll find star and general TV hunk
Scott Speedman
getting into.
Ryan, who's friends with both Lost showrunners Carlton Cuse and Damon Lindelof, is adamant that while elements like the crew and the island may lend the series to Lost comparisons, he works very hard to make sure it's a completely different show. "I'm kind of the Lost police in the writers room. When an idea comes up, I'll sort of be the first one to say well they did something kind of similar on Lost so we can't do it," he says.
But, the island. Aren't they stuck on some island that looks oddly like Hawaii (because Last Resort also films in Hawaii, where Lost filmed)? Yes. But it's different. "They do want to get off the island but only on the right terms, the terms being that their actions from the pilot are cleared and so in that respect I think they use this place very differently than the characters on Lost did," he adds. Ryan clarifies that for the characters on J.J. Abrams' beloved sci-fi drama were in purgatory on their island, whereas the crew of the U.S.S. Colorado is using their island as an asylum "not unlike the pilgrims landing at Plymouth Rock."
So the series is trying to make its own way. But it can't get through a season without some sort of romance, and fans of series star Speedman (especially those who knew him as Ben Covington on J.J. Abrams' Felicity) will undoubtedly be looking for his character Sam's romantic entanglements. There's just one slight issue: Sam is a married man. Ryan assures viewers, however, that a wedding band won't stop the series from exploring temptation and drama that comes with being taken away from one's spouse and plopped onto an island.
Ryan reminds us of the tale of Odysseus, who was separated from his wife Penelope by war and adventure; he eventually makes it back, but not without a few temptations along the way. Now, that's not to say we can be sure of Sam's fate, but rather the temptation he'll encounter while he's at such a distance from his Penelope. "Scott Speedman alone on an island with beautiful women all around might be too easy. For us, this problem is at the heart of what's best about the sort of sexy side of our show, which is that, it's unfulfilled very often. It's a moral problem, it's a yearning for what you can't have," says Ryan. But there's also someone — who neither EP dared to name — who's going to make things a lot more difficult for the currently faithful husband. "[He gets] pressed together with strange bedfellows and there are characters that all the sudden he can't not be around, attractive characters he can't not be around. That could lead him to the edge of temptation and we sort of think that's probably the best situation to play those sorts of stories in," he adds.
So far, the pieces all seem pretty interesting. Of course, we'll have to see what the episodes beyond the pilot may hold before we can really make a call.
Last Resort premieres Sept. 27 at 8 PM on ABC. Will you be tuning in?
Follow Kelsea on Twitter @KelseaStahler
[Photo Credit: ABC]
More:
'Revolution' Baddie Giancarlo Esposito On Life as a Post-Apocalyptic Villain
Leanne's Spoiler List: Will Finchel Get Back Together? Lea Michele Answers!