'Last Resort' Isn't Just a Submarine Show: We Take a Deep Dive (Dive, Dive!)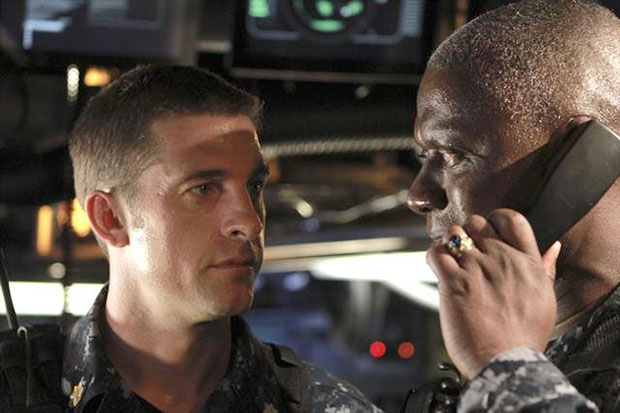 Over the next few months, we'll see new series soar, old series sour, and so much
Jersey Shore
madness, we'll want to shower. Let's face it: The Fall TV season is intimidating. With dozens of new and returning shows hitting our small screens, we know we have some big choices to make. So, to help you determine what to watch, we're digging deep into the most notable series premiering this season. Where did each show leave off? Where is it headed? And who should you watch it with? Next up is ABC's submarine show that definitely isn't the same as
Lost
, okay?
Last Resort
sails into its Thursday night slot Sept. 27, and we'll let you know just what kind of training you'll need before diving in.
New show: Last Resort
Network: ABC
Premiere Date: Sept. 27 at 8 PM ET
Stars (including Scott Speedman, in case you missed that): Some of us have been waiting to see Ben Covington (thief of Felicity's fragile, baby bird of a heart) return to TV, and now he has. Welcome aboard, Mr. Speedman. Also, Andre Braugher of the now defunct Men of a Certain Age stars with support from Autumn Reeser and Robert Patrick, an appearance from Glee's beloved Karofsky (Max Adler), and a handful of other folks whose names we've yet to learn.
Street TV Cred: It's from Shawn Ryan, the TV wizard who brought us The Shield and the fantastic, yet wildly undervalued, Terriers. He knows his way around a good drama.
What you'll have to give up to watch it: It airs on Thursday night at 8 PM, also known as one the toughest slots on television. Your DVR only allows you to record two shows, so what's going to get the boot? Last Resort is up against five network series: 30 Rock (Weekend Update until the election), Up All Night, The X Factor, The Big Bang Theory, and Two and a Half Men. You're going to need some time to think about this. I'm going to give you a minute while the rest of us enjoy this GIF:
So it's about a submarine? What else?: Well, there's a crew on the submarine. They've all got their individual problems, but no one has bigger problems than XO Sam Kendall (Speedman) and Captain Marcus Chaplain. Sam is unbearably separated from his brand-new, adorable wife and Marcus just lost his son, and of course both of them are faced with a challenge when the sub receives a questionable order to fire on Pakistan. Cue the disconnect between the upper eschelon of government commands and the crew of the U.S.S. Colorado. And it's not long before the U.S. gives Sam and Marcus an excuse to start their own rebellion on a faraway island. That's really all the information you should really know before getting into it; twisting your brain into a pretzel as you learn everything else is half the fun!
Imma let you finish, but: Before you decide you don't like it because it's "super leftist because the sub crew is fighting the government" or "far right because it's a commentary on how unhappy we are with the current (ahem, Obama) administration," just stop. The series doesn't take a political stance, but rather a human stance: Something up top isn't working, so maybe we can fix it. Now, whether or not that is possible is a fate to be seen, but then again, that's kind of the point.
"Fashion" moment: Dudes (i.e. Speedman) look great in blue camou. Take heed, men.
Wine and cheese pairing: Is there such a thing as military issue booze? Probably not. So try whatever run-of-the-mill red wine you can find and some sort of inoffensive cheese – something that a crew of navy guys could get into, like cheddar or pepper jack. Keep it simple, you'll need most of your brain power to figure out how all these plot pieces fit together anyway.
Who to watch with: Do you have a relative who was in the Navy? A neighbor? A friend who plays a lot of Call of Duty? Close enough. Invite them over. You're going to have some questions.
Who NOT to watch with: Any friend who often uses the phrase "It's just a TV show" to justify blabbing over important dialogue. There's a lot of it.
How to justify watching: "This will all make sense eventually, right?" Also acceptable: "But Scott Speedman's in it!"
What to wear while watching it: A snuggie. This is not a social event show. You won't be inviting people over for cosmos and a little Last Resort after a gourmet dinner of foie gras and figs in a balsamic reduction. Go ahead, put on your sweats. You know you've been thinking about it all day.
What to yell at the TV: "Wait, what? What's going on?" And then, to yourself: "SHHHHH" because the next important plot point is about to be revealed.
Cringeworthy moment: Washington lobbyist, Kylie Sinclair (Autumn Reeser), making out with and straddling a nameless, hot guy in her underwear while describing the capabilities of the U.S.S. Colorado submarine like she's talking dirty. Nothing gets a person all revved up like a giant, sandwich-shaped vehicle sending sonar pings into the watery abyss, right?
Character to know: Did we mention Scott Speedman is on this show? And that he's in charge and pining after his gorgeous wife who's waiting for him back in the good ol' U.S. of A? (Okay, okay. I'll stop.)
Word to the wise: Seriously. When I say the plot is complicated, I mean it's complicated. It's got more moving pieces than a Transformer. My advice? Come into this show mentally prepared to listen, watch, and absorb. Put down the iPad (the half-naked lady who shows up in the first five minutes in will help), close your laptop, tell the friend you're texting you're going to be busy for an hour, and actually watch the episode. Otherwise, you don't stand a chance of really understanding what this show's about.
Facial expression while watching:
Follow Kelsea on Twitter @KelseaStahler
[Photo Credit: Mario Perez/ABC]
More:
'Last Resort' EPs on 'Lost' Comparisons and Scott Speedman Romance
Fun with Ratings: 'Vegas' Gamble Pays Off For CBS, No Luck For 'Mindy' and 'Ben & Kate'
Get Ready for Tonight's Alien Invasion of 'The Neighbors' on ABC