'Last Resort': Jessy Schram Spills on Tonight's 'Tricky' Episode—EXCLUSIVE PHOTO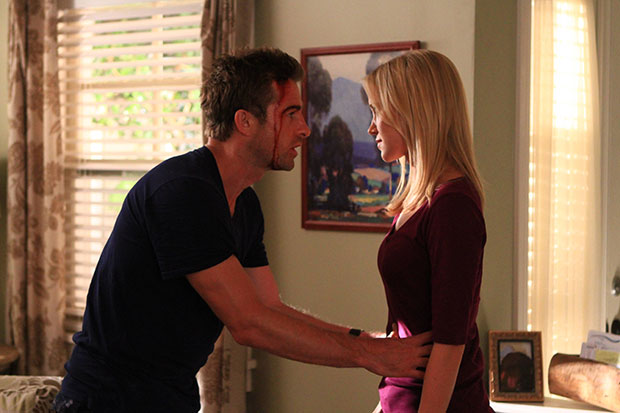 Each week the ABC freshman drama Last Resort delivers exciting twists and turns as the crew of the USS Colorado fight for the truth and their freedom—but tonight's episode "Another Fine Navy Day," presents the crew with an entirely new set of challenges. To help prepare you for the rough waters ahead, Hollywood.com has snagged an exclusive first look photo and chatted with the lovely and talented Jessy Schram to get all the details on this new and intriguing plot-twist. Plus, we discussed all those Lost comparisons floating about, and the lucky actress answers the question that many women are dying to know: What's it like to play the wife of swoon-worthy Scott Speedman?
The past five episodes have brought forth nail-biting confrontations and heartbreaking moments, highlighting each character's emotional challenges. However, Schram warns that tonight's plot will bring forth a brand new set of problems. "This episode is completely different from everything else that you've ever seen in Last Resort, but still sticking with the theme of loyalty and trusting your instincts." Schram continues, "Something gets in the waters, so in this episode you see an altered version of reality and Sam (Speedman) in particular hallucinates in different ways and so does Marcus (Andre Braugher). What comes out is really their biggest fears—the things that are closest to their hearts and really it's their subconscious and their instincts that are speaking out." Word to the wise: do not drink the water, ever.
These hallucinations are a wonderful excuse for Schram and her on-screen hubby to share some much-needed screentime. The former Once Upon a Time princess says, "For my character Christine, you'll actually see her popping up on the island, kind of revealing the dark secrets that are inside and the different things of what to trust and not. The things that you hide from yourself." Schram reveals that this episode—playfully referred to as "take your wife to work week"—was a refreshing change of scenery, but the hallucinations brought forth a new set of challenges for the actors. "It was interesting, and it was fun, and it was challenging. We're playing Christine and Sam, our characters. But it's really Sam just talking to Sam, and Christine is just the image of him so it's a very tricky episode."
Unfortunately the actress' lips were sealed when we pressed for more details about the "thing" lurking in the waters. However she did provide this intriguing tidbit: "I can't really reveal what's in the water, but it alters their thinking and it sets the island on a different pace." Sounds very Lost-ish right? Wrong. Schram was very quick to clear up the rumors stressing that Last Resort is not trying to be the "New Lost." The 26-year-old explains, "The hard part with everyone comparing us is because we're in Hawaii and we're filming it in a lot of the same locations. So right off the bat you can have a completely different setting and people will be like, 'Oh I remember this scene!' and you're like, 'Wait what? No.'"
Looking past tonight's episode Schram says that Christine's recent breakthrough has 100 percent reconfirmed her faith in her husband's innocence and allegiance to his country. "With Christine, I think she's hit a breaking point that she is going forward and she's constantly in the flow of everything and she's going to keep working with that. She's decided to trust her instincts and trust what she knows and is moving forward. [She's] playing a very quiet key of almost manipulating Paul Wells (Jay Hernandez), in the way that he is doing to her. Almost like if you can see the dragon for what it is then you can play along with it." Just try your best to not get burned, girl!
Last but certainly not least, we needed to set aside at least five minutes to gush with Schram about her genetically gifted on-screen husband. The actress says with a laugh, "You know I have been asked the question many times if I prefer Ben and, yes, I will say Scott Speedman is definitely easy on the eyes. I get to play the wife of a very attractive man, and he's a really good actor and very intense so it's fun doing scenes with him." Schram says coyly, "It's not the worst thing to see a man in uniform, I get it." Of course it's not just a show about guys with good shoulders (ahem… we loved the promo poster), the entire cast—especially the ladies—are hitting it out of the water this season. Schram concludes, "We've got this cast of good-looking guys but we've also got really strong women and really sexy women and they are intelligent and powerful and mindful so I think we have a nice balance on our show."
Don't miss an all-new episode of Last Resort tonight at 8 PM on ABC.
Follow Leanne on Twitter @LeanneAguilera
[Photo Credit: ABC]
MORE:
'Last Resort' 'Badass' Autumn Reeser Tells Us What The Big Mystery is All About
'Last Resort' Weaves a Complicated Web, But We're Willing to Untangle It
'Last Resort' Isn't Just a Submarine Show: We Take a Deep Dive (Dive, Dive!)

Kim Kardashian: 'I've Lost 10 lbs'
(Celebuzz)