'Last Resort' Star Andre Braugher on Villains That Aren't Evil and Why He's Not a Pirate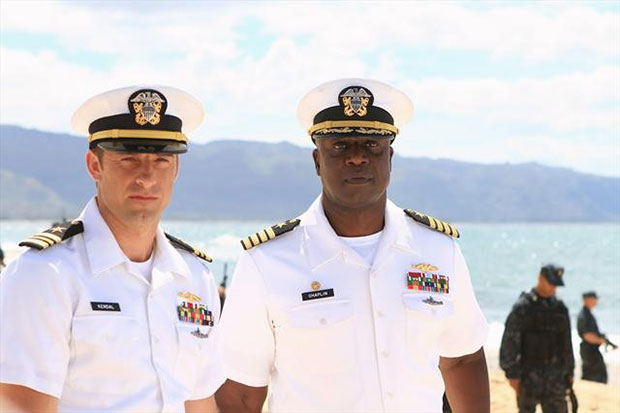 Andre Braugher is a screen presence who demands the audience's attention. No matter what he's saying, it sounds important. No ifs, ands, or buts about it. Naturally, when Hollywood.com hopped on a conference call with the Last Resort star, it was hard not take everything he said to heart, including a pseudo-defense of one character we thought was all bad-guy. 
Master Chief Joseph Prosser (Robert Patrick) simply has a sinister look about him, and when things go awry on the U.S.S. Colorado, Prosser is one of the first to oppose Captain Marcus Chaplain (Braugher) and XO Sam Kendal (Scott Speedman). According to Braugher, he may look like the bad guy, but Prosser's not pure evil (despite what that sneer suggests). "It's very important for Prosser to understand that the goal is getting home … I think he's following through on that. I think we disagree, but we understand that the goal is to get home," he says. Plus, there's the added element that Prosser is getting a little worried about what Marcus' decisions mean for him.
"Going home in this state would be perilous, so we're looking for the opportunity to go home safely and stand trial … more so for the officers than the enlisted men … The officers are responsible for the conduct of the ship," says Braugher. As a Master Chief, Prosser bears some responsibility when they get home, whenever that may be. That would make anyone a little cautious. 
And while the officers of the U.S.S. Colorado may be going against orders, don't get confused. They still love their country. It's whatever power-hungry person who's corrupting the government who's forced them to rebel. "We're patriots and we're designed to return home, not to be mutineers or pirates," he says.
Unfortunately for the entire Colorado crew, that day isn't going to come any time soon. The game is still afoot. According to Braugher, the characters we've met so far aren't even sure where the order to fire on Pakistan actually came from. "I suspect even the Secretary of Defense hasn't fully wrapped his head around it … perhaps he is being played by someone else … it doesn't look like anyone has the complete story," says the actor.
In the meantime, we've got plenty of time to explore the relationships forming on the island, including one that's not exactly romantic: Sam and Marcus. "It's a mentor relationship; it's a father-son relationship; it's a relationship of two men who really admire each other," says Braugher. Okay, okay. He did tease a little actual romance as well. "There's romance on the island … things change and we really have to think of what our relationships are," he adds.