Late Night After Hurricane Sandy: Better To Go With An Audience or Without?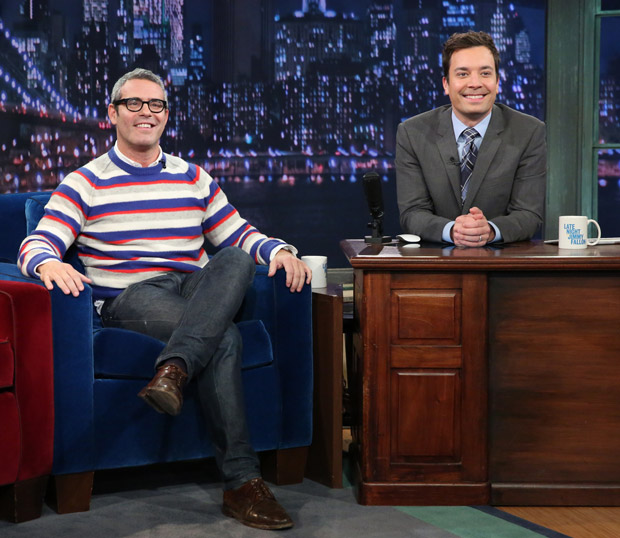 Tuesday night in New York was eerie. Much of the city was still without power and the southern half of the usually sparkling Manhattan skyline lay dark and dormant in a scene we only thought possible in a horror movie. While subways continued to lay dormant, keeping many folks from making their way around the five boroughs, many shows and movies filming in the city halted all production, but two shows decided they must go on, much like they did as Hurricane Sandy made her approach into the Tri State Area. The Late Show with David Letterman and Late Night With Jimmy Fallon continued to produce shows, even with skeleton crews thanks to the city's mass transit shutdown. If there's anything folks on the Eastern seaboard need right now, it's levity and humor, and both late night shows were determined to deliver: one with a full audience and the other without a single soul in the studio seats.
With so many people having issues getting around in the Northeast, due to transit problems, closed roads, and generally unsafe conditions, the dilemma of putting on a show for an audience or a room of invisible President Obamas empty chairs was undoubtedly a huge question for both production teams. Unfortunately for Letterman, it seems that Fallon's choice to host with an audience of resilient New Yorkers was the more effective method of the two.
While Letterman's audienceless show was marked with great levity on the part of the host and his crew, the stark silence and lack of normal technical luxuries (like title cards for Dave's usual top 10, which were replaced with hand-written poster boards) did little to lighten the mood. His set allowed for his everyday crew members to have a little fun on camera in the absence of big-name guests and audience participation, but the only thing the awkward episode managed to do was help the rest of the country understand what a weird place Manhattan is as a result of Sandy's destruction. 
Like Tuesday's Letterman, much of New York is oddly quiet, with many make-shift fixes for everyday luxuries. The problem is that Letterman's show portrayed this fact a little too well, without taking much time to acknowledge the sensation it was creating. In fact, after Letterman says how awful he feels for joking about the hurricane before it hit, he lauches into a series of so-so one-liners about the storm.
Fallon, on the other hand, had a full audience of Midtown locals (a group of people who weren't likely to get anywhere else with all the trains down), and while they were hootin' and hollerin' like nothing had happened, Fallon's monologue had a greater air of respect and poignancy than anything in Letterman's CBS broadcast. The NBC host opened his show by sincerely thanking all the men and women working tirelessly to repair the damage to both New York and New Jersey in Hurricane Sandy's aftermath, a touching, simple speech which he followed with a call and joking tutorial encouraging viewers to donate funds to the Red Cross relief fund. It was swift, unostentatious, and touching.
Plus, as soon as Fallon was done acknowledging the elephant in the room, he continued with the show as usual, making his audience giggle at a series of ridiculous Halloween pictures pulled from Instagram and making them hum in awkward amusement when he dug into guest Donald Trump with a few awkward questions about his President Obama "offer." Once Fallon had paid his respects, it was back to business as usual. The show went on, just as New York will continue to do as the days pass and services are repaired.
While Letterman showed the U.S. the deeply saddening quiet that is rampant throughout the crippled city by cutting out the audience as a measure of caution, Fallon and his boisterous studio audience assured us that while resources are scarce and the road is dark, it's okay to laugh again, New York is strong, and we're open for business.
Which late night option did you prefer?
Follow Kelsea on Twitter @KelseaStahler
[Photo Credit: Lloyd Bishop/ NBC]