Late Night Last Night: Christian Slater Is Engaged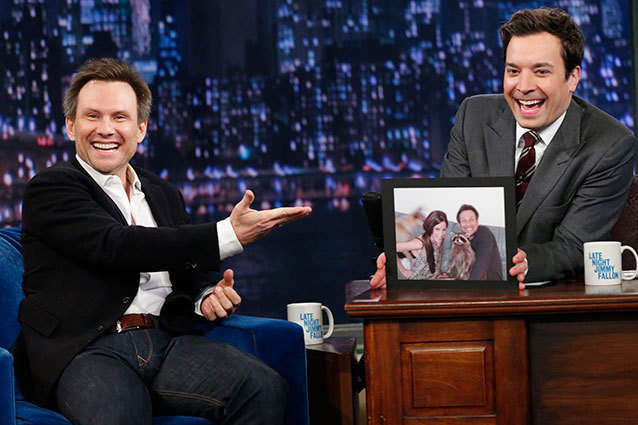 If you are trying to keep your personal life a secret, it might be wise to avoid going on Late Night With Jimmy Fallon, because the talk show host doesn't seem to have much of a problem with sharing his guests' private affairs. That's exactly what Fallon did Thursday night when he revealed that Christian Slater is engaged.
"Congratulations are in order to you," Fallon said, as Slater sat down in the interview chair. "You're engaged." Slater responded: "Oh yeah. That's true."
RELATED: Late Night Last Night: Nicholas Hoult Impersonates Stewie Griffin
But despite Fallon sharing Slater's news with the whole world, Slater was quite open to talking about how he met his fiancee, Brittany Lopez, in Miami. "I went down to Miami a couple of years ago, stayed at this place called Little Palm Island… and this girl came walking along with another lady, a slightly older lady," he said. "I was sitting in my usual spot, eating my oatmeal that morning. This spot was famous for people proposing to each other, actually. Next thing I know, she gets down on one knee and proposes to this older lady. I was like, 'What's going on here?'"
Slater decided to investigate. "So, I thought I had just witnessed a nice lesbian engagement, so I was [going] over to say congratulations," he said. "But it turns out it was her aunt, and she was just trying to help her aunt capture the beauty and the romance of the part. She was making a joke."
RELATED: Late Night Last Night: Stephen Colbert and Jimmy Fallon Perform a Duet
After that, it was a sealed deal for Slater and his love. "Next thing I know we were hanging out in the Everglades," he said.
But even though he had met the love of his life, Slater was still nervous to meet his soon-to-be father-in-law, a guy who owns a asphalt company. "The concern that I had was that he would know where to hide the body if I screwed up," Slater said. "But he turned out to be an incredibly sweet guy."
Follow Lindsey on Twitter @LDiMat.
[Photo Credit: Lloyd Bishop/NBC]
---
From Our Partners:


25 Most Scandalous Celeb Twitpics (Vh1)


33 Child Stars: Where Are They Now? (Celebuzz)