Late Night Last Night: Hosts React to Boston Marathon Explosions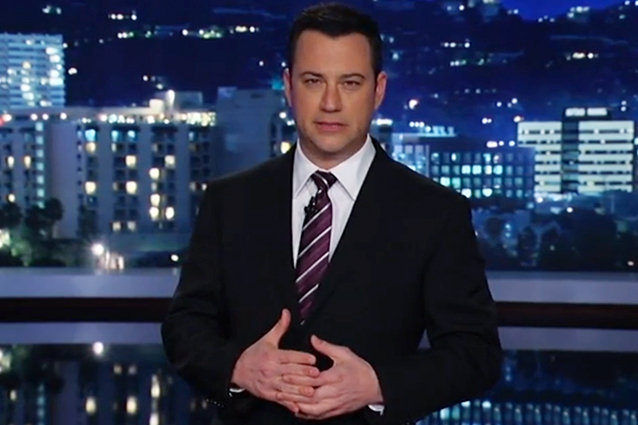 After explosions went off near the finish line of the Boston Marathon leaving three dead and 144 injured, it seemed fair that TV's late night hosts would start their opening monologues not with jokes, but with some words about the day's tragic events. While Jimmy Fallon, David Letterman, and Jay Leno aired reruns Monday night, Conan O'Brien (originally from Boston), Jimmy Kimmel, and Craig Ferguson jumped right in to discussing the pain of the shocking bombings.
Conan O'Brien: "We have a great show for you tonight. But first, I did want to start by mentioning what an upsetting and sad day it has been. I'm talking about what happened in Boston. Boston's my hometown. It's where I grew up. It's where my family lives. So I wanted to take a moment to say that like everyone here, my thoughts and prayers are with the people of Boston and everybody who has been affected by this absolutely senseless act. It's important to say, right up top. That said, it is our job to do a show, and we're going to try and entertain you the vey best we can. Which, given our track record, gives you people a 20% chance of having a good show tonight."
Jimmy Kimmel: "Well, it was a terrible day. Very bad things happened today for no good reason. And our thoughts are with the people of Boston and everyone who is suffering as a result of the bombings at the marathon. It's a disgusting thing. I don't understand it. But my job is to make you laugh, so I will try to do that. And I will probably fail. I'm failing already.
Craig Ferguson: "Hey everybody, good evening. Tonight's show is a little bit different. Obviously the news of today is so horrendous that it would seem insensitive at best to say, 'It's a great day for America,' so I won't be starting the show with that tonight. Is anyone else sick of this sh**? I seem to have to say that too often."
Ferguson continued, "People say to me, 'Craig, your job is to make people laugh at the end of the day.' And I think, yes, that's true, but I've never professed to be any damn good at that. And, the thing is, people want their mind taken off it. And I think, 'Well OK, if you want your mind taken off it, you know, watch a cartoon or a video or something.' I understand it, it's perfectly acceptable. I don't think it's a terrible thing to not want to think about it, but I can't not think about it."
"Also, I have a personal connection with the city of Boston," Ferguson added. "I have some history there. I have family there. When I became an American citizen in 2008, I spoke at Faneuil Hall on July 4, at the invitation of Tommy Menino who is the mayor of Boston, and one of the more colorful characters in American politics… I've been there for the Fourth of July many times… and every cop in Boston looks like I'm his brother. My first stand up special in America, I shot it in Boston. I like that town. I'm appalled by this thing, and when I watch it on these streets that I know… it's horrifying."
He ended his opening monologue with: "If I have all this inside of me. If I have all this rage and anger and distress and upset inside of me, I'm not a good enough comedian to hide all that from you."
Follow Lindsey on Twitter @LDiMat.
More:
Boston Marathon Tragedy: How You Can Help
Boston Celebs React to Boston Marathon Blasts
President Obama Speaks About Boston Marathon Bombings
---
From Our Partners


Jessica Alba Bikinis in St. Barts (Celebuzz)


Which Game of Thrones Actor Looks Least Like His On-Screen Character? (Vulture)