Late Night Last Night: James Franco Undresses His Boy Doll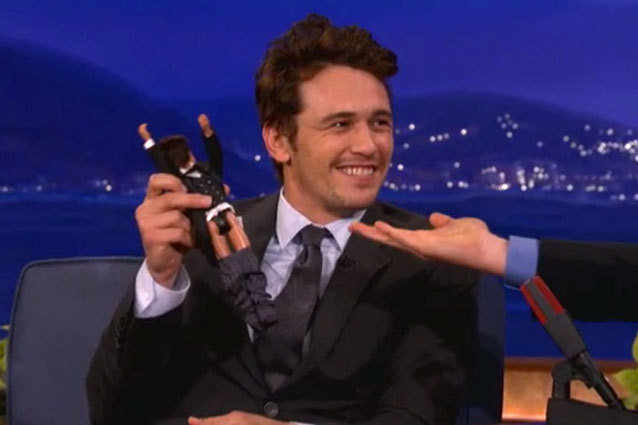 You were once a little kid, so its likely that you once played with Barbie dolls. Even if you are a guy, one little girl probably forced you to sit there one day with her and play make believe. And Barbie even had a male counterpart for the little boys who were forced to participate in Barbie playtime. His name was Ken. The only problem with this doll was the fact that he lacked any sign of male genitalia. Well, it seems like the anatomy problem still exists today.
On Thursday night, James Franco visited Conan O'Brien and discussed his newly released Oz the Great and Powerful dolls. He revealed that when he was on set shooting the film, he took one of his male doll's clothes off to see if the toy's producers had made the doll anatomically correct. He came to find out that they didn't. The only hint of the doll's male gender was the fact that they had painted on black briefs over what was supposed to be the private area.
RELATED: Oz to Work Box Office Magic
That was doll one. Disney also made a second doll, which Franco had yet to undress. But Thursday, he took the doll's clothes off only to discover the same situation as before. Of course, O'Brien had to undress his own doll too. After all, why should Franco have all the fun playing with toys?
Follow Lindsey on Twitter @LDiMat.
[Photo Credit: TBS]
---
From Our Partners:


Kim Kardashian's Maternity Style: So Wrong? (Vh1)


60 Celebrity Bikini Bodies: Guess Who! (Celebuzz)