Late Night: Jay Leno Slams NBC Again — VIDEO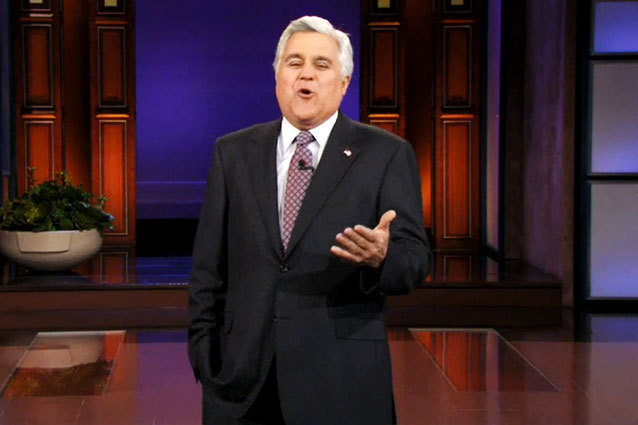 Sometimes, late night hosts like to take a few swings at the networks that pay their bills, but in recent days, it sounds like one host may have gone a bit too far for his own good. On Tuesday night, Jay Leno made a joke about NBC's poor ratings — marking the second time he has slammed his network this week!
"Did you hear about this? A 28-year-old woman from Serbia has a rare brain condition where she sees everything upside down," Leno said during his opening monologue for The Tonight Show. "The good news? She's now been given a job at the White House as President Obama's economic adviser…" He added: "Isn't that crazy? It's unbelievable. She sees everything upside down. In fact, she thinks NBC is at the top of the ratings."
RELATED: Will Jimmy Fallon Steal Jay Leno's Spot?
On Monday night, Leno compared his network's executives to "snakes." And back in February, Leno also slammed the network for moving down to fifth place during sweeps month. "For the first time in history NBC is going to finish fifth in the ratings period," Leno said. "We are behind the Spanish-language network Univision — or as we call it here in Los Angeles: Cinco de Ratings." He also said: "It's so bad, The Biggest Loser isn't just a TV show anymore; it's our new motto" and "It's so bad, NBC called Manti Te'o and asked him to bring in some imaginary viewers."
According to the The New York Times, NBC entertainment executive Robert Greenblatt sent Leno an email after the February episode, complaining about Leno's actions.
Watch Leno's most recent joke in the video below.
Follow Lindsey on Twitter @LDiMat.
[Photo Credit: NBC]
---
You Might Also Like:


Topanga's Revealing Lingerie Shoot: Hello '90s!


25 Stars Before They Were Famous