Late Night Last Night: Justin Timberlake and Jimmy Fallon's Summer Camp Sing-Along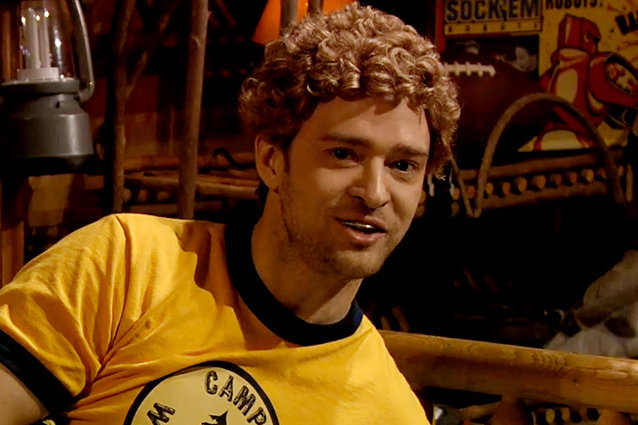 This past week has been an insane one on Late Night with Jimmy Fallon, thanks to nightly appearances by guest cohost Justin Timberlake. On Monday night, Timberlake and Fallon had a long chat about Saturday Night Live, Timberlake's new album, and Timberlake's beef with Kanye West. Tuesday, the two brought "Sexy Back" as "Ragtime Gals." Wednesday, they got a little handsy with a few stray prosthetic arms. And Thursday, which marked Day 4 of Timberlake's takeover, the men went back to 1983 in a skit about their days at sleep-away camp.
RELATED: Justin Timberlake, Steve Carell Nearly Molest Jimmy Fallon
In the skit, young Fallon and Timberlake, braces and all, got in trouble three times for singing Toto's "Africa." No matter how good these guys are at performing, let's just say that this is a song that should have been left in the past.
Follow Lindsey on Twitter @LDiMat.
[Photo Credit: NBC]
---
You Might Also Like:


14 Movies That Are, Surprisingly, Not Porn


Stars Who Have Lost Roles For Being Too Hot (Celebuzz)