Late Night Last Night: How Does Justin Timberlake REALLY Feel About Kanye West?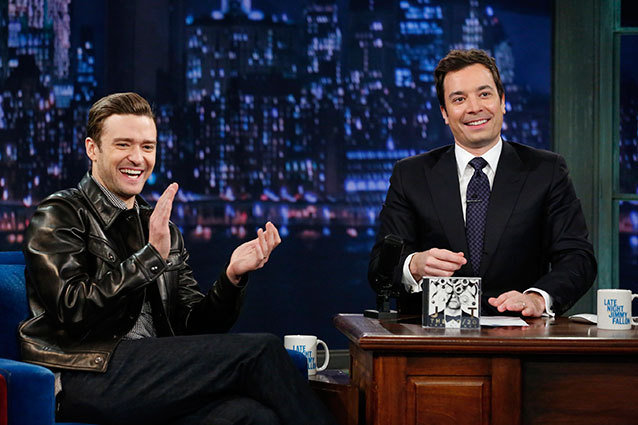 For anyone who watched Saturday Night Live this past weekend, you might have noticed that Justin Timberlake changed the lyrics to his hit song, "Suit & Tie," to include a diss about Kanye West. He switched up "Aww, s*** so sick, got a hit and picked up a habit" to "my hit's so sick, got rappers acting dramatic." This was Timberlake's response to Kanye talking smack about the single back in February. Well, on Monday night, Late Night with Jimmy Fallon's Justin Timberlake week kicked into action with Fallon asking the singer about the changed lyrics.
RELATED: Justin Timberlake Joins the 'SNL' Five-Timers Club
Timberlake tried to play coy at first and said, "I don't remember that." But then he switched his tune. "You know everyone, really, keep calm," he said. "Keep calm." Timberlake even went as far as to admit that he "loves" Kanye: "For the record… I absolutely love Kanye so there's that."
Timberlake got his chance to slam Kanye back for making fun of his single. Now, it's time move on… or for Kanye to return the volley.
Follow Lindsey on Twitter @LDiMat.
[Photo Credit: Lloyd Bishop/NBC]
---
You Might Also Like:


8 Male Stars With Tramp Stamps


Stars Who Have Lost Roles For Being Too Hot (Celebuzz)