Late Night Last Night: Bar Refaeli Talks Super Bowl Ad, Advises Leno on Kissing Ability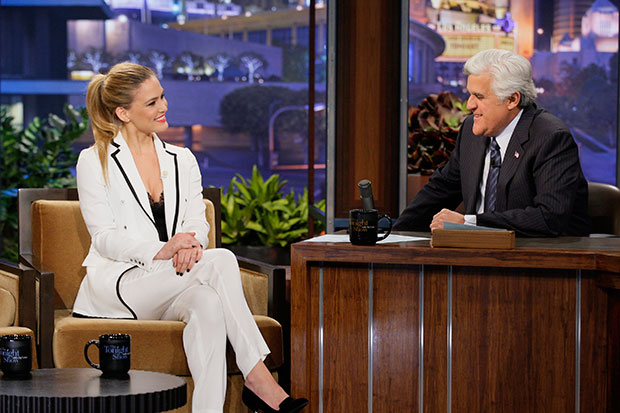 There are so many things wrong with that GoDaddy Super Bowl commercial. You know the one we're talking about. Danica Patrick, oddly not in a state of undress, shows that the web hosting company is both sexy and smart. The sexy side of GoDaddy is represented by Bar Refaeli. The smart side by actor Jessie Heiman as resident geek Walter. The implication is that smart and sexy are mutually exclusive, and that Refaeli — because she's a model, and because she's blond — isn't smart. Damn you, sexist stereotypes!
RELATED: Late Night Last Night: Justin Bieber Plays Basketball with Ramen and Chuck Norris
Of course, the subtext of the ad wasn't really what people have been talking about since it ran Sunday night. Just the gross-out factor of that wet, sloppy, noisy kiss, when smart smooches sexy. Because, psychologically, we're all still in high school. So that's all Refaeli talked about when she stopped by The Tonight Show Wednesday night to tell Jay all about it and have "Walter" give him a little kissing tutorial. "Any chance we could recreate the ad?" Jay asks the model 35-years his junior. "Pucker up," Refaeli replies. Check it out.
Follow Christian Blauvelt on Twitter @Ctblauvelt
[Photo Credit: Paul Drinkwater/NBC]
---
You Might Also Like:

 Adam Brody, Leighton Meester Dating?

'Smash' Crashes in Ratings: What Went Wrong

'Walking Dead' Tops Deadliest Shows: Exclusive