Late Night Last Night: Christopher Walken's 'Cowbell' Skit Resurrected — VIDEOS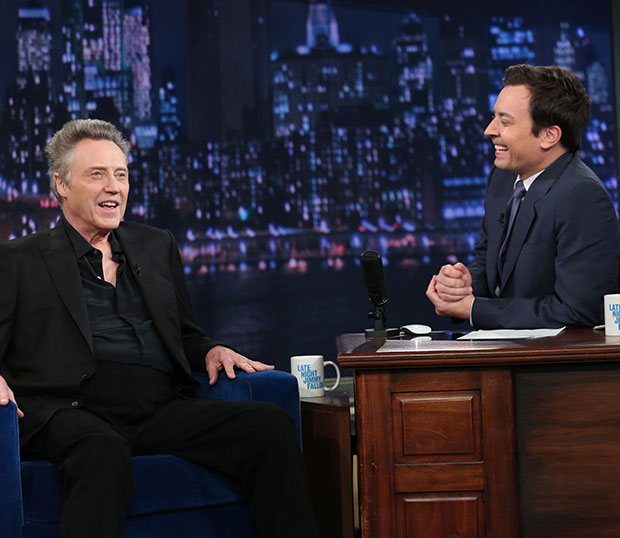 It has been more than 12 years since Christopher Walken and Will Ferrell debuted the epic "Cowbell" sketch on Saturday Night Live, but over a decade later, fans are still recalling the infamous TV moment. In fact, Walken still has to deal with fans ringing cowbells when they know he's about to take the stage. You would have known that if you watched Late Night with Jimmy Fallon Tuesday night. But maybe late night TV programs like Late Night and Jimmy Kimmel LIVE! come on after your bedtime. We get it. It's late, and you are tired. If that's the case, and you missed Walken's walk down memory lane, don't worry. We've got you covered.
Here's what you missed last night on late night TV:
Late Night with Jimmy Fallon
Christopher Walken shared some memories of working in the NBC building when he was younger. He also chatted with Fallon about his days hosting Saturday Night Live, specifically that well-remembered "Cowbell" sketch. "When we did it with the great Will Ferrell, and he was hilarious, there was no way to know that it would catch on like that," Walken said. "It haunts me. It follows me around. I did a play a couple years ago in New York, and people would bring cowbells and bang them at the curtain call. It's the most famous thing I ever did." Fallon also reminded his audience that Walken's new movie Seven Psychopaths comes out this weekend.
Part 1
Part 2
Part 3
Jimmy Kimmel LIVE!
Megan Mullally talked about traveling with her husband to vast, exotic locations… like Cleveland, Ohio. "We did stay at the glamorous Hilton in a suburb of Cleveland," she said. "There was a lot of action at the Hilton." Mullally also revealed a very shocking secret: "I have a mole that can predict the weather. I've never told anyone, and I just felt like this is the time." The mole is actually on Mullally's "left butt cheek." Maybe she should schedule a visit with Nip / Tuck's Dr. Christian Troy. He could probably take care of that and offer Mullally some extra patient incentives, if you know what I mean.
Part 1

Part 2

Part 3

Late Show with David Letterman
Big boy funny boy Kevin James told Letterman how he gained weight since filming Here Comes the Boom. "We shot the movie about a year and a half ago," he said. "A couple of things happened in between then and now. You know that they sell peanut butter and jelly in the same jar? I did not know. It's a life changer. Also, Wendy's came out with the Baconator. Six slices of bacon, one burger. The train went off the track." We feel for ya, James. Who can resist six slices of bacon? Not me.
The Tonight Show with Jay Leno
Tyler Perry got to go on a great, long vacation this summer (must be nice) and is also working on getting his pilot license. On his 41st birthday this past Setember, Perry performed his first solo flight, and told Leno that he is a safe pilot. Do you believe him? Perry also went on a workout regime for a cover article interview with Men's Health magazine, and for his new movie, Alex Cross. "I lost 30 for the movie, and 30 for that [the interview]," he admitted. "I was doing this Krav Maga [How I Met Your Mother style]. I was working out and running every day." Letterman, on the other hand, is on the "pizza and doughnuts" plan. "I alternate with crullers," he laughed.
Part 1
Part 2
Follow Lindsey on Twitter @LDiMat.
[Photo Credit: Fallon]
More:
Late Night Last Night: Ben Affleck Visits Jimmy… and Jimmy
Late Night Last Night: Politics and Babies on the Brain
The Least Normal Things About 'The New Normal': Fake Wedding Edition