Late Night Last Night: Dog Pee Ruined Lea Michele's Spray Tan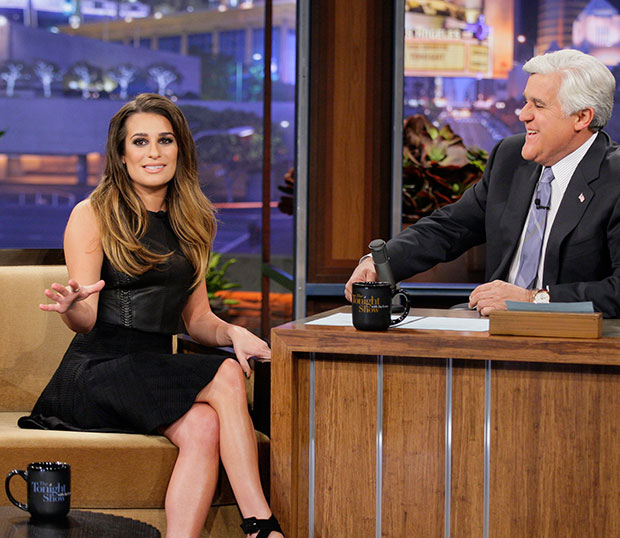 The number one rule when you get spray tanned is that you aren't supposed to get wet for hours after they apply the spray. If you don't follow that rule, you face the horrible and unattractive result: streaking. No one who is an ardent spray tanner ever wants to deal with this, so that's why you sit all day feeling sticky and oily counting down the minutes until you get in the shower and scrub the goo off. Unfortunately, after a recent spray tan session, the unthinkable happened to Glee star
Lea Michele
. She revealed to Jay Leno Monday night that she wasn't able to make the suggested eight hour wait period before her skin came into contact with liquid. A dog peed on her lap and left her with bizarre streak marks across her legs.
Here's what you missed last night on late night TV:
Late Night With Jimmy Fallon
Chelsea Handler complained to Fallon about his studio lacking amenities. "You guys don't have bathrooms in the dressing rooms and there's like an air conditioning situation," she said. "Very hot, and there's nowhere to relieve myself." And then she bragged about her awesome studio for Chelsea Lately. "I drove in the first day, and I couldn't even believe my eyes that anyone would spend that kind of money on someone who doesn't even like to work," she said. Fallon cleared the air and said that the studio was actually built for Conan O'Brien. Besides that, Fallon played a clip of Will Ferrell riding around in a golf cart on the set of Handler's show. What a weird promo twist!
Part 1
Part 2
Jimmy Kimmel LIVE!
Jessica Lange talked about life before her movie role as Dawn in the 1976 hit, King Kong. "I studied mime," she said. "I lived in Paris. And then at a certain point, I decided there wasn't a great future in mime." Then she moved back to NYC, started acting classes, and one day got a call out of the blue to audition for King Kong. The rest is history. Now, she's the star of American Horror Story.
Part 1

Part 2

Part 3

The Tonight Show With Jay Leno
Poor Lea Michele has no clue what to do during an earthquake. She doesn't even have a flashlight. But when it comes to her safety, Michele is more worried about rescuing her cat. "I would just have to find my cat at home," she told Leno. "That would be my number one priority." Work wise, Michele is recording a new album that won't be including cover songs. "It's all original pop music," she said. She also shared an unfortunate incident of a spray tan experience that had gone wrong. "You can't wash it off for eight hours," she said. "I put my feet up to take a nice little lunch break and one of the managers had their dog, and the dog jumped on my lap. He went over to pick up the dog, and the dog peed all over me. Because I didn't wipe off the spray tan yet, it left pee streaks all over my leg." She also cleared up that she's not pregnant: "I really felt like I'd finally made it. Having your first fake pregnancy rumor, it was really awesome."
Part 1
Part 2
Conan
Mad Men star Jon Hamm has threatened to kick Breaking Bad actor Bryan Cranston's butt if Cranston wins one more Emmy. "He said that after my second one and then I won a third," Cranston told O'Brien. "He did nothing. I have more resistance to him than a Hasidic Jew."
Follow Lindsey on Twitter @LDiMat.
[Photo Credit: Paul Drinkwater/NBC]
More:
Late Night Last Night: Kristen Stewart on 'Leno' Vs. Robert Pattinson on 'Kimmel'
Late Night Last Night: Kristen Stewart, Hayden Panettiere Voted with Absentee Ballots