Late Night Last Night: Ewan McGregor and Jimmy Fallon Reveal the 'True Facts of Truth'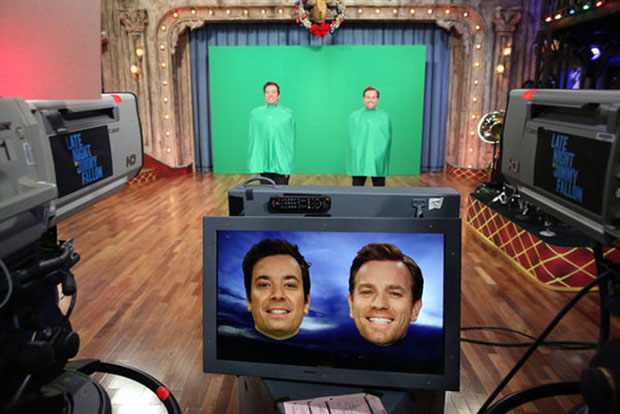 Leave it to Jimmy Fallon to get Ewan McGregor to do a completely ridiculous video about utter nonsense. On Monday night, the late night host and The Impossible star revealed a rather goofy video titled "True Facts of Truth with Ewan McGregor." But these "true facts of truth" aren't facts that you're going to have to fact check because they just can't be found on Wikipedia, or Google for that matter. These "facts" are more like a list of false statements, opinions, and silly goofiness.
Prepare for a giggle… especially, when you hear Fallon's pretend English accent.
True Facts of Truth:
Fallon: "The world's largest pumpkin was around the size of Poland, weighed over 60 pounds."
McGregor: "Sharks are afraid of heights, which is rarely why you see them at the top of buildings."
Fallon: "After working on the pyramids, the ancient Egyptians would quench their thirst with Orange Fanta."
McGregor: "The word 'bagel' is old English for butt-hole bread."
Fallon: "Kangaroos have a pouch on their stomachs to carry their babies and their iPhones."
McGregor: "Henry Ford's first model car had 600 wheels. It was later narrowed down to four."
Fallon: "Ducks enjoy movies, but they don't enjoy twist endings."
McGegor: "85 percent of men have enjoyed cheese burgers, but only 74 percent of them are aware of it."
Fallon: "Christopher Columbus' parents were going to name him Catherine if he was a girl."
McGregor: "Benjamin Franklin was a great inventor, but he was also ugly."
Fallon: "Soccer ball and basketball have the same shape, but football does not."
McGregor: "Sometimes it's fun to imagine a cat at a typewriter."
Watch the video below for a few good laughs.
Follow Lindsey on Twitter @LDiMat.
[Photo Credit: NBC]
More:
Golden Globes: 6 Reasons Why 'Salmon Fishing in the Yemen' Got 3 Major Nods
'The Impossible' Cast on Recreating a Terrifying Natural Disaster — EXCLUSIVE VIDEO
Win Tickets to See 'The Impossible' and a Q&A with Naomi Watts and Ewan McGregor

'Jack Reacher': The Beginner's Guide To The New Tom Cruise Movie

'Les Miserables' Unscripted: Hugh Jackman, Anne Hathaway On Singing And Being Modest