Late Night Last Night: Gov. Chris Christie Eats Doughnuts and Reads Fat Jokes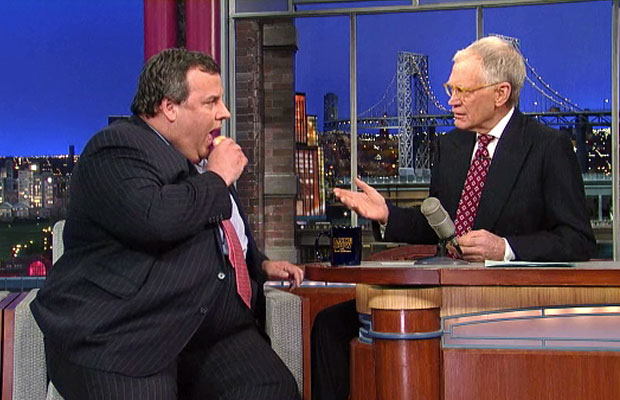 There's no question about the fact that people are insecure about their bodies, and usually find it offensive when someone cracks a joke about their weight. But not New Jersey Governor Chris Christie — he actually finds some of the jokes that are made about his obesity rather entertaining, especially when David Letterman is the one making them. Christie shared his feelings about the topic with Letterman on Monday night.
"How do you feel about me?" Letterman asked. "I love you, Dave," Christie replied. "A love that I have a difficult time really explaining. A deep and abiding love."
RELATED: Late Night: Matt Damon Is In Command of Kimmel's Ship
Letterman was confused by Christie's answer. "But I've made jokes about you," he said. "Not just one or two. Not just on-going here and there, but…" Christie paused Letterman from going on by taking a bite out of a doughnut. Point made, Christie.
But that didn't satisfy Letterman, and he continued to ask if his jokes hurt Christie's feelings. "I only care if you're funny," Christie said. "From my perspective, if the joke is funny, I laugh, even if it's about me. If it's not funny, I don't laugh. But I've never felt like it was anything that bugged me all that much." Christie admitted that he only found about "40 percent" of the jokes funny, though.
RELATED: Late Night: Kevin Spacey Impersonates Al Pacino
To drive his point home, Christie read of some of the jokes that Letterman has made about his weight in the past. Check out his favorites below:
Follow Lindsey on Twitter @LDiMat.
[Photo Credit: CBS]
---
You Might Also Like:

Biden? Ford? Surprisingly Hot Young Pics of Politicians

Who Wore This Crazy Hat?

Stars Who Changed Their Look After Love