Late Night Last Night: Jennifer Lawrence Got a Lap Dance from Little Bo Peep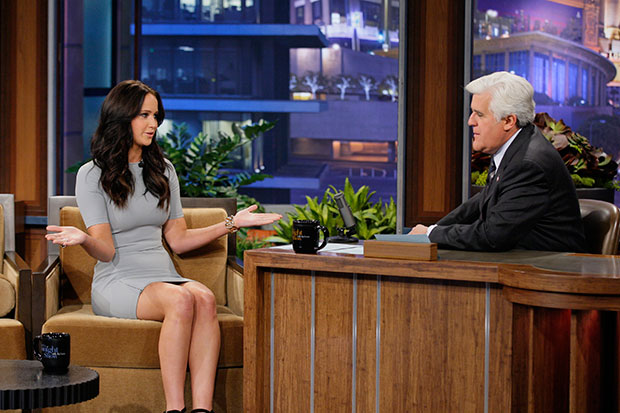 Confessions. Some of them are appropriate to relay to the masses. Others, well, just aren't. Monday night was confession night for some of those topics that are better left unsaid. Jennifer Lawrence visited Jay Leno and shared a disturbing experience about an old stripper going just a little bit too far during a lap dance. And Jessica Biel found it necessary on Letterman to describe an unforgettable scene when two large, elderly men dropped their pants in a spa. Did they go too far with these confessions? You be the judge.
Here's what you missed last night on late night TV:
Late Night With Jimmy Fallon
Zooey Deschanel talked about getting nominated for her first Grammy (Best Song Written For Visual Media) and the start of her song-writing career. "The first song I ever wrote was a very complex song," she said. "It was called, 'My Name Is Zooey Deschanel.' The lyrics were, 'My name is Zooey Deschanel, Zooey Deschanel, Zooey Deschanel.'" Very complicated. She also talked about the special New Girl Thanksgiving special episode. "We have an amazing group of people for [the] Thanksgiving episode," she said. She revealed that Rob Reiner and Jamie Lee Curtis will but guest-starring, playing her parents. And, Rob Riggle will be playing Schmidt's cousin.
Part 1
Part 2
Jimmy Kimmel LIVE!
Eric Stonestreet admitted that he wasn't drunk at the American Music Awards this year. He also talked about how he prepared to play the role of his gay character, Cameron, on Modern Family. "I spent a few nights in West Hollywood," he said. "Jesse took me out. We went to all the clubs."
Part 1

Part 2

Part 3

Late Show With David Letterman
Jessica Biel had a terrifying experience recently while at a spa. She got stuck between two "older, husky" guys. "They are butt naked," she said. "I look over and I realize, 'Oh my god. Yes. It's confirmed. There are balls on wood.' Not just naked, but balls on wood. That's not okay." Her friend had to rescue her from the uncomfortable scene.
Paul Rudd's Top 10
Paul Rudd also presented a top 10 list of the thoughts that went running through his head when audience member at a performance of his play, Grace,
barfed all over the crowd
from the balcony above.
The Tonight Show With Jay Leno
Honey Boo Boo caused Jennifer Lawrence to get in a fender bender recently. "I was driving home from work and I thought I saw Honey Boo Boo," she said. "It was a breast cancer parade and people were wearing… now I know it said boobs on the thing [sash], but I thought it was saying Boo Boo. Then I saw a little girl and I was like, 'That's Honey Boo Boo.'" Lawrence then rear-ended the person in front of her. Oops! But that's not the only oops that Lawrence had to deal with in Georgia. Lawrence recently went to a strip club with "senior citizen strippers." "I got a lap dance from Little Bo Peep," she said. "She goes, 'I'm going to bend over and don't you touch me.' I was like, 'Don't you worry 'bout it.' And then she inserted her breast into my mouth. I almost took a bath in hydrogen peroxide." Yikes!
Part 1
Part 2
Follow Lindsey on Twitter @LDiMat.
[Photo Credit: TK]
More:
Late Night Last Night: Matthew Fox Tries on Mitt Romney's Pants — VIDEO
Late Night Last Night: See Christina Applegate's 'Up All Night' Butt Double
Late Night Last Night: Tina Fey Fears for Tracy Morgan

American Music Awards 2012: The Complete Red Carpet Arrivals (PHOTOS)
(Celebuzz)

Justin Bieber, Selena Gomez Seen Together at American Music Awards After-Party
(Celebuzz)