Late Night Last Night: Jennifer Lawrence — 'You Can't Offend Meryl Streep'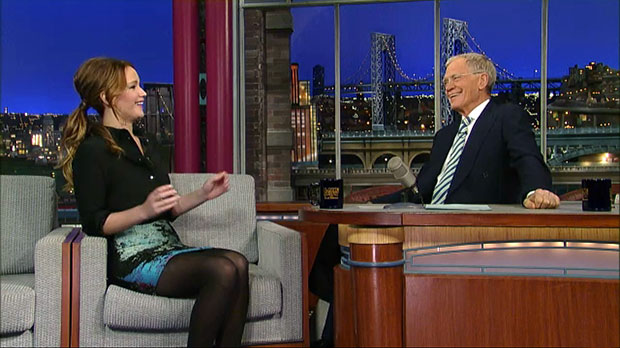 Lindsay Lohan needs to shut down her Twitter and spend more time studying movies from the '90s. If she had done that, then maybe the joke that Jennifer Lawrence made during her Golden Globes acceptance speech Sunday about Meryl Streep wouldn't have gone right over Lohan's head. During her speech, Lawrence said, "I beat Meryl," which is a line from The First Wives Club. It was a joke that Lohan and a lot of other people just missed — and Lawrence complained to David Letterman Tuesday night that she doesn't understand how people can be upset with her about the joke.
"It's never a good idea for me to wing it, but it was a quote from First Wives Club," Lawrence said. "Bette Midler was talking about a Globe. I can't believe nobody's ever done it before … She says, 'Look what it says. I beat Meryl.' It was so perfect."
Lawrence was shocked to learn that Lohan slammed her on Twitter, saying, "No1 should ever mess with a legend, such as Meryl Streep."
"I said it, and I had no idea Lindsay Lohan would take to the Twitterverse," Lawrence said. "I'm not on Twitter, but Twitter is very upset." Lawrence then just brushed off Lohan's attack. "First of all, it's Meryl Streep," she said. "You can't offend Meryl Streep."
Letterman backed Lawrence up by describing the First Wives' scene in detail. "Bette Midler goes into Goldie Hawn's apartment, and she picks up the award," he said. "And she says, 'Look what it says. I beat Meryl.'"
Lawrence joined in on the description. "And that's what I said," she said. "And then all of a sudden, I hate Meryl Streep. I was like, 'Is that what this turned into? I don't like Meryl Streep?' As if I've had my eyes on getting that girl forever. And I was like, 'Finally. I knew it would happen one day.'"
Lawrence even came up with a plan to set people straight about her Globes joke. "I wanted to make a public statement like, 'Hey idiots, uh, it's a quote from the movie, and it's Meryl Streep.'"
Follow Lindsey on Twitter @LDiMat.
[Photo Credit: CBS]
More:
Late Night Last Night: Kathy Griffin Not Sorry for Trying to Kiss Anderson Cooper
Late Night Last Night: Tracy Morgan Sings Goodbye to His 30 Rock Castmates
Late Night Last Night: NeNe Leakes Announces Engagement to her Ex-Husband

Craziest Celebrity Swimsuits (Celebuzz)