Late Night Last Night: Jim Parsons Sings 'The Elements' Song — VIDEO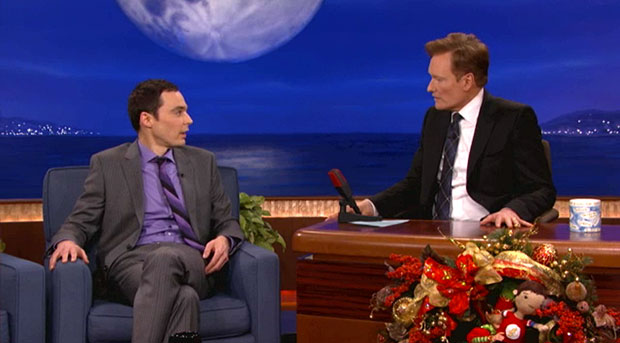 Do you remember when you were forced to remember the 117 elements of the periodic table somewhere back in middle school? And today, are you still able to name 10 of the elements on the table? Probably not. But don't worry. Jim Parsons has got your back. For his hit show, The Big Bang Theory, Parsons recently had to learn "The Elements" song so that his character Sheldon Cooper could sing it in a scene. Well, it's one of those unforgettable songs like the States song and he still knows almost every lyric of it to this day. In fact, Parsons even sang a bit of "The Elements" song to Conan O'Brien on Wednesday night.
Take a lesson from Sheldon and memorize "The Elements" song as you watch Parson's perform the bit for O'Brien.
But besides a mini middle school rendition of "The Elements" song, Parsons also gave O'Brien another present, and this one was perfect for the holidays. Parsons opened up a huge box and pulled out a wreath with a very creepy, and I mean CREEPY, elf sitting in the middle of it. Of course, the cameras had to zoom in to show the world how scary this elf was.
Meet O'Brien's new, eerie stage mate: the scary wreath elf.
Follow Lindsey on Twitter @LDiMat.
[Photo Credit: TBS]
More:
Late Night Last Night: Jim Parsons Has a Cardboard Cutout Twin Brother
Exclusive: What's Coming Up For Your Favorite 'Big Bang Theory' Couples?
Emma Stone Pulls a Michelle Obama, Cameos on 'iCarly'

Kate Middleton Pregnant: A Look Back at Famous Royal Baby Portraits (PHOTOS)

Pregnant Kate Middleton Leaves Hospital After Four-Day Stay