Late Night Last Night: Julie Bowen Finally Got to Kiss Rob Lowe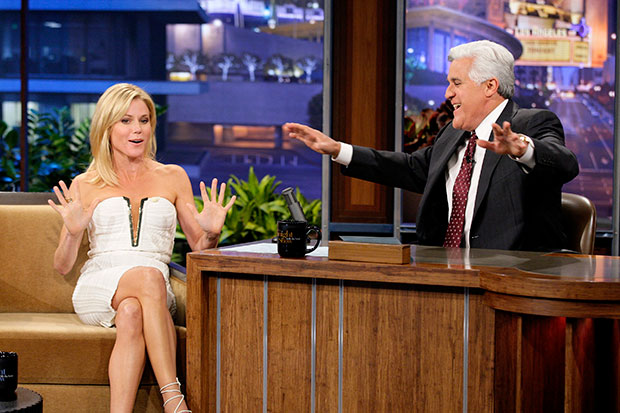 Be you a renowned boxer, a sitcom star, or a cinematic legend, you're bound to have interesting stories. Last night's late night television circuit featured three celebrities sharing some humorous accounts from their own personal lives, both past and present. Kicking things off is Mike Tyson, who went into detail about his days in prison. Up next, Modern Family's Julie Bowen, who delved into her "love affair" with Rob Lowe. And finally, Mel Brooks, whose insane stories range from remembering World War II as a musical to being held out of a window by a drunk Sid Caesar. 
Jimmy Kimmel LIVE!
You wouldn't necessarily peg Mike Tyson as a fan of the theatre, but you'd be sorely mistaken. The iconic boxer stopped by Jimmy Kimmel LIVE! to discuss his future as a stage actor — he'll be touring with a one man show, Undisputed Truth, starting in Indiana — and to recount some of the more pressing difficulties during his time in prison… but at least he had some notable visitors, i.e., The Brady Bunch star Florence Henderson.
Part 1
Part 2
Part 3
The Tonight Show with Jay Leno
To dream the impossible dream: kissing Rob Lowe. It's something that a large percentage of the American population would have done anything to achieve back in the 1980s… and now, Julie Bowen has planted a flag on that Everest. The Modern Family star visited The Tonight Show to talk about the upcoming film Knife Fight in which she, as she enthusiastically told Jay, got to live out her teenage dream with Mr. Oxford Blues.
Conan
Finally, Conan welcomed film legend Mel Brooks, who divulged a few interesting tales about his own kleptomania and some behind-the-scenes secrets from the set of Blazing Saddles, and had an unfortunate beverage accident (much to the chagrin of a nearby crew member).
Part 1
Part 2
Part 3
Part 4
[Photo Credit: Paul Drinkwater/NBC]
More:
'New Girl' Recap: Eggsistential Crisis
The Dos and Don'ts of Dating on 'The Mindy Project': When You're a Sex-Having Teen
Martin Short and Paul McCartney Will Return to 'Saturday Night Live'
You Might Also Like:

Best Nude Scenes of 2012 — PICS

'Hunger Games: Catching Fire' First Look: The Quarter Quell Begins! — PICS