Late Night Last Night: Kathy Griffin Not Sorry for Trying to Kiss Anderson's Crotch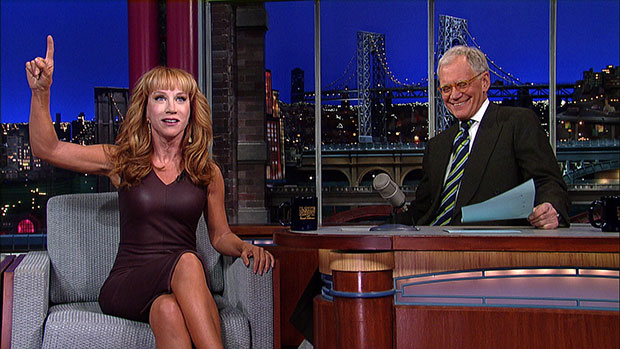 Most people wake up on New Year's Day and have a few regrets about some of the decisions the champagne forced them to make the night before. But that is not the case for funny girl Kathy Griffin. Even though she attempted the preposterous and lewd act of going down on Anderson Cooper — her co-host for CNN New Year's Live With Anderson Cooper and Kathy Griffin — on national television, more than once, she refuses to apologize for her behavior.
"What did you do to Anderson Cooper?" David Letterman asked Griffin Wednesday night. "If you think this is the part where I'm gonna apologize for trying to go down on Anderson Cooper, you are sorely mistaken," Griffin responded. "I tried, ladies and gays. I tried for you." She added, "I'm a lady." (A lady definitely wouldn't behave in such a way. Sorry, Griffin.)
STORY: 10 Reasons to Be Excited for 2013
And unlike Cooper, who was quite embarrassed by Griffin's behavior, Griffin would welcome it if Cooper were to return the favor. "If it was Anderson Cooper, myself, and every other gay guy and woman, I'd unzip so fast," she said. "Pants down." TMI, Griffin, even if you're a comedian.
Follow Lindsey on Twitter @LDiMat.
[Photo Credit: CBS]
More:
Kathy Griffin Simulates a Certain Sex Act on Anderson Cooper and More New Year's TV Gold
Late Night Last Night: Tina Fey Fears for Tracy Morgan
Late Night Last Night: All Jimmy Fallon Wants for Christmas Is Mariah Carey

Jessica Alba Bikinis in Cabo — Hot Pics! (Celebuzz)