Late Night Last Night: Keira Knightley Saw a Ghost in Her Hotel Room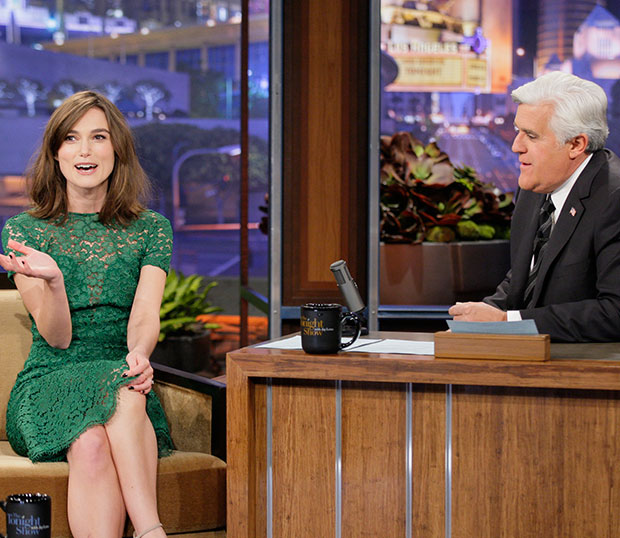 Some people believe in ghosts. Some people don't. It would seem like there is a pretty clear line that divides the group of believers from non-believers, but that's just not the case. According to story a Keira Knightley told Jay Leno Tuesday night, she once saw a ghost but still doesn't believe that they exist. Does that make any sense? Probably not to the rest of us, but to Knightley, well, it's as clear as day.
Here's what you missed last night on late night TV:
Late Night With Jimmy Fallon
Sally Field told Fallon about why she wanted to play Mary Todd Lincoln in Lincoln. "I've been waiting for Mary for a very long time as actors do, thinking, 'We're a mix. She belongs to me somehow,'" she said. "She was very much a flirt. She was an amazing woman. I don't even for a moment want to make fun of her. I feel very bonded with her."
Part 1
Part 2
Jimmy Kimmel LIVE!
Christina Applegate told Kimmel about a big change that is going on with her show, Up All Night, during its hiatus. "They are going to change us into a multi-cam show," she revealed. "What it means is we're going to have a [live] audience." She also talked about her 21-month-old daughter, Sadie, loving Christmas and Santa Claus. "We can hear her singing 'Jingle Bells' in her sleep, and singing 'Santa Claus Is Coming to Town' in her sleep," Applegate said. Applegate also presented Kimmel with a birthday gift. She gave him a fake candle and a pillow that she stole from the dressing room. How kind!
Part 1

Part 2

Part 3

Late Show With David Letterman
Julianna Margulies chatted with Letterman about taking her husband on a surprise trip to Berlin. While they were there, her husband tried nine types of schnitzel at a restaurant, so Margulies was able to define exactly what a schnitzel is for Letterman. "There's different kinds because I had chicken schnitzel," she said. "It's like a sausage."
The Tonight Show With Jay Leno
Keira Knightley shared a story with Jay Leno about working on the play The Children's Hour with Mad Men star Elisabeth Moss. "She did have to go on with food poisoning one night," Knightley said. "It was quite interesting when you're on stage with someone who is about to vomit, and you're kind of going, 'I don't know whether we're going to get through this scene.' Then she was having to run off and come back on again. That was all quite exciting." Knightley also shared her views on ghosts: "I don't believe in ghosts, but yes I have seen one." What's the logic behind this? "I was staying at this hotel in Los Angeles," she said. "[I] walked into the sitting room, I had just got out of the shower. [There] was a guy sitting on the sofa and he had a burgundy shirt on, black hair. And I thought. 'Oh, some guy has come into my room.' I said to him, 'You are in my room.' And he disappeared. I don't think I'd been drinking. It was early in the morning. I can't figure out what it was." A ghost, Knightley! You saw a ghost!  She also played a song for Leno by flicking her teeth.
Part 1
Part 2
Conan
Community star Joel McHale has started his own production company. He plans to make "really bad" shows. "Because of The Soup, we run out of clips sometimes," he said. His solution? "Let's not wait for clips. Let's just get drunk girls in the house now and get clips of that." In fact, McHale believes that it's these type of people who lack talent that truly make good TV. "If you are talentless, but very confident, you're going to have great career," he said.
Follow Lindsey on Twitter @LDiMat.
[Photo Credit: Paul Drinkwater/NBC]
More:
Late Night Last Night: Dog Pee Ruined Lea Michele's Spray Tan
Late Night Last Night: Kristen Stewart on 'Leno' Vs. Robert Pattinson on 'Kimmel'
Late Night Last Night: Kristen Stewart, Hayden Panettiere Voted with Absentee Ballots

'Twilight Saga: Breaking Dawn — Part 2' Star Kristen Stewart on 'Twilight' Finale: I'm 'Desperate' For a Job Now (VIDEO)
(Celebuzz)