Late Night Last Night: Kevin Spacey Does a 'Brilliant' Impersonation of Al Pacino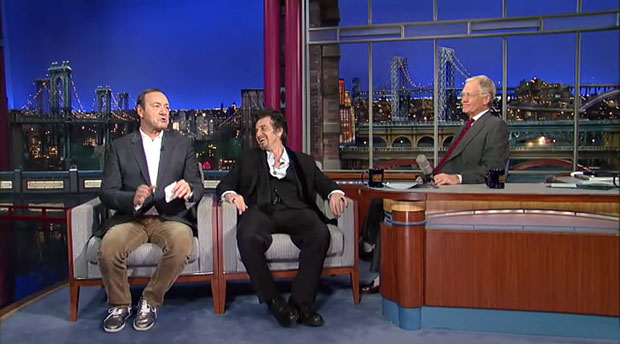 Impersonations are always hit or miss. Actors will either nail every element of another person's character, or just get lost in the confusion of the target's attributes. On Thursday night, David Letterman pointed out a talented actor who does a great impersonation. Letterman told his guest, Al Pacino, that Kevin Spacey does "a pretty good job of" of imitating the The Godfather star.
But Pacino didn't agree with Letterman. "I don't really [think he does a good job]," he told the host. "I think it's good if people like it. You know? But, I don't see myself in his impression."
Well, Letterman wasn't going to lose the argument. He had to prove his point, and to do so, he surprised Pacino by inviting Spacey to come out on stage.
And as soon as Spacey and Pacino were done dancing, literally, Spacey kicked right into Pacino mode. "Oh shut up, Dave!" Spacey said in a deep, husky voice that sounded quite similar to Pacino's. "I worked on something just for this moment. I had to write it down." Spacey then slid down into his seat, and in the same gruff voice, spit out a few more comments, driving Letterman's point home.
"That is brilliant," Pacino said.
Follow Lindsey on Twitter @LDiMat.
[Photo Credit: CBS]
More:
Late Night Last Night: Charlie Sheen Calls Lance Armstrong 'A Douche'
Late Night Last Night: Matt Damon Is In Command of Kimmels 'Ship' – VIDEOS
Late Night Last Night: Kim Kardashian's Divorce Drama Drags On — VIDEO

'Hunger Games: Catching Fire': Spoilery Pics From Google Maps