Late Night Last Night: Kim Kardashian's Divorce Drama Drags On — VIDEO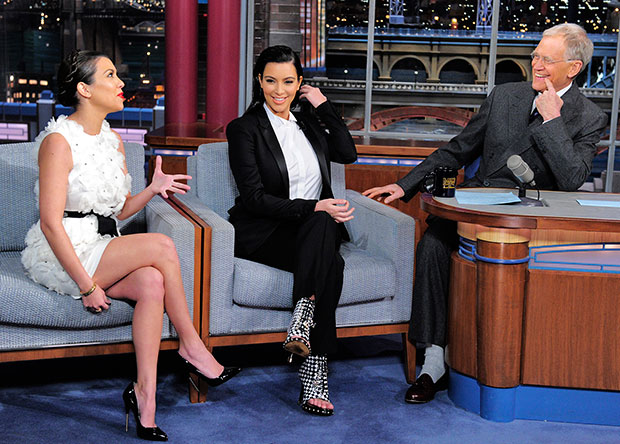 Kim Kardashian is on her way to becoming a first-time mom. As the whole world must know by now, she's pregnant with Kanye West's baby. And no, West is not her husband. In fact, Kardashian is still legally married to Kris Humphries. And yes, the drama surrounding her pending divorce has yet to fade away into a hazy tabloid past. With all the talk surrounding Kardashian's personal life since she announced her pregnancy, it's no wonder that David Letterman asked her Wednesday night about the status of her divorce. But what was shocking to find out is that Kardashian is still fighting with Humphries over when this marriage is going to finally come to an end.
"It's a process," Kardashian told Letterman. "I've been trying for almost two years now to wrap it up, but it's hard."
Like the rest of the world, Letterman wanted to know why Humphries won't let the divorce be finalized. "I can't speak for Kris, but I just want him to be happy and I want us to move on," Kardashian said. "That's what I really want is just to move on."
But Humphries continues to fight for the marriage to be annulled, while Kardashian refuses to let an annulment go through. "The only legal way to get an annulment is if fraud were involved, so that's what's tricky," she said. "He is suing me for an annulment based on the fact that I frauded him into marrying him for publicity."
Humphries is claiming that he is the victim in the marriage. "That's the only way to get [an] annulment is if one person was defrauded," Kardashian explained. Kardashian maintains that fraud is not what happened "in my case."
Kardashian's older sister, Kourtney, then took the opportunity to interject in the conversation and take a swing at Humphries. "I think if she was going to do it for publicity, she'd pick someone that people knew," Kourtney said. Ouch!
[Photo Credit: CBS]
More:
Beyonce to Be Godmother to Kim & Kanye's Baby? 8 Other Famous Godparents
23 Kardashian Diet Covers: How Kim, Kourtney and Khloe Lost 388 Pounds, Allegedly
Politico and 'Time' Now Cover Baby Bumps? Everyone's Obsessed With Kim and Kanye's Baby

The Cutest Celebrity Kids! (Celebuzz)