Late Night Last Night: Kristen Stewart Likes to Watch Herself While Filming Sex Scenes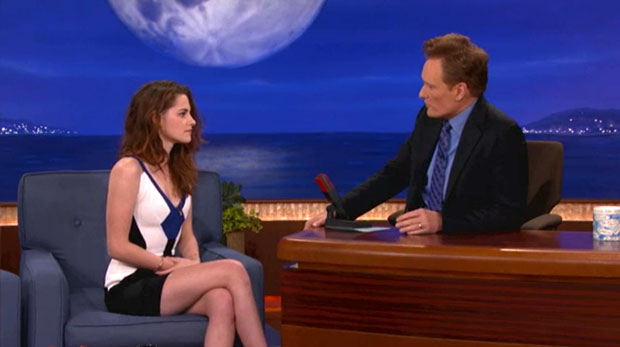 Kristen Stewart obsessed with herself? Maybe just a little. Stewart stopped by to visit Conan O'Brien last night, and when he asked her what it was like filming sex scenes for The Twilight Saga, she had quite a bit to say on the subject. In fact, she confessed that she likes to look at herself making 'schmexy faces.' Yes, she did go that far. And she didn't stop there…
Here's what you missed last night on late night TV:
Late Night With Jimmy Fallon
Fallon shared a clip of Kellan Lutz arm wrestling Kristen Stewart in The Twilight Saga: Breaking Dawn—Part 2.
Part 1
Part 2
Jimmy Kimmel LIVE!
Comedian Martin Short admitted to loving Honey Boo Boo. "The difference between her family and the Palins is teeth and that's it," he said. He also attempted to feel up his "ding dong," as he puts it, in front of Kimmel while talking about discovering a lump in the area as a kid. He explained how he tried to cure the cyst himself. "I went to the medicine cabinet, and I got a bottle of this thing called Dettol," he said. "Dettol, I would later find out they would use a cap for a gallon of water to clean hospital floors. I didn't know, so I just poured it on there. By day three there was a rash." That sounds painful, to say the least.
Part 1

Part 2

Part 3

Late Show With David Letterman
Alec Baldwin talked about doing voice over work for his character, North, in Rise of the Guardians. "It's like radio acting," he described. "You're there in the booth with the microphone, and the director is saying to you, 'Alright Alec, you're Santa Claus… You're tired. You're fat. You've been eating cookies. Mrs. Claus doesn't understand why you work so hard. We would like you to put all of that inside the line itself.' That's voiceover acting in a nutshell."
The Tonight Show With Jay Leno
Helen Hunt stopped by Leno to promote her new movie, The Sessions. She admitted that she doesn't read reviews because she's fearful that they might be emotionally disturbing. She also said that she wasn't allowed to go into a party at Sundance. She also didn't try to get in because she knew the bouncer didn't know who she was. How could you NOT know who Helen Hunt is?!?
Conan
Conan O'Brien asked Kristen Stewart what it was like filming Twilight sex scenes when Stewart had to look "into the eyes of the camera." "It's nice to see your own reflection while you're making schmexy faces," she said. "It's absolutely absurd, actually. I want to shoot myself."  Stewart also dissed her father claiming that he loves all the attention she has received since starring in the Twilight franchise. "He loves it," she said. "He's a total fame whore. You go anywhere, even if I'm not with him, he's like, 'Hey I'm John… Stewart… Father of Kristen. Have you ever seen Twilight? Yeah, that's my kid.' It's the most embarrassing thing in the world."
Part 1
Part 2
Part 3
[Photo Credit: TBS]
More:
Kristen Stewart as a Mom? 12 Unrealistic Parent/Child Age Gaps in Movies — GALLERY
'Breaking Dawn – Part 2' Countdown: A Day in the Life of a Twihard – PART 3
A Genuinely Good 'Twilight' Moment: Anytime Charlie Swan Dives on Screen

Prince Harry's 'Naked Vegas Party Pal' Carrie Reichert Writing a Tell-All Book — EXCLUSIVE
(Celebuzz)