Late Night Last Night: Kristen Stewart on 'Leno' Vs. Robert Pattinson on 'Kimmel'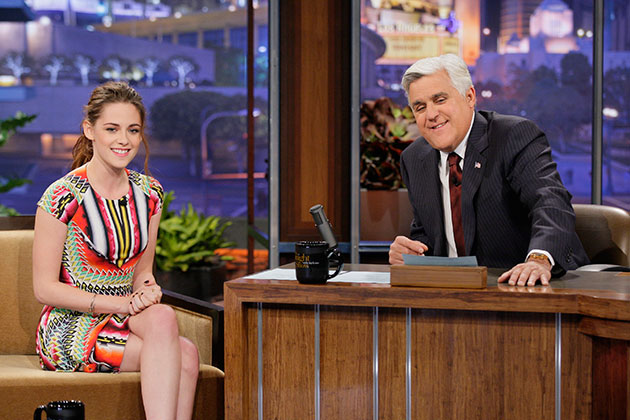 Let the Twilight promotions begin for the last time! With the end of an era nearing as the the final movie of the franchise — The Twilight Saga: Breaking Dawn – Part 2 — drops in theaters on Nov. 16, stars Robert Pattinson and Kristen Stewart made the late night rounds Monday night to promote the final piece. But instead of showing up on one late night show together, the on-and-off again couple appeared on two different programs: Stewart visiting Jay Leno to talk about vampire contacts and Bella relics, while Pattinson chatted with Jimmy Kimmel about his kissing style.
Here's what you missed last night on late night TV:
Late Night With Jimmy Fallon
Fallon played Egg Russian Roulette with Jason Sudeikis.
Part 1
Part 2
Jimmy Kimmel LIVE!
Even though the final Twilight movie premieres this month, Robert Pattinson admitted to Kimmel that he will be talking about playing Edward Cullen for a very long time. "I'll probably be talking about it for the rest of my life," he said. And Pattinson even hopes that they will add another movie onto the franchise. On a non-Twilight note, Pattinson explained that he doesn't care that he doesn't get to vote for the next American President. "I don't like any kind of responsibility," he said. "I would vote for people like me to not be able to vote." And for all the girls out there who dream of locking lips with this sexy vampire, Pattinson decided to share his thoughts on his kissing technique. "I have such extraordinarily loud little pecks," he said. "It sounds like I'm walking around in Wellies [rain boots]. My lip is like a vacuum." Does that turn you on?
Part 1

Part 2

Part 3

Late Show With David Letterman
Ricky Gervais told Letterman about the Mormon religion. "Mormonism was started by this guy, Joseph Smith, who was basically a married man, and he came home one day and he said to his wife, 'I just found a bit of the Bible that no one's seen before,'" Gervais said. "She went, 'What does it say?' 'It says I should have other women.'"
The Tonight Show With Jay Leno
While Kristen Stewart jokingly first told Leno that she won't miss Twilight — she quickly switched her stand. "There's a certain tone that Twilight sets for all of us," she explained. "Doesn't matter where we are, whether we are promoting it or on set, it doesn't matter how much time goes on in between. That's now gone forever." Stewart also gushed about the the items she takes from the sets of her movies to remember the time she spent working on them. From Twilight, she took some of Bella's rings, but that's not the most odd item she has removed from a movie set. "I have a strange variation of things in my house on display," she said. I have a suit of armor. I have a pink g-string from 'Welcome to the Rileys.'" Stewart also shared a story about some strange items she picked up on a recent trip to Tokyo. "There were masks next to really weird sex toys next to fish flavored tootsie rolls," she said. "I bought it all."
In addition, Stewart talked about the red contacts she has to wear in Breaking Dawn – Part 2. "It is definitely a dim, tunnel vision, sticky, cloudy, really awfully annoying," she said. "People generally say that they think that our vampires look like they are in pain. They are." Stewart also admitted that she thinks that they made her repeat her some of her physical stunts even though they probably used the first take. That's annoying.
Part 1
Part 2
Conan
Sarah Silverman played with her Wreck-It Ralph Vanellope doll on Conan Monday night. And when she made the doll talk, it spouted out this sentence, "I have oral herpes." Hopefully that doll doesn't say such things in real life. That wouldn't really be a toy appropriate for children.
Follow Lindsey on Twitter @LDiMat.
[Photo Credit: Paul Drinkwater/NBC]
More:
Late Night Last Night: Ben Affleck Visits Jimmy… and Jimmy
Late Night Last Night: Tina Fey Fears for Tracy Morgan
Late Night Last Night: See Christina Applegate's 'Up All Night' Butt Double

Katy Perry Moves Forward at Barack Obama Rally in Wisconsin (PHOTOS)
(Celebuzz)