Late Night Last Night: Mark Wahlberg Belts Out His 'Boogie Nights' Tune — VIDEO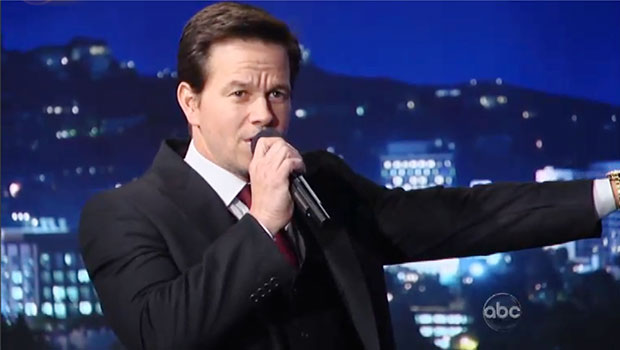 It's been over 15 years since Dirk Diggler got in the studio to record his single "You Got the Touch" in the 1997 movie Boogie Nights. But like his character, Mark Wahlberg "was born ready" for the moment that he would again be asked to flex his vocals to the scratchy tune. That moment happened Thursday night, when Jimmy Kimmel asked the actor to put on a special performance.
"That was a personal request from me, and I appreciate it," Kimmel told Wahlberg after the performance was done. "For those who have no clue what's going on… it's an intentionally terrible song from Boogie Nights."
Wahlberg then shared a story of what it was like to first record the song. "They were like, 'We know you can't sing, so try to sing it as good as you possibly can,'" he recalled. "So seriously, we're in the studio for hours. I'm like, 'Dude it's supposed to be bad.' But [they're] like, 'No. It has to be your good version of bad.'"
And despite Wahlberg's former musical career as a founding member of New Kids on the Block and early '90s rapper, Marky Mark, "You Got the Touch" turned out just as badly as the producers planned. "I was trying to distance myself from my music past, but not like that," Wahlberg said.
Follow Lindsey on Twitter @LDiMat.
[Photo Credit: ABC]
More:
Late Night Last Night: Kim Kardashian's Divorce Drama Drags On — VIDEO
Late Night Last Night: Tina Fey Fears for Tracy Morgan
Late Night Last Night: NeNe Leakes Announces Engagement to her Ex-Husband

The Cutest Celebrity Kids! (Celebuzz)