Late Night Last Night: Matt Damon Mimics President Clinton To a T — VIDEO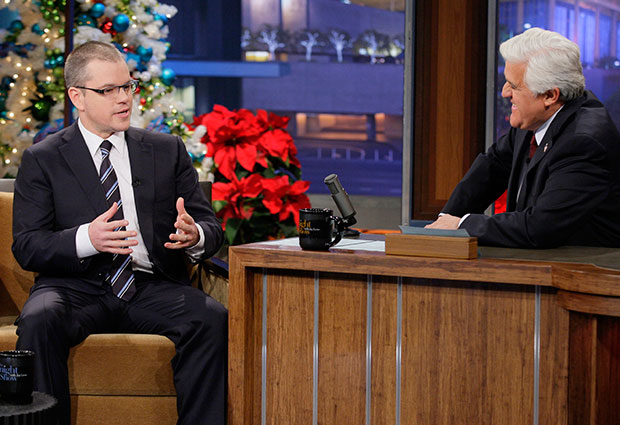 What's it like to meet the President? On The Tonight Show With Jay Leno Monday night, Matt Damon shared a story about his first interaction with President Bill Clinton at a screening of Good Will Hunting at presidential retreat Camp David. Unfortunately, it was right around the time that Primary Colors was being made in 1998 and the movie, well, just didn't portray President Clinton in the best of ways.
Upon meeting the President, a friend who was with Damon at the screening said to Clinton that John Travolta "does a great you." Everyone in the group was so embarrassed by this unwarranted comment. But, President Clinton handled the situation in the best of manners.
While impersonating Clinton, Damon shared the former President's response. "I understand they offered that part to Tom Hanks," Damon said in perfect re-enactment of Clinton's voice. "Tom Hanks turned it down. He said it was disrespectful to the office of the President of the United States of America. I like Tom Hanks."
Watch Damon's impersonation of Clinton in the video below.
Follow Lindsey on Twitter @LDiMat.
[Photo Credit: Paul Drinkwater/NBC]
More:
Win Tickets to See 'Promised Land' and a Q&A With Matt Damon!
Win a Chance to Meet Paul Rudd, Matt Damon, and Jack Black!
Matt Damon to Appear in Showtime Climate Change Docuseries—REPORT

Lea Michele Calls Her Breasts 'My Prizewinners'

Kim Kardashians Best Bikini Moments (PHOTOS)