Late Night Last Night: Michelle Obama Really Wants Jimmy Kimmel to Vote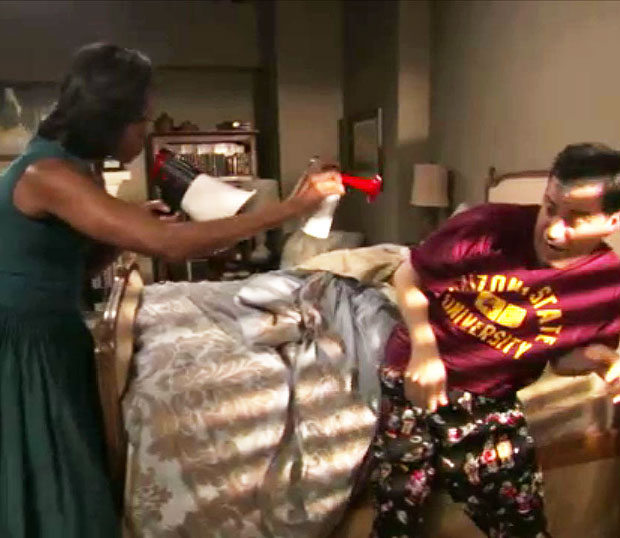 With election day just weeks away, President Barack Obama isn't the only one making the late night rounds in the hopes of scoring some more voters. His wife, Michelle Obama, stopped by Jimmy Kimmel LIVE! to do her own due diligence. And with the "Plan to Get People to Vote" video she debuted Thursday night, there's not a doubt that the First Lady will get some more people to the polls. She was even able to convince Kimmel! In her video, at least. And who wouldn't be swayed by a loud horn waking him up in the morning?
Here's what you missed last night on late night TV:
Late Night With Jimmy Fallon
After The Good Wife star Julianna Margulies complained to Fallon about her four-year-old son Kieran's obsession with sports, she talked about how her husband, attorney Keith Lieberthal, tries to help her with her role on the show. As she plays an attorney on Good Wife, Lieberthal sometimes shares his legal expertise with Margulies. "He'll be like, 'Okay, that case would have taken 17 months,'" Margulies used as an example. Unfortunately though, her case has to be done in television time, which is about a 45-minute episode — so she sometimes has to remind her husband of that fact. "I'm like, 'Babe, it's entertainment,'" she said.
Part 1
Part 2
Jimmy Kimmel LIVE!
First Lady Michelle Obama made an appearance on Kimmel. First, she shared her secret to yelling at her kids without people knowing. "You don't move your lips," she said. "You have that look and you're like, 'Hey, hey, hey. I said.' So you have to smile a little bit more when you're the First Lady. A little contact always helps. A nice little squeeze." Obama then talked about how her daughters get to trick-or-treat each year — and surprisingly revealed that the Secret Service doesn't have to taste that candy before the kids eat it. "As long as nobody knows it's them, which usually they don't know," she explained. "They go trick-or-treating every year. They go with groups of friends. Sasha will go this year. They have a very normal life." Obama also talked about campaigning for her husband, President Barack Obama, and the importance of voting. "We're encouraging people to vote early and use Election Day to help get other people to the polls who may need assistance," she said. And Kimmel better not have any excuse to avoid voting this year. Otherwise, Jimmy? Meet Michelle Obama's incredibly loud horn.
Part 1

Part 2

Part 3

Plan to Get People to Vote Video
Late Show With David Letterman
It's only fitting that Donald Trump would do a late night appearance on a different show while Michelle Obama was on Kimmel. And of course he rattled on about President Obama's birth certificate. "It took Obama six years to get his birth certificate," he said. "John McCain wanted it. Hillary Clinton wanted it. It was never revealed until I got involved. I got a lot of credit for it." But his attack on Obama didn't end there. On Wednesday, Trump announced that he would donate $5 million to President Obama's charity of choice if the Commander-in-Chief would release his college and passport records. Thursday night, Trump reinforced his offer.
The Tonight Show With Jay Leno
Russell Brand dished on preparing for his performance at the Olympics. "Just before I had to go on stage.. all of a sudden, I thought, 'I'm an athlete now!' Before I did that, I did some limbering up exercise," he shared. "But because I don't know how to limber up properly, because I'm not really an athlete, I did it badly. I heard this noise, 'Quaaaippp.' My trouser tore a significant distance [in the crotch area]." Brand had to use scotch tape to hold his trousers together for his performance. Other than destroying denim, Brand also admitted that he is dating again now that he is no longer married to Katy Perry. "I've been devoting myself to single life so I can finally win that shagging Olympic medal," he said. "I'm putting in the training." Does Brand think he is Austin Powers now? No one "shags" anymore — this isn't the seventies.
Part 1
Part 2
Follow Lindsey on Twitter @LDiMat.
[Photo Credit: NBC]
More:
Late Night Last Night: The Eve of the Old Rock Star
Late Night Last Night: Taylor Swift Will Now Write a Song About Letterman
Late Night Last Night: Tom Hanks Wanted Newt Gingrich to Take Him to the Moon
From Our Partners:

Jon Hamm Goes Shirtless With Bikini-Clad Jessica Paré
(Celebuzz)

Kardashians Share Scary-Cute Childhood Halloween Pics
(Celebuzz)