Late Night Last Night: Ryan Gosling Gets a Fan to Insult Conan, Repeatedly — VIDEO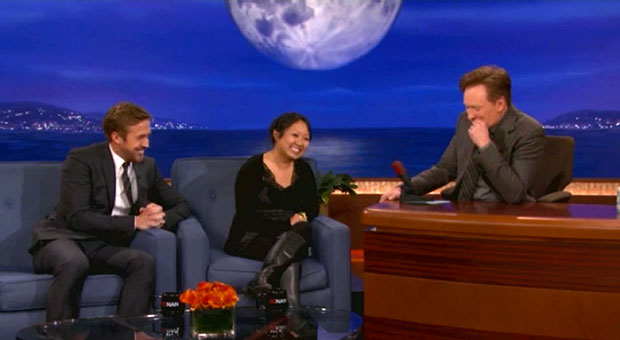 You can't watch a late night show without a laugh or two, and this Thursday night was no different. Ryan Gosling visited Conan O'Brien, and decided it was a grand idea to call an audience member on-stage to help him give O'Brien a hard time.
"Can I give a little tip? I feel like it's going well," Gosling said to the girl — Linda — after she had been on stage for a few moments. "I think that there needs to be a little tension, like a little conflict." So Gosling created the conflict by feeding Linda absurd statements to say to O'Brien whenever he asked her a question.
Round One:
O'Brien: "So, you say you're from Westminster. Is that a nice town?"
Linda: "I like your suit. Do they make it for men?"
O'Brien: "No they don't!"
Round Two:
O'Brien: "So nice having you here. Have you been to a taping of this show before?"
Linda: "You've got a big mouth, and you just like to run it."
O'Brien: "This is the most hostile interview I have ever taken part in. Who the hell do you think you are?"
Round Three:
O'Brien: "We're going to talk about Gangster Squad. Are you excited about this? We've got a clip here… Anything else we need to know about this?"
Linda: "Your bobblehead is anatomically correct."
O'Brien: "What? My bobblehead is anatomically correct?"
Linda: "Shut your big mouth."
O'Brien: "You're never coming back. This was going so well with Ryan, and then you come here with your hate and your anger. You sicken me."
But O'Brien must not have been too mad at Gosling because he ended showing the actor his special "string" dance.
Follow Lindsey on Twitter @LDiMat.
[Photo Credit: TBS]
More:
Late Night Last Night: Tina Fey Fears for Tracy Morgan
Late Night Last Night: Betty White Tries to Lie on 'Fallon' — VIDEO
Late Night Last Night: NeNe Leakes Announces Engagement to her Ex-Husband

Megan Fox's 12 Hottest Moments (Moviefone)

Ryan Gosling's 'Airbrushed' Abs: Plus 19 More Reasons We Love the Actor (Moviefone)