Late Night Last Night: See Christina Applegate's 'Up All Night' Butt Double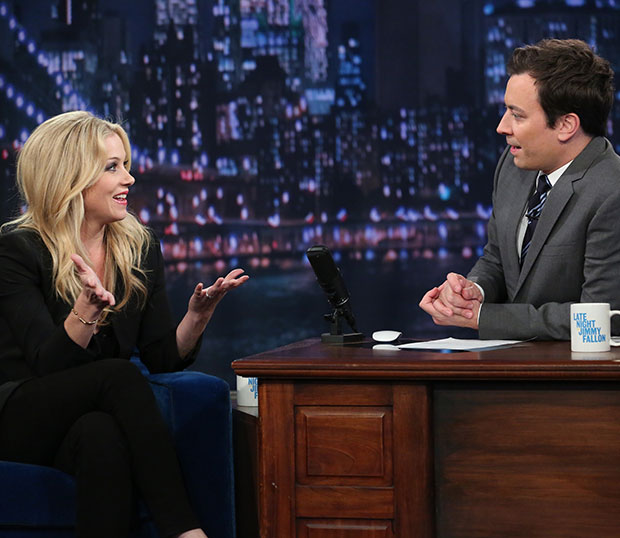 Ready to get your giggles on this weekend when Christina Applegate hosts Saturday Night Live? This weekend will mark Applegate's first time hosting in 19 years, but could we also see a bonus cameo by none other than her butt double? After all, she does have one — Applegate told Jimmy Fallon that she requires one for certain compromising scenes on Up All Night. But (ha) there's more! See what you missed on late night TV.
Late Night with Jimmy Fallon
Applegate delved into her Saturday Night Live hosting gig: "Last time I hosted, half of them [the writers] weren't even born," she joked about her last stint in 1993. "That's a year in another decade for you youngins out there." Also: A clip from her butt double! Watch below!
Jimmy Kimmel LIVE!
Naturally, Kevin James taught Kimmel self-defense. And, as it turned out, his demonstrations were surprisingly aggressive. Here comes the boom below:

The Late Show with David Letterman
Badass wonder Lucy Liu shared a story with Letterman about getting knocked out during a knife- and stick-fighting class. "There was a boxing ring, and I did box once," she said. "And that was it, because I got knocked out." With no head gear on, the only protection she had during the incident was a mouth guard. "Straight in the nose, I got boxed in the nose," she said.
The Tonight Show with Jay Leno
Sixty-four-year-old Terry Bradshaw shared his secret to staying fit — NutriSystem — and proceeded to rag on his host's weight. "Obviously, you are on no diet," he joked. "He's heavy. He's a fat guy. He's a star on television and you're heavy." Watch the duo chew the fat below:
Part 1
Part 2
Follow Lindsey on Twitter @LDiMat.
[Photo Credit: Lloyd Bishop/NBC]
More:
Late Night Last Night: Tina Fey Fears for Tracy Morgan
Late Night Last Night: Christopher Walken's 'Cowbell' Skit Resurrected — VIDEOS