Late Night Last Night: The Eve of the Old Rock Star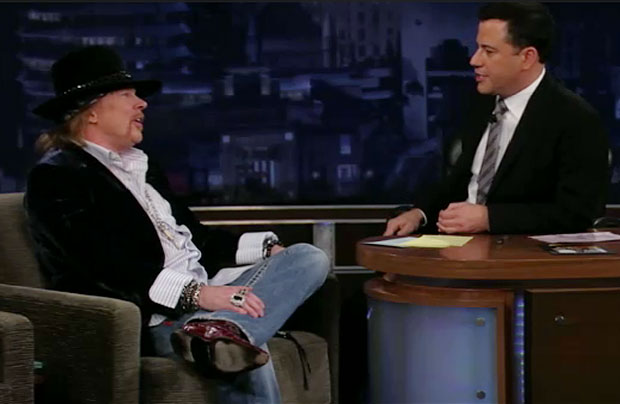 While President Barack Obama stopped by Leno last night, two other late night hosts welcomed music royalty into their hot-seats Wednesday. Jimmy Fallon scored an interview with Rod Stewart to talk about Stewart's new memoir and Christmas album. And Jimmy Kimmel locked one in with Guns N' Roses founding member Axl Rose. Rose chatted about his pre-rockstar days — and also a unique Halloween costume that he sported one year. Plus, The Office star Rainn Wilson shared a funny video with Conan O'Brien of himself abducting celebrities on the streets.
Here's what you missed last night on late night TV:
Late Night With Jimmy Fallon
Rod Stewart was on a major promo tour last night. He stopped by Fallon to chat about his new autobiography rightfully titled, ROD: The Autobiography. "It really is a happy book," he said. "It's not really a book about drugs and sex. Of course drugs and sex are in it, but it's just light-hearted and a fun read." He also revealed that his new album, Rod Stewart: Merry Christmas, Baby, (which comes out next week) will include tracks with Michael Bublé, Mary J. Blige, Cee Lo Green, and even the late Ella Fitzgerald.
Part 1
Part 2
Jimmy Kimmel LIVE!
Guns N' Roses founding member Axl Rose told Kimmel about his days prior to becoming a big rock star. He revealed that he worked at Tower Video, a video store that used to be a Sunset Boulevard staple in Los Angeles. "I became a manager for a very short amount of time," he said. "I let everybody have beers after work." Sounds like he was a pretty cool boss. Rose also talked about an interesting Halloween costume he wore one year. "Once I was a giant ear of corn," he said. "We have a saying in Guns N' Roses when somebody is going to get yelled at, you get the corn. So one year I was the corn."
Part 1

Part 2

Part 3

Late Show With David Letterman
The O'Reilly Factor host Bill O'Reilly of course talked politics. "It's a close election," he said. "Romney has momentum now. The polling tomorrow [Thursday] through the weekend [is] very important because that will reflect what happened in the last debate. My theory is no one watched the full debate. I don't think there is going to be any blunting of Romney's momentum. The President better pull a rabbit out of a hat somehow." While O'Reilly refused to predict who would win the presidential election, it sure did sound like he's put his faith in Romney. Quite a shocking revelation for a Fox News person.
Conan
Rainn Wilson gave Conan O'Brien a video demonstration of how he scores celebrity interviews for his web series, Metaphysical Milkshake. "We do it in the back of my 1976 Chevy van," he said. "Frankly, we have a hard time getting guests, so we have to resort to some very unorthodox ways of obtaining guests for our show." Watch and learn how Wilson gets the job done.
Follow Lindsey on Twitter @LDiMat.
[Photo Credit: ABC]
More:
Late Night Last Night: Taylor Swift Will Now Write a Song About Letterman
Late Night Last Night: Tom Hanks Wanted Newt Gingrich to Take Him to the Moon
Late Night Last Night: See Christina Applegate's 'Up All Night' Butt Double
From Our Partners:

Donald Trump Speaks Out on Ripping Kristen Stewart on Twitter, Warns Robert Pattinson: 'Back Off…She's Bad News!' — EXCLUSIVE
(Celebuzz)

Emily VanCamp, Lea Michele, January Jones: Celebrities Who Show Major Cleavage in GQ — GALLERY
(Celebuzz)