Late Night Last Night: Tina Fey Fears for Tracy Morgan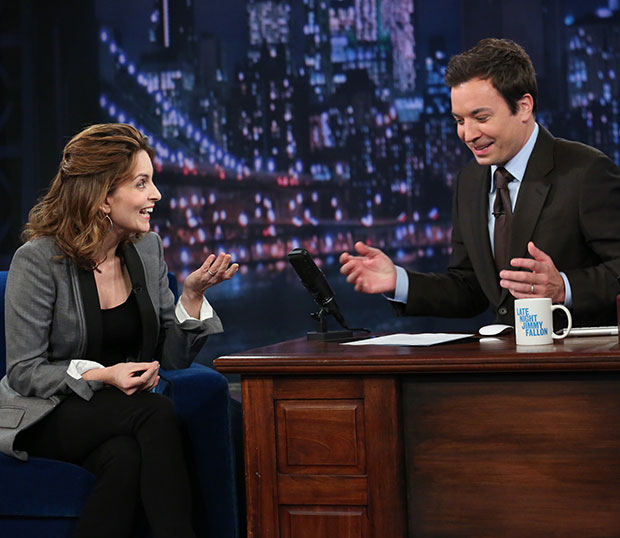 It's so hard to say goodbye. Especially when you work alongside the coolest people in television. Tina Fey appeared on Late Night with Jimmy Fallon last night to talk 30 Rock's final season — and co-star Tracy Morgan's future. Will be able to physically survive without her? (Especially when it's not Shark Week?) 
Here's what you missed last night on late night television:
Late Night with Jimmy Fallon
Tina Fey not only talked 30 Rock, but Emmys night as well. Instead of partying after TV's biggest night, Fey confessed that she fell asleep at her hotel — but not before ordering a pizza and milkshake. Fallon, however, boasted a much more exciting Emmys aftermath while sitting on an airplane near Homeland star Mandy Patinkin. Fey's seat mate? An air marshal. (Paging Bridesmaids!) When the conversation turned to 30 Rock's final season. Fey admitted that she is worried about what's going to happen to Tracy Morgan once the series ends: "I had a moment today where I was shooting a really long scene with Tracy and Alec, and I thought, 'I'm really going to miss seeing Tracy every day, partly because I feel like once I stop seeing him, he is going to fall in a pool or something.'"
Part 1
Part 2
Jimmy Kimmel LIVE!
Will Arnett celebrated Monday's Canadian Thanksgiving on Kimmel Wednesday night. "It's just a joyless, dry turkey," he said. "And they want to really make that gap wide from Thanksgiving to Christmas so you have nothing to look forward to." But we were more interested when he began chatter aboot the upcoming Arrested Development reunion. "After all this time, and us being apart, it's been so many years, you know who was great to see and work with? Nobody," he said. Besides Arrested Development and Up All Night, Arnett will also be appearing on 30 Rock for the final season. "I might take my own life," joked about his workload.
Part 1
Part 2

Part 3

The Late Show with David Letterman
Salma Hayek Pinault and her enviable accent stopped by Letterman to talk about her new movie, Here Comes the Boom, and working with Kevin James. In the movie, Pinault and James' characters go on an painful date. "This is the date he has been waiting for his whole life," she said. "I finally have pity on him and we have this date. It was very funny because he has been fighting with all the tough guys and he's doing so well. All of a sudden he has this little fight with me and I really damage him and injure him because I accidentally hit him in the prunes really hard." Ouch!
The Tonight Show with Jay Leno
Chelsea Handler is a good aunt, especially when she takes her niece for a drive. She shared a story of one specific road trip that sounded a bit compromising, to say the least. "I drove them once back from Malibu and I got a speeding ticket," she said. "That wasn't the problem. I have a two-seater car and my niece is six, so she should have grown before she came out to California if she didn't want to sit in the front seat. I don't have a backseat, so I put her in the front. I didn't think anything of it. And then I got a speeding ticket and then when the cop was coming over, I was like, 'Don't worry, Charlie. It's no big deal. I get these all the time. It's fine.' She's like, 'Shouldn't I be in the backseat?' I'm like, 'Oh, f**k.'" Sounds like Handler is right behind Amanda Bynes in the bad drivers' lane.
Part 1
Follow Lindsey on Twitter @LDiMat.
[Photo Credit: Fallon]
More:
Late Night Last Night: Christopher Walken's 'Cowbell' Skit Resurrected — VIDEOS
Late Night Last Night: Ben Affleck Visits Jimmy… and Jimmy