Late Night Last Night: Tom Hanks Wanted Newt Gingrich to Take Him to the Moon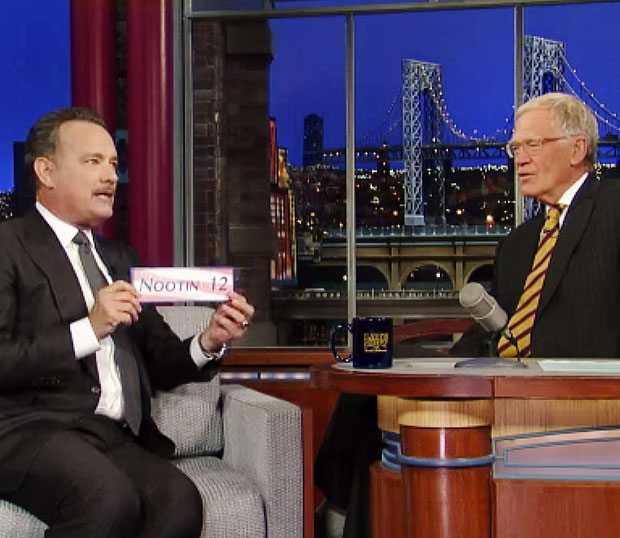 Were you too tired after the Presidential debate Monday night to stay up and watch your favorite late night show? While you hit the sack, Jimmy Kimmel aired a rerun interview with Kevin James. But Jimmy Fallon, David Letterman, Jay Leno, and Conan O'Brien kept the night fresh with some brand spankin' new interviews. And during one interview, politics was the name of the game. As Tom Hanks sat down with Letterman, he revealed that he is heartbroken that Newt Gingrich is no longer in the running to be president. While Hanks openly supports "Bam Bam" (President Barack Obama) now, he initially backed Gingrich because he thought that as President, Gingrich would get him to the moon.
Here's what you missed last night on late night TV:
Late Night With Jimmy Fallon
Gerard Butler talked about almost dying while trying to film some surfing scenes for his new movie Chasing Mavericks (which drops in theaters Friday). "We were shooting a part where we weren't even surfing, we're just paddling out," he said. "They wanted us going over some big waves, but [I] went very deep, close to the rocks, and suddenly we see this tsunami coming and it was half a mile away. I knew I'm screwed here because by the time it hit me, I was going to be exhausted." So how did he make it through the tidal wave? "They shouted, 'Take two deep breaths' as it was about to hit us," Butler recalled. "It was a couple of deep breaths and you dive in. You're watching this… it's like Mount Everest descending upon you." He added: "I was down for two waves… Ended up at the rocks. I did think it was all over." Needless to say, Butler was alive and well enough to discuss the frightening experience with Fallon Monday night.
Part 1
Part 2
Late Show with David Letterman
Tom Hanks talked politics with Letterman. While he is now supporting "Bam Bam," initially, Hanks backed Newt Gingrich for President because Gingrich had openly talked about colonizing the moon. "Newt Gingrich, who I would normally not pay too much attention to, said this, and it blew my mind. He said, 'At the end of my second administration, there will be a permanently manned colony on the moon,'" Hanks said. "I'm going to the moon, Dave. I thought, 'AT LAST! VISION! MOVING FORWARD! Newt Gingrich is going to put people on the moon. I'm going to be one of them.' I made announcements to the kids, 'Kids, say goodbye to dad. Papoo is going to the moon. I'm going to ride in rocket ships. I'm going to wear space helmets. I'm going to talk to computers. I'm going to live on the moon.' What I've wanted to do since I was 12 years old.'" Unfortunately, Gingrich dropped out of the race, and Hanks got stuck with 12 crates of bumper stickers that read, "Nootin 12." He still doesn't even understand what that means.
The Tonight Show with Jay Leno
On Leno, Halle Berry made herself sound like she is a mean mom. She confessed that she doesn't let her four-year-old daughter, Nahla, keep Halloween candy after trick-or-treating. "What kid needs a bag load of candy?" she asked. "They don't need it. I get the candy. I go through it and take out the bad stuff. And then I dole it out throughout the year. I hide it, then when she needs a little candy, I giver her a little bit. She doesn't know it's stale." Yuck! Berry also shared some feelings on the recent news that said she is related to Sarah Palin. "Isn't that the worst thing?" she asked. "She's probably a nice lady. I'm sure she is, but, you know…" Berry rather prefers being related to Aretha Franklin. On top of everything else, Berry admitted to smoking pot with Tom Hanks. "I did," she said. "I smoke pot with Tom Hanks in this movie [Cloud Atlas]." Sorry Berry, but pretending to light a joint isn't really the same thing as actually blazing.
Part 1
Part 2
Conan
Aziz Ansari, who is currently single, shared his thoughts on marriage with O'Brien. "All of my friends are getting married, which is kind of strange," he said. "I see people my age getting married to people, and it's not people they know that well sometimes. Getting married to people they've known for a year and a half. A year and a half — is that enough time to get to know someone? To know you want to spend the rest of your life with them? A year and a half? I've had sweaters for a year and a half. It's a scary proposition." Sounds like Ansari hasn't met Mrs. Right yet.
Follow Lindsey on Twitter @LDiMat.
[Photo Credit: CBS]
More:
Late Night Last Night: See Christina Applegate's 'Up All Night' Butt Double
Late Night Last Night: Tina Fey Fears for Tracy Morgan
Late Night Last Night: Christopher Walken's 'Cowbell' Skit Resurrected — VIDEOS
From Our Partners:

Jessica Biel Shows Off Wedding Ring After Marrying Justin Timberlake in Italy — PHOTO
(Celebuzz)

Kristin Cavallari Doesn't Want to Plan a Wedding Right Now, Says She's Focusing on Motherhood for Now — EXCLUSIVE VIDEO
(Celebuzz)