Late Night Last Night: Tracy Morgan Sings Goodbye to His '30 Rock' Castmates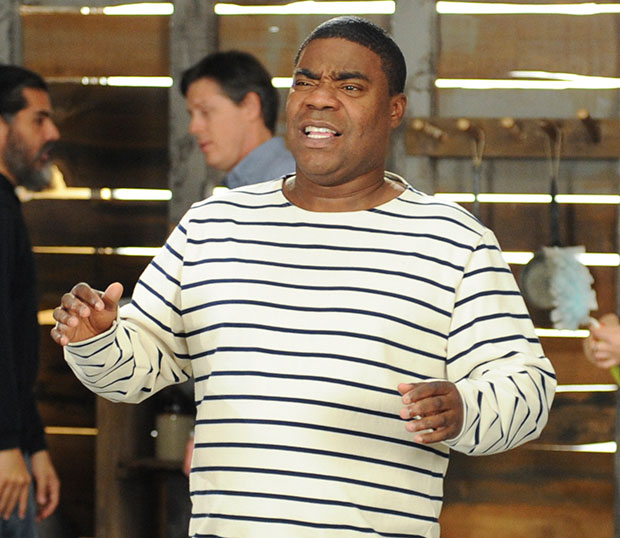 On Jan. 31, America is going to have to say goodbye to one of its favorite shows: 30 Rock. In anticipation of the series' final episode, the whole cast of the sitcom — Tina Fey, Tracy Morgan, Jane Krakowski, Jack McBayer, and Alec Baldwin — all stopped by Late Night with Jimmy Fallon Thursday to discuss the end. While they all had a blast at the wrap party (apparently, Baldwin and Morgan hooked up), it's still hard for them all to say farewell. So Morgan decided to take a break from his usual comedic act and perform a special parting serenade for his friends.
Of course, Morgan went with the mushy "It's So Hard to Say Goodbye to Yesterday" by Boyz II Men. While Krakowski almost broke down in tears, it was unclear if she was crying because of having to say goodbye or the fact that Morgan just can't stay on key (though he wasn't as bad as Taylor Swift is when she performs live).
Follow Lindsey on Twitter @LDiMat.
[Photo Credit: Ali Goldstein/NBC]
More:
Late Night Last Night: Ryan Gosling Gets a Fan to Insult Conan, Repeatedly — VIDEO
Late Night Last Night: Tina Fey Fears for Tracy Morgan
Late Night Last Night: Betty White Tries to Lie on 'Fallon' — VIDEO

Megan Fox's 12 Hottest Moments (Moviefone)

Ryan Gosling's 'Airbrushed' Abs: Plus 19 More Reasons We Love the Actor (Moviefone)