Late Night Update: Kimmel & Fallon Back with Audiences, Stewart/Colbert Off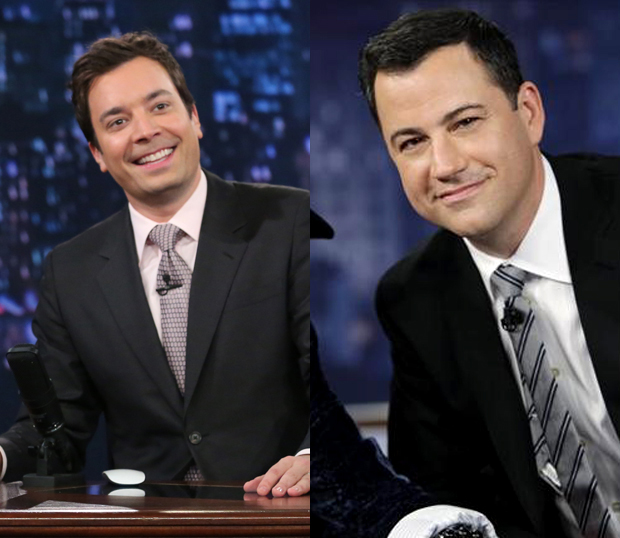 Hurricane Sandy just doesn't want to leave, does it? On top of New Yorkers going without public transportation some 42 hours since Mayor Bloomberg suspended subway and bus service, Big Apple-based late night TV shows are still feeling the effects of the storm. Hollywood.com has confirmed with Comedy Central that, like yesterday, today's scheduled tapings of The Daily Show With Jon Stewart and The Colbert Report have been cancelled. Reruns will air instead. 
Last night we also saw eerie audience-free versions of Late Show With David Letterman and Late Night With Jimmy Fallon. This afternoon, Letterman will again tape a solo version of his show, with guests Jim Cantore of The Weather Channel, Ken Burns, and music from Andrew Bird. The intrepid Jimmy Fallon, however, is welcoming a full audience back to his 30 Rock studio with guests Donald Trump, Andy Cohen, and musical guest Trey Anastasio.
Jimmy Kimmel Live! is also resuming taping today at the Brooklyn Academy of Music. The ABC host tweeted earlier today, "unless something weird happens, tonight's show in #Brooklyn is ON like fleece on Gov Christie."
[Photo Credit: ABC/NBC]
More:
Jimmy Fallon and David Letterman's Hurricane Sandy Monologues
Post Sandy: Inspirational Pop Culture Quotes to Get You Through the Day
Hurricane Sandy: Warner Bros. and CBS Studios Halt Production on NYC Shows
Lights Out! How to Stay Entertained During Hurricane Sandy

Kate Upton's Sexiest Viral Videos
(Celebuzz)