Does Seth Meyers Really Need to Make 'Late Night' Different?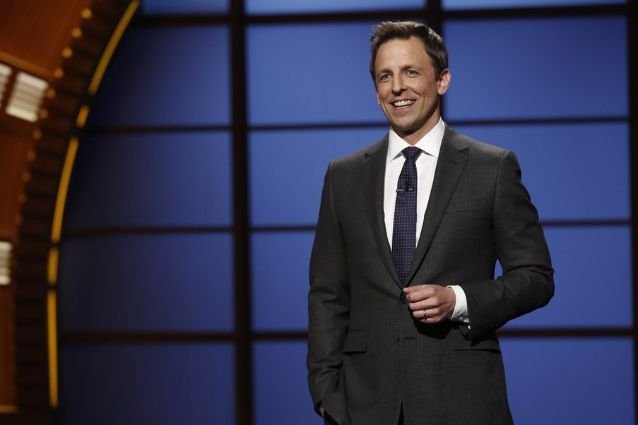 NBC
"I'm going to shake things up and start with a monologue." That's how Seth Meyers kicked off his first episode of Late Night, effectively setting the tone of the new incarnation of the NBC staple. Meyers' Late Night stuck as closely to the traditional talk show model as possible, feeling entirely "familiar" as it moved from joke to joke through his new segments and interviews. At times, Late Night felt like an extended "Weekend Update" segment, although the familiarity of that format might have provided Meyers with a much-needed sense of comfort. Almost all of his current events-themed jokes landed, and overall, he appeared to be pretty relaxed for someone attempting to launch a brand new talk show. Despite, however, the episode being tightly paced and funny, some have taken issue with the fact that Meyers didn't really do anything different with his hour. Thus far, it appears that the main critique of Late Night with Seth Meyers has been the fact that it doesn't seem to break any new ground. But does it really need to? 
As far as the late night talk show format is concerned, Meyers was practically tailor-made for the job. His tenure on "Weekend Update" has given him the ability to deliver practically any joke he's handed, which means his monologue will be reliably well-crafted and funny. It also means that when a joke doesn't land — like with one of his monologue bits about a congressman disguising himself as a UPS driver — he takes it in stride, moving quickly along to the next punchline. Meyers is also an excellent straight man, a talent he honed on SNL, which not only allows him to play off the goofier sensibilities of his bandleader, Fred Armisen, but will also likely come in handy during his interviews. Simply put, Meyers' first episode played to his strengths, which meant that the first episode felt like it might as well have been his 80th. 
In the run up to Meyers' and Jimmy Fallon's premieres, there has been a lot of discussion about the late night talk show landscape, with so many new shows vying for attention. Each show has a different tone, a different premise, which allows it to stand out from the all of the other talk shows currently crowding the field. Fallon is up-beat and goofy, Conan O'Brien is cynical and weird, Jon Stewart and Stephen Colbert are political satirists, Chris Hardwick is aiming straight for the social media-obsessed, millennial audience. Compared to all of those other hosts, Meyers has no schtick, no vivid niche that he can tap into in order to earn himself a target audience. The risk here is that he will end up lost in the shuffle, no matter how amusing his interviews are or how funny his original segments may be. Without breaking any new ground, Meyers might be unable to distinguish himself from the pack, and the viewers that caught his premiere episode might get bored and move on to a new show. 
On the other hand, perhaps staying traditional is exactly what Meyers needs to do. Despite being the first time he's hosted his own program, Monday's Late Night was stronger, funnier, and overall more impressive than Fallon's first week at The Tonight Show has been. Where most shows struggle in the first few weeks to find their tone and their audience, Meyers hit the ground running, delivering a solid episode on his first try. Of course, this doesn't mean that the new Late Night won't have any issues in its first few weeks or even months, but where it took The Tonight Show or @midnight some time to figure out how to play to the host's strengths, Meyers found his sweet spot almost immediately, simply by sticking to what he knew. 
Perhaps, with all of the new, innovative shows that now take up the hours between 11 PM and 1 AM, the thing that will allow Meyers to stand out the most is by adhering to the standard format. It's likely that as he becomes more comfortable at his new desk, he'll be more willing to experiment with new segments and sketches. His rapport with Armisen and goofy bits like "Costas Vision," in which the audience gets to see the Olympics as Bob Costas did through his eye infection, proves that he's willing to drop some of the formality in favor getting a little weird on the show. Since he's already promised that both Armisen and the show's writers will eventually turn up as different characters, it seems as if Meyers has some potentially ground-breaking things planned. He has a good amount of time in order to try new things and see what works best for the show, but right now it seems that what's working best is just sticking to what he — and we — are already familiar with. 
Meyers has always said that he's much better at setting up another character than he is at taking on the role himself, and so it seems that is exactly what he plans to do with Late Night. In a way, it seems as if this might be Meyers in his purest form: the sarcastic straight man, willing to be a little goofy, but mostly trying to make everyone around him look better, and it seems to be working for Meyers, as his first episode is one of the stronger late night premieres to hit television screens. So maybe Meyers is a little too traditional, a little too expected. But as long as the jokes continue to be funny, we might as well just enjoy them.