Does Lazaro Arbos Deserve to Stay on 'American Idol'?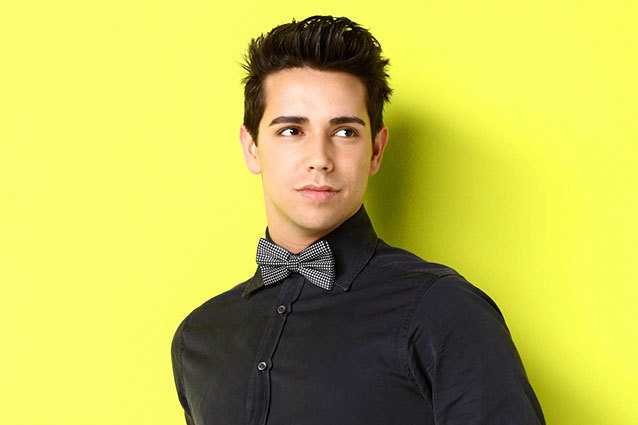 Lazaro Arbos made a comeback of sorts on last night's American Idol. After his atrocious performance of The Beatles' "In My Life," the 21-year-old singer's rendition of Stevie Wonder's "For Once In My Life" was "far better" than the trainwreck the week before.
But even if the judges hadn't faintly praised the Top 8 finalist — their platitudes contained a few criticisms, too — Arbos tells Hollywood.com backstage after the show that it doesn't matter what the judges say anymore. Which is good, because after he and fellow finalists Devin Velez and Burnell Taylor stumbled through a group performance of the Four Tops "I Can't Help Myself (Sugar Pie, Honey Bunch)" (and Arbos forgot the words), judge Nicki Minaj told them to leave the stage immediately because they were so awful, singling Arbos out in particular.
RELATED: Invoking the Sympathy Vote for Lazaro Arbos is Cruel
There's "people that love me no matter what," he says, so he doesn't even care that she was so harsh in her criticism. "If that's how she felt, so what? I love her regardless and she knows that."
Shouldn't it matter, though? Although Arbos improved from his performance the week before, he still wasn't nearly as good as his competitors on the show. But he's certainly not the first person to sail through Idol based on his backstory rather than his talent.
"I've watched in seasons past and there have definitely been contestants who I wouldn't put through but have a great story. That's undeniable," Season 11 finalist Colton Dixon, who's performing his new single on tonight's results show, tells Hollywood.com.
RELATED: 'Idol' Boys Know Their Motown Performance Was a Trainwreck
But even though Arbos might not be as good as his fellow finalists, that doesn't mean he doesn't deserve to be there. "Music is designed to make you feel something," Dixon says. "If his story incorporated with the music can do that, it's kind of like well, it may not be the best voice in the world but if it makes you feel something then that's the whole point."
Besides, there are plenty of current artists who aren't the greatest singers in the world but have very successful careers in music. "There are definitely singers on Top 40 radio right now who don't have the best voices in the world but there's something about them that resonates and connects," Dixon says. "I think that's the deal with Lazaro right now."
Do you think Arbos deserves to be in the competition? Or should he be ousted tonight?
Follow Jean on Twitter @hijean
[Photo Credit: Matthieu Young/FOX]
---
You Might Also Like:


Topanga's Revealing Lingerie Shoot: Hello '90s!


13 Most WTF Fan Tributes