Leanne's Spoiler List: 'AHS: Asylum' Mommy Issues, Love and Loss on 'Dexter'
Happy almost Thanksgiving TV Lovers! While many people have been stuffing the turkey, baking pies and preparing for an awkward weekend of bumping into your old high school friends—"Oh hey… you! Wow. You're still working at Target? That's nice…"—I've been busy whipping up a healthy heaping of spoilers for you! And they smell delicious! (Oh honey, please stop sniffing your computer. I was just kidding and someone, somewhere is silently judging you right now.) In this week's home-cooked edition of Leanne's Spoiler List, I got all the American Horror Story: Asylum answers you've been craving from Zachary Quinto and convinced Dexter's Jennifer Carpenter to dish on what's next for Deb's love life. I sautéed up some scoop on the upcoming CSI/CSI: NY crossover special and I've got all the delicious details on what's coming up for Glee, The Mindy Project, and Ben and Kate! Pull up a chair and put on your stretchy pants because y'all are about to be stuffed with some calorie-free spoilers. Dig in!
1. American Horror Story: Asylum: Heroes v. Horror
Last week's reveal of Bloody Face was a terrifying and jaw-dropping shock for everyone. The fact that my beloved Zachary Quinto (as Dr. Thresdon of course) could commit such horrifying acts was a hard thing for me to handle as I peeped at the screen through my fingertips. Luckily I was able to chat with Quinto last week via a conference call and his sweet voice and thoughtful answers were almost enough to make me forget the terrors that wont leave my brain. Almost. This week's episode, "The Origins of Monstrosity," will give us a deeper and darker look into the patient's pasts of Briarcliff as well as shed some light on Thresdon's serial killer tendencies. While I can't fully reveal his motives, let's just say that Dr. Freud would hit the nail on the head when suggesting that Mommy issues are to blame. Quinto explains, "I think part of being a psychopath is an ability to dissociate from one reality and create another one completely. I think he does that expertly… He could have made a more significantly positive contribution had he only rechanneled his traumas, his energy."
Many TV lovers like myself know that Quinto is no stranger to playing the evil one. For years on Heroes he was the baddest of bads when playing Gabriel Gray, but Quinto says that he prefers AHS's unique character development that all takes place neatly in one little season. "[American Horror Story] is just more rooted in character and relationship, and less rooted in the sort of peripheral elements like superpowers. I liked that this was grounded and real. It's something that I'm always drawn to is that kind of direction… it's not a six-year commitment as it could be with another show." A few other nuggets about tonight's episode: We finally learn the fate of our horrified honeymooners (RIP one of them…) and there's a new killer introduced. Let's just say that when this new psychopath isn't murdering people, she really enjoys playing dress up and having a tea party with her dolls. Creepy!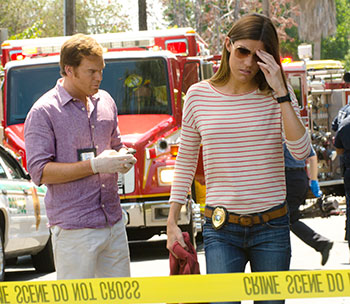 2. Dexter: A New Love for Deb?
Holy crap Dexter! You know just how to tug on our heartstrings while simultaneously making us cringe with incesty vibes, don't'cha? Sundays episode was flawless when Deb dropped her "I'm in love with you!" bomb to her serial killing brother and everyone is asking the important/obvious question: Now what?! To get you the goods, I recently sent one of my spoiler fairies out to New York to catch up with Jennifer Carpenter at the premiere of her new movie, Ex-Girlfriends. (I had a date with my DVR and it would've been oh-so rude of if I ditched Stevie my TV at the last minute.) Carpenter says that Deb's emotional turmoil and confusion over her feelings for Dexter (Michael C. Hall) have greatly evolved. When talking about last season's first inkling to loving her brother, Carpenter said, "She never actually said that she's in love with Dexter. She thought that she was and she wanted to know as much [as she could.] and I think that was also a tool that writer's use to sort of pace her piecing the puzzle together of what it is that he does." Now that Deb has actually confessed those powerful three little words to Dexter, Carpenter warns that this knowledge will dramatically shift the dynamics for the rest of this season. "I think that the new information sort of trumps those feelings that she was having. Not sort of. They absolutely do."
Since Deb has opened the Pandora's box of awkward secrets, we pressed Carpenter to see if she thinks that Deb can ever move past this sibling super crush and find a new (less murder-y) person to love. The actress smiled, "For once, I mean this is all just me speculating, but I think that now that she is claiming her life as her own, if she is ever going to meet love, it will happen now." Squee! Fingers crossed that she wil have a happy ending. But speaking of endings, Carpenter recently revealed that she would be a-okay if Deb were to die at the end of this final season. "I don't want this life [for her]." She stressed. Well that's completely understandable, who would? But the biggest question is would she rather Deb's death be at the hands of her brother? Carpenter was quick with her answer, firmly saying: "Hell no."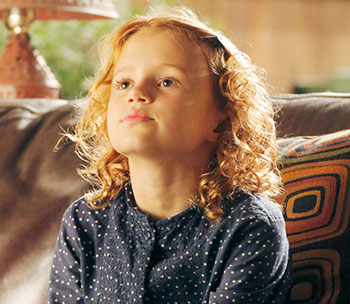 3. Ben and Kate: Smile for the Camera!
To me this show has it all. It's funny, quirky, cute, and it has one of the only child actors—the lovely Maggie Elizabeth Jones—that I don't want to ship off to a far away foreign land. (Yes, Modern Family's demon-spawn Lily I'm looking at you!) I love the fact that Ben (Nat Faxon) and my TV bestie BJ (Lucy Punch) don't coddle Maddie. They're brutally honest with the their pint-sized pal and it makes for a refreshing and hilarious sitcom dynamic. So you can imagine my extreme delight when I snagged the following scoop: Maddie and BJ have a squee-worthy storyline together in an upcoming episode—12 to be exact—called "Bake-off."
While Kate (Dakota Johnson) is off getting her flirt on, a casting agent in a restaurant mistakes BJ and Maddie for a mother-daughter duo and encourages them to audition for an upcoming commercial. Genius. One thing leads to another and the two attempt to dazzle the director at a casting call, but of course in true Ben and Kate fashion, the audition doesn't go as planed and hilarity ensues. Let's just say that Maddie's catwalk skills may not be quite up to par. Not to worry Maddie, I'll still love you! (FYI: If Ben ever enters Maddie in a Toddler and Tiaras type competition, I'm pretty sure my heart will explode from excitement. I'm not kidding.)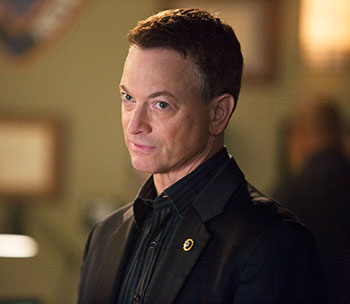 4. CSI: Crossovers and Corks
There's something oh-so special and exciting when a long-standing show like CSI decides to shake things up a bit. This February fans can prepare to feel the love because CSI and CSI: NY are staging a special 2-part crossover. Plus there's even more exciting news for shippers of the New York series! It looks like things between Mac and Christine are going to get even sweeter as the season continues. In the episode entitled, "In Vino Veritas" Mac (Gary Sinise) will head out to Las Vegas for a little romantic get-away with his lady Christine (Meghan Dodds) but his love-filled weekend is quickly destroyed when he realizes that not only is she missing—she's been kidnapped. So Mac enlists D.B. Russell (Ted Danson) and the rest of Las Vegas CSI team to find her.
The drama continues in the second episode when D.B. heads back with Mac to the big apple to help track down the kidnappers and determine whether or not Christine is alive. (Side-Note: Please TV Gods let Christine be okay! Mac can't handle another heartbreak like this!) Somehow tied into it all, fans will also watch the team crack the case of the murder of a Mr. Davari. The deceased was a wine-dealing delinquent who used to auction off counterfeit cases for millions of dollars. But who did it? The prostitute? The waiter? Or the guy who got conned out of a small fortune for some high-priced grape juice? One thing I do know for sure is that I take wine very seriously, so I can't say that I'm going to be particularly heart-broken knowing that this fictitious criminal will be laid to rest.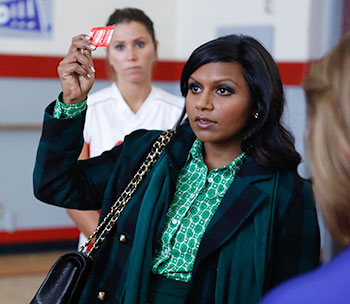 5. The Mindy Project: Hey There Neighbor!
Would you like to meet the newest lady of The Mindy Project? Of course you would! We're soon going to meet Maggie, Mindy's friend from college who also happens to live in her same apartment building. What a coinkidink! Maggie is the typical overachiever: She graduated from Princeton and moved straight onto the Teach For America program to lend her skills as an educator. How noble! I already like her very very much.
On her first assignment in the P.E. department, Maggie discovered that her tomboyish qualities had plenty of room to shine, so she decided to become a full time gym teacher. Unlike Mindy, Maggie is wildly confident, totally comfortable in her own skin and completely fine with the fact that most people assume that she is a lesbian because of her job. Damn stereotypes. In reality she's quite the man-eater! Maggie has plenty of handsome suitors knocking at her door and hopefully she'll be able to share some of her dating secrets with our leading lady.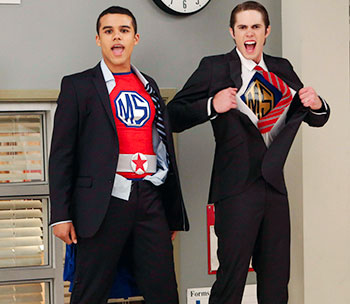 6. Glee: Spandex and Sweater Vests
Remember a few episodes back when Blaine (Darren Criss) went club crazy and signed up for pretty much everything extra curricular? Well get excited glee-bees because this week's all new episode give us a more in depth look in to the coolest club of all: The Secret Society of Superhero's! "Dynamic Duets" features some of the funniest (and sexiest) super hero costumes I've ever seen. My top 3 would definitely have to be Tina's Asian Persuasion, Brittany's Human Brain and Kitty's Femme Fatale. Girl power! Despite being socially immersed in all things McKinley, Blaine still feels lost without Kurt (Chris Colfer), and the lure of perfectly stitched Warbler blazer is tempting our former bow-tie lover into another potential school switcheroo. Klaine fans will also get some answers surrounding Blaine's heartbreaking indiscretion with this mysterious Eli that we heard all about in "The Break Up."
Fun-Fact: When I first saw Finn (Cory Monteith) in this episode I seriously had to do a double-take! I understand that Finn has taken over for Mr. Schue while he's gone, but it looks like he also decided to raid his closet too. If Santana (Naya Rivera) saw him in these sweater vest and plaid shirt combos, she would most likely pass out from snark-overload and then—upon regaining consciousness—she would go off on a 20-minute verbal attack. Of course it would all be in good fun because we know that Santana and Finn are clearly buds after she came to save the day in Glease. (Side-Note: But seriously fingers crossed that something like this happens down the line because I truly miss our lovely Latina's word-induced whiplash.) After fumbling at first, Finn quickly finds his footing (via spandex) and we get to witness some truly delightful duets. Kitty and Marley FTW!
Bonus Scoop! Looking ahead, the powers-that-be at Glee are currently searching for a new leading man named Paul. (Not the cutest of names, but I guess I can look past it…) Paul is a fella in his mid-twenties and is described as being "handsome, confident and extremely charming." The new mystery man is set to appear in episode 11 and it's safe to say he'll become a familiar face on our TV screens. But just who will this new beau be charming? It seems like Rachel (Lea Michele) has her hands full right now with teacher's pet Brody, so the next logical assumption would be that this is a new potential love-interest for Kurt. I personally don't want that to happen so this is my counter speculation: give him to Quinn (Dianna Agron)!!!
What do you think is going to happen on Dexter now that Deb has spilled her steamy secret? Excited for the hilarity that's coming up on The Mindy Project and Ben and Kate? Who do you think this "Paul" should be romancing on Glee? Tell me everything in the comments below!
Follow Leanne on Twitter @LeanneAguilera
—Additional reporting by Lindsey DiMattina
[Photo Credit: FX, FOX, CBS, Showtime]
MORE:
Leanne's Spoiler List: Love is Shaky on 'Grey's Anatomy,' 'Vampire Diaries' Gets Darker
Leanne's Spoiler List: Which 'Once Upon a Time' Character is Ready for a Comeback?
Leanne's Spoiler List: Love is Brewing on 'Glee,' Lucy Hale Scares Up 'PLL' Secrets

Prince William Shares Personal Snapshots of Royal Air Force Life (PHOTOS)
(Celebuzz)