Leanne's Spoiler List: Cocaine Fueled Adventure on 'Girls', Megan Hilty Talks 'Smash' Romance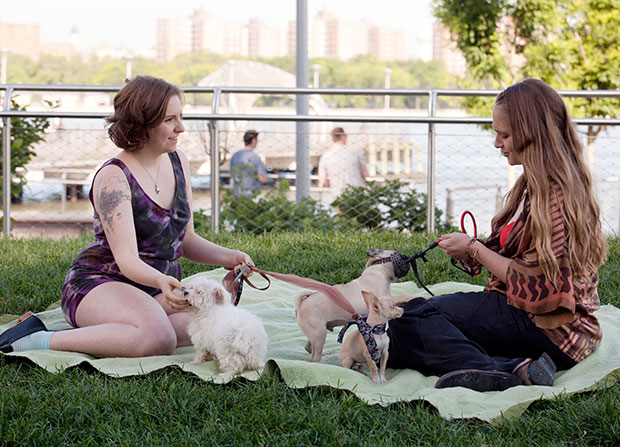 I'm headed to the set of Glee and The New Normal today, (Tweet me your questions: @LeanneAguilera) so I'm keeping this intro short and sweet. The week's edition of Leanne's Spoiler List is filled with five fantastic shows! I chatted with the lovely Megan Hilty of Smash to find out what's next for Ivy's love life, and gathered scoop on what's coming up for Hannah and the gang on Girls. I also hit up the FOX all-star party to find out what's happening for the Raising Hope wedding bells and watched future episodes of Shameless and American Horror Story: Asylum to snag some crazy spoilers. Read on for all the TV fun below!
1. Girls: Cocaine-Induced Craziness
Oh em effing gee this season of Girls is amaze. I've only seen then first four episodes (subtle brag intended) and I'm already counting down the days til Lena Dunham wins her next Golden Globe. This Sunday's episode, "I Get Ideas," is truly fantastic. It has everything you could ever need: puppies, attempted restraining orders, high-waisted shorts and the return of Missy Elliot in the world of pop culture. Donald Glover is back as Hannah's kinda, sorta, but oh-so hot boyfriend and spoiler alert: He's a Republican. This of course is not a quality that Elijah deems admirable, but he really doesn't get any say in this considering he had sex with Marnie for like "two and a half pumps." And yes, that hilarious matter will be addressed soonish. But as great as the second episode is, the third ("Bad Friend") is quite possibly the best thirty minutes of my entire life. And I've lived 23 phenomenal years so far.
If you thought Shoshanna on crack was incredible, just wait until you see Hannah and Elijah's wild cocaine-induced adventure. Warning: You will see Hannah's lady buttons, out and proud for the majority of the episode. And it's both distracting and entertaining. Our leading lady is looking for some writing inspiration, so she does what any early-to-mid-twenties NYC girl would do: She asks her junkie neighbor if he could hook her up with some illegal drugs. (Writer's Note: I don't actually live in New York so I have no idea if that last statement is entirely true. Editor's Note: Totally true.) The result is a laugh-out-loud, call your best friend and tell her you love her experience that only Girls could create.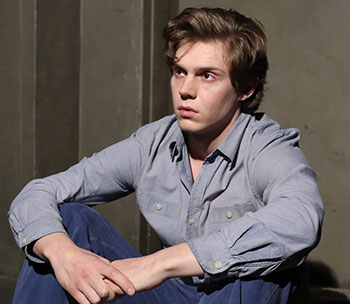 2. American Horror Story: Asylum: Time Jumps Galore!
"What the eff was that?" Those were the exact words I though to myself after I finished this week's all-new episode of American Horror Story: Asylum. We all know that this season has been absolutely one hundred percent batshit rocking back-and-forth in a corner crazy, and tonight's episode, "Continuum," is just as bizarre as the rest of them. The episode is divided into four chapters through a series of fast-paced time jumps: The Kit-centric storyline is set in 1967, Jude's (or should I say Betty Drake's) tale takes place in 1968, and Lana's story in 1969. The final segment is a quick capper that fast-forwards the fans to an unknown year, starring Johnny Morgan (Dylan McDermott) completely scaring the crap out of an old woman.
While all four storylines are intriguing in their own psychotic way, Kit's journey in "Continuum" is definitely the most horrific. Last week we saw that Alma is actually alive after Kit had already proposed to Grace. Ruh Roh! So, what's a fella to do when he loves two women and has a child with each of them? Answer: Become one big dysfunctional family living under the same roof. Plus, attention ladies: Kit spends a few key scenes in his tighty-whities! True he's splattered with blood while he's wearing them, but come on — we've seen way worse on this series. Overall, Kit's progression throughout the episode is heart breaking, and we're starting to get the sense that Ryan Murphy does not want to end this season on a happy note. Sigh.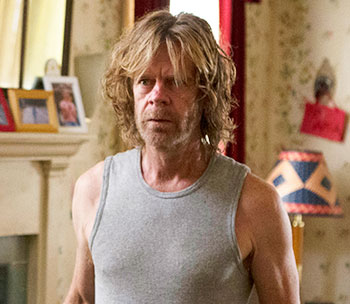 3. Shameless: The Baby Whisperer
Shameless is back, and I'm going to be totally honest when I say it's better than ever. Last week we saw that after 137 days, Frank returned to his family and was welcomed with a less than enthusiactic reponse. Well, except for Debbie. This week we see that Debbie is still over the moon to have her dysfunctional dad back in her life, but of course, leave it to Frank to break a young girl's heart in just a few short hours. The result is one of the most hilarious and satisfying scenes we've ever seen on Shameless. When I caught up with William H. Macy last week, he revealed that doing that scene was a challenge. "Emma, who plays Debbie, was pretty timid at first, but once she got going she really rattled my brain. I always take quite a beating on this show."
Also in "The American Dream," fans will see that Sheila and Jody are doing their best to quiet down the worlds most obnoxious baby. I love this show more than most of my shoes, but I swear if they don't find a cure for this baby's crying, then I seriously just might have to watch it on mute. Luckily it looks like Frank is also known as the baby whisperer and he's able to quiet the little tyke down. I'm not sure if Frank's methods are considered legal, but at least the demon baby stops crying right?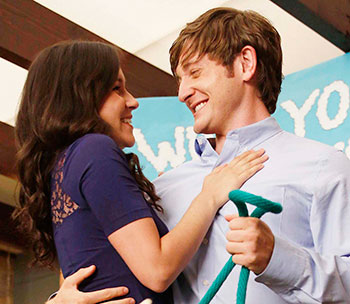 4. Raising Hope: A Modern Wedding
Confession: I've recently rediscovered how much I love this show. Back when I was just a little baby journalist, (Ahem, that would be a year ago) my very first interviews were with the stars of Raising Hope. Luckily the cast was sweet and did not make me cry, so I continued on with my career choice. I was on set for last year's Valentine's Day episode, when Sabrina finally realized that she had feelings for Jimmy. It was oh-so adorable, and now the two crazy kids are getting married! Even though I wasn't invited to the wedding, (Um, rude.) Shannon Woodward recently told me that it's going to be an fantastic, spoof-filled episode. "Melanie Griffith's character, who plays Sabrina's mother, she decides not to come to the wedding… So instead of coming to the wedding she hires the film crew from Modern Family to document Jimmy and Sabrina's wedding." The actress continues, "Which is basically an amazing way of saying that this episode is exactly like Modern Family — we talk to the cameras, and for one episode it's like a completely different show." That. Sounds. Amazing.
Obviously this is going to be the TV wedding to watch this season, (airing Jan. 29 bee tee dubs) but according to Woodward the Natesville nuptials are not going to be the main focus of the episode. "It was really fun, but there is a huge surprise that I'm not allowed to say… but I can say that it is so big that the wedding is almost the B story. You will never guess it. There's no way you'll guess it, but it's worth watching." I pried and pleaded and even complemented her cute shoes, but she would not divulge the big secret. Grrr. However, she did tell me that there are plenty of other hilarious episodes coming up before and after the wedding. First up are the bachelor and bachelorette parties in an episode called "What Happens at Howdy's Doesn't Stay at Howdy's." Woodward explains, "Something crazy does happen, and it may involve Jimmy marrying a man by accident." There is also a honeymoon two-parter in which Jimmy and Sabrina visit Los Angeles, end up on the set of a children's TV show, and somehow involve monkeys. Sounds like a normal vaycay to me!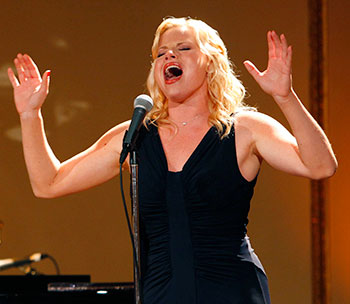 5. Twitter Question: @markisawimp: Saw 1st hour of Smash s2 & LOVED it, esp the opening Marilyn no. & Jimmy's song! Any good ep2 scoop?!
Why hello there fellow Smash lover! I'm so glad that you enjoyed the first hour of our beloved musical theater drama, and for those who are yet to witness the amazingness you can watch it here. But please don't even get me started on Jimmy's song, I swoon, pass out and then bump my head each and every time I watch it (So far I'm up to 9 concussions but it's so good that I just can't stop!). Funny you should ask about scoop, because I have tons from when I stalked chatted with the Smash stars last week at the NBC TCA Press Tour party. Megan Hilty — the sweetest girl you'll ever meet — is just as excited as the fans for the new season to start. In the second episode you'll witness one of the most gorgeous Ivy solos you've ever heard, but she steps on Karen's toes as Marilyn to be able to sing it. Hilty says that Ivy has a difficult journey ahead of her this season. "She's forced to really look at her life and ultimately realize that she needs to make some changes, both personally and professionally."
If you're hoping Ivy's personal life will include a new fella, you might have a wait a bit. "For right now, she needs to figure things out for herself first before she can be good for anybody else. Maybe she needs a plant or a dog or something." Another key aspect of Ivy's past will be coming back this season: her mother. That's right: Broadway legend Bernadette Peters will reprise her role as Leigh Conroy, the fabulously fierce musical theater star. Hilty explains that their strained mother/daughter relationship is something that will definitely be addressed. "They're also trying to mend things between them, but its difficult. They're two very different personalities and very strong women. It's a little tumultuous but they're working towards it." Be on the look out for more Smash scoop from yours truly as we get closer and closer to the premiere.
Are you excited for the season premiere of Smash? What do you think the "huge surprise" is going to be on the Raising Hope wedding? Want to party with Lena Dunham on Girls? Tell me everything in the comments below!
Follow Leanne on Twitter @LeanneAguilera
[Photo Credit: HBO, Showtime, FX, FOX, NBC]
MORE:
Leanne's Spoiler List: 'Glee' Star Naya Rivera Talks NYC and Bram, 'Justified' Season 4 Scoop
Leanne's Spoiler List: Season 2 Secrets from 'Smash,' 'Vampire Diaries' Boss Talks Delena
Leanne's Spoiler List: Seth Gabel Spills 'Arrow' Secrets, 'The Vampire Diaries' Gets Darker

Craziest Celebrity Swimsuits (Celebuzz)