Leanne's Spoiler List: Couple Alert! What's Next for Nick and Jess on 'New Girl'?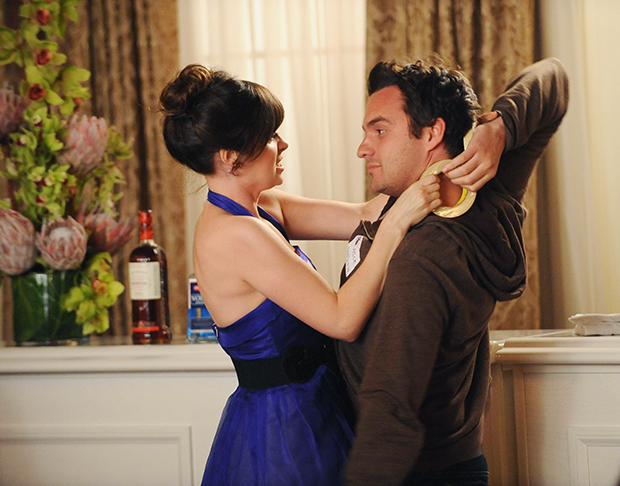 This week's edition of Leanne's Spoiler List is filled to the brim with six sensational shows, so I'm not going hold you back from the TV goodness with a long-winded intro. Here's basically what I was going to say: I still love TV. I still love writing about TV. And I love you all for reading this right now. Sweet, now that I've shared my feelings, let's get to it!
I've got all the scandalous details on what's coming up for New Girl's kinda, sorta couple, Supernatural scoop for our favorite evil-fighting brothers, and chatted with Revenge's Madeline Stowe to learn about the future Hampton-based drama. Plus, find out what's next for House of Lies, Community, and Smash! Read on for all the upcoming TV craziness…
1. New Girl: Oh. My. GOD!
For those of you who have not seen last night's New Girl avert your eyes right now! No seriously, I'm about to gush over something amazing and wonderful and jaw-dropping. Did you look away? Okay good: Nick and Jess! Nick and Jess! NICK AND JESS!!! Afte a year and a half of back and forth quirky flirtations, they finally kissed and hot dayum it was perfection! Say it with me now: Squee! There's only one little problem: Jess kinda, sorta, definitely still has a boyfriend. But I've got some great news for all you Nick/Jess shippers: Sam's time is almost up!
Last week, I caught up with the oh-so handsome David Walton on the red carpet for his ABC and Hallmark movie The Makeover, and while he was pretty tight-lipped about his exact future with Jess, he did tease the kiss. "Something big is about to happen," Walton teased. "I can't tell you, but it's awfully exciting. It's going to rock the New Girl world." You are correct sir! Have y'all checked Tumblr this morning? Wow!
As much as I've adored Jess's adorable pediatrician beau, I'm ready for him to scoot his cute butt out of the loft for good so that our new couple can add the benefits part to their friendship. Luckily, Walton told me that his time is almost up: "I've shot seven episodes and six have aired. So I'll be on one more." Ooh I'm beyond curious to see how Jess and Sam part ways. Does she tell him the truth? Will Nick be the one to break the news? When can we finally learn the rules of True American?! One thing I do know for sure is the fact that Walton is a Nick/Jess shipper too! The actor revealed, "I mean, Nick and Jess are kind of perfectly bad for each other in a perfect way, so I don't want to get in the way." That's good love, bow our gracefully now before the shippers tear you apart.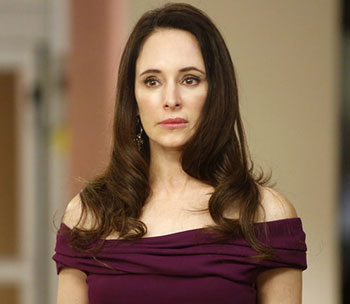 2. Revenge: Back to Season 1 Roots
Wanna know what's delightful? Chatting with Revenge's manipulative matriarch Madeline Stowe. Wanna know what's terrifying? Asking the actress to unleash her icy bitch-face on you. I'm still having nightmares! But before I was paralyzed with fear, I had the opportunity to get plenty of details about our favorite Hamptonites. Now that Emily and Victoria have reached a clandestine understanding, does this mean that our two revenge-loving ladies will finally be — gasp! — friends?
Stowe was quick to shut down any hope for a Vimily friendship. "Unless [Creator] Mike Kelley changes his mind you will not see that happening and in fact it's going to get worse and worse," she says. "[Kelley] is now resetting the relationship back to what it was in the first season where there's this antagonism and suspicion and they're going to try and destroy each other." The unbelievably gorgeous actress says that there will be a huge change of events that will put The Initiative on the back burner. (ugh, finally!) "They're not going to be a central thrust and what's happening is it's going to make Emily focus back on Victoria as the enemy and she does some pretty terrible things." Bring back the red sharpie!
RELATED: Leanne's Spoiler List: Which 'Pretty Little Liar' Could Be A? 'Glee,' 'The Following' and More
And as for Mr. and Mrs. Grayson? Stowe told me that never wants an absolutely peachy relationship for those two. The actress says with a laugh, "I hope Victoria cheats on him like crazy! The great dynamic of the relationship is that we're always going at it, there's always a conflict. In fact, in the episode that we're about the shoot, she's trying to get out of the marriage because that renewal of the vows was just an issue of convenience, but he tries to keep her in." Think she'll be able to slither her way out of this one? Sound off in the comments!
3. Community: Troy and Britta… In The Bedroom?
You read that correctly right Community fans! — the Hollywood.com team screened two episodes (one and three), and I can confirm that things have definitely progressed for these two like-birds. The formerly virginal Troy now has to hide his affair from his bromantical partner Abed. Secrets don't make friends! (Did anyone else's teacher tell them that? No? Just me? Okay then!) Unfortunately things will heat up when Abed does find out, right in time for the whole gang's trip to an Inspector Spacetime convention!
Not only will Abed passive-agressively maneuver the convention to break Troy's poor little heart, but Jeff will do some cunning maneuvering of his own. When a female convention-ee (Battlestar Galactica's smokin' Tricia Helfer, natch) mistakes Jeff for a popular character on the series we get the chance to hear what may be the worst English accent of all time. (Editor's Note: Pshh, Doctor Who fans — this would never happen. Like we wouldn't know a David Tennant from a Jeff Winger…) So whose hearts will break? And which couples will come back together? Make sure to sure to watch Community, Greendale Human Beings!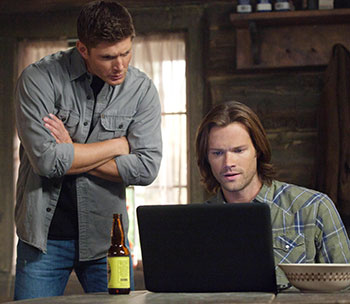 4. Supernatural: Confused Angel
So here's what you need to know: tonight's Supernatural is good — and by good I mean freakin' fanstastic! Although our favorite conflicted angel Castiel won't be in tonight's episode, "As Time Goes By" (making that two episodes in a row he's been absent! Boo.) executive producer Bob Singer told me in a Q&A tuesday that he'll be back in a big way very soon. "He's really crucial to the tablet story," Singer revealed. "He's going through a trial of his own that's personal. Naomi is very unhappy with him and Crowley is very unhappy with him, and he's a confused angel right now." We don't blame him. Poor Cas, having to deal with those pesky repressed memories of an angel lobotomy!
Let's talk tablets: Just in case you were worried that the Winchester brothers are going to be dealt another wild card tablet like the newly discovered angel one, you SPN lovers can breathe a sigh of relief. "We have the demon tablet and the angel tablet and the leviathan tablet," Singer said. "That's about all the tablets we could handle." Thank goodness, those boys have enough on their plates as is!
RELATED: Leanne's Spoiler List: Cocaine Fueled Adventure on 'Girls', Megan Hilty Talks 'Smash' Romance
Bonus Casting Scoop! For those of you who enjoyed last week's LARP-themed episode as much as we did (come on, how could you not?), get excited for another round with lesbian hacker Charlie Bradbury! "Felicia is going to be coming back in an episode," Singer revealed. "We love Felicia. We're just breaking the story now. She basically brings them a case." Not gonna lie, I totally have a girl crush on Felicia. I just can't get enough of her, and neither can Sam and Dean, clearly!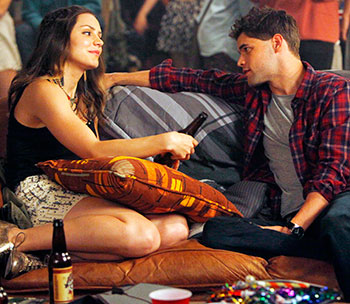 5. Smash: Meet Your New Favorite Couple!
It's no secret that I la la love NBC's Broadway based drama Smash. And with less than a week from the Season 2 premiere I want you to get just as excited as I am for all the amazing new characters and incredible musical numbers. Let me introduce you to my newest fangirl obsession crush: Jeremy Jordan. He's the newest soonworthy fella that Karen will encounter in her quest for fame, but he's not just a pretty face — the man can sing! Jordan plays Jimmy, a sarcastically snarky bartender and songwriter who is currently working on a new musical called Hit List.
A few weeks ago, I introduced myself to Jordan at an NBC party and although I tried to play it cool, it was painfully obvious that I was a huge fan. Luckily Jordan was the sweetest of the sweets and was quick to give me plenty of spoilers on what's coming up for Karen and Jimmy. (Should we call them Kimmy? That's pretty cute!) Jordan warned that this is not your typical fairytale couple. "It's going to get pretty volatile," he said. "There's a little bit of trouble that gets in the way but eventually they come together and of course you know just as things get good they get really bad and then they get worse." Sheesh!
RELATED: Leanne's Spoiler List: 'Glee' Star Naya Rivera Talks NYC and Bram, 'Justified' Season 4 Scoop
Jordan explains that even though this couple clashes, they have a strong bond that will keep them together this season. "There's that energy and there's that unspoken connection that undeniable thing between them that keeps drawing them together even though they're so bad for each other. They really are." Well it's like the Bombshell song says: "Let's Be Bad."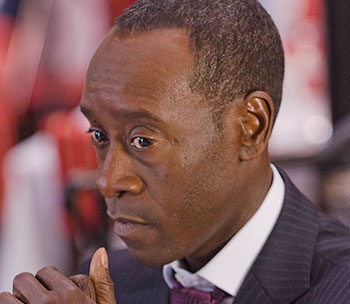 6. House of Lies: Baby Maybe?
By now you've heard that Don Cheadle's Ocean's 11 buddy Matt Damon will guest star on the Golden Globe winner's Showtime comedy, House of Lies, this season. (And if you didn't well then… surprise!) But when I caught up with Cheadle to chat about Season 2 — he pretended to be oh-so shocked at his friend's appearance. "Matt Damon does the show? That's really bad news. That dude owes me so much money," he joked. "No, wait — that's good news. I'll get to see him."
Along with Damon's appearance, Cheadle said viewers of the newly renewed show can look forward to a juicy arc with Gallweather Stern's new owner, played by Bess Armstrong, along with a meaty storyline involving the pod's current client, a casino owner. "That kind of takes up a large part [of the season] because he's a huge client," he said. Generally, Cheadle said Season 2 focuses more on the gang's personal lives. "It's just all getting more and more intertwined, especially with our relationships. It's going further and further."
Speaking of relationships, what about Marty and Jeannie? My new favorite will they/won't they couple have been slowly piecing together what happened on that fateful drunken night, but when will they discover what really happened? "I don't know that they ever know. They put away two or three bottles of tequila so they think they know at some point, but it's never been confirmed. Then, of course, the baby shows up," Cheadle joked, referring to costar Kristen Bell's impending new arrival, which may or may not actually be written into the series. "Watch the show, you'll see," he teased. All I know is that Kristen Bell is perfection and it's been a little over a week since I've seen the sloth video we all should watch it again!
How are feeling about Nick and Jess's New Girl kiss? Counting down the days, hours, and minutes until Community returns? Excited for Revenge to return to its Season 1 roots? Tell me everything in the comments below!
Follow Leanne on Twitter @LeanneAguilera
—Additional Reporting by Sydney Bucksbaum, Jean Bentley, and Shaunna Murphy
[Photo Credit: FOX; ABC; NBC (2); Showtime; The CW]
---
You Might Also Like:

Who Wore This Crazy Hat?

Stars Who Changed Their Look