Leanne's Spoiler List: 'Glee' Star Naya Rivera Talks NYC and Bram, 'Justified' Season 4 Scoop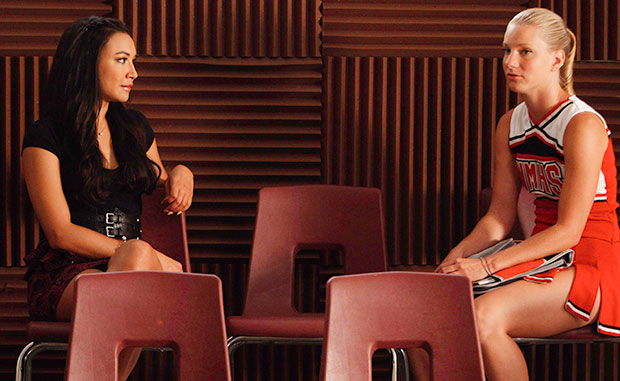 Most of the time when I'm working you can find me sitting in a cubical, eating Skittles, and writing articles about the wide world of television. But sometimes, I'm the lucky girl in the sky-high heels who gets to attend red carpet premieres and network parties that are filled with so many pretty people that it almost hurts my eyes! Many of you know that the winter Television Critics Association is currently in full swing and for a TV enthusiast like me, it's like I'm a kid in a candy store. But of course I have to do my best and be lady like, so my inner fan-girl feelings don't frighten away the stars. Anyways, moving on!
This week's edition of Leanne's Spoiler List is packed with juicy details from five phenomenal shows. I chatted with the lovely Naya Rivera of Glee to get Santana's feeling on Bram, and gathered scoop on what's next for Toby on Pretty Little Liars. I also hit up the premiere of Justified to find out what's next for Harlan county's biggest badasses and chatted with the stars of Suburgatory and Deception to snag spoilers from upcoming episodes. Read on for all the TV craziness below!
Glee: Is NYC Ready for Santana?
My Dearest Glee-bees: In the past year, I've had the pleasure of interviewing every single cast member of Glee, except for the amazingly talented Naya Rivera. Every time I'd get close we'd run out of time. Sigh. However, on Tuesday night at the FOX semi-annual TCA all-star party, I was delighted to have the chance to finally talk with Rivera. Fun-Fact: She's just as wonderful in person as you could imagine! And If you're anything like me, then you desperately miss watching Santana singing on your TV screens each week. Well cheer up buttercup! Rivera told me that there is a lot coming up for our favorite fiery Latina. "She is actually doing big big things in the episode 'Diva' that we're shooting right now." Rivera says, "She gets to sing three songs. One of them is a Tina Turner powerhouse song, and then she has got some exciting news coming up. " Hmm, any clue on what this "exciting news" could be Glee lovers?
Many fans are hoping that Santana will leave her cheerleading days in the past and move to The Big Apple with Rachel and Kurt to chase her dreams. So of course I made sure to ask if this brilliant idea could become a reality. The 25-year-old actress reveals, "I think it's a very strong possibility." All together now: Squee! And of course I couldn't end our conversation without bringing up the newest couple to emerge in the Glee shipper-sphere: Bram — aka Brittany and Sam. Many people (this journalist included) can't stand the idea of this new duo, so you can imagine my glee when Rivera told me how Santana feels about Brittany's new beau. Rivera's answer was short but sweet: "She hates it!" Any chance of a Santana/Sam smackdown? Rivera says with a coy laugh, "Maybe…" Well, my money is definitely on Santana!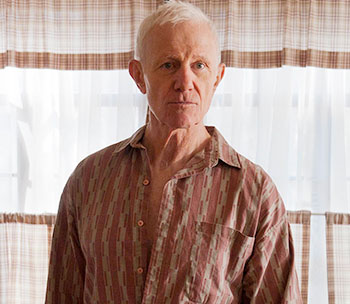 2. Justified: Arlo Will Always Adapt
The FX hit Justified is finally back in our lives and if you missed Tuesday night's season four premiere, you can catch up on all the Harlan drama right here! I had the pleasure of attending the Justified red carpet and premiere this past weekend where I chatted with the cast — and swooned over the handsomeness of Timothy Olyphant. (Hopefully he didn't really notice when I caught a case of the fan-girl giggles…) One of my favorite characters is without a doubt Raylan's law-avoiding father, so of course I had to talk with Raymond J. Barry about Arlo's life behind bars this season. Barry says that just because Arlo is now in prison, it doesn't mean that he's going to change his badass ways. "Arlo always has an ace up his sleeve," he says. "He's a real survivor and he has very few tools except what he's created for himself. No education, born in poverty — he learned how to survive as best he could, and if he's in prison he'll figure it out. That's a whole other world, there's a code of ethics and you learn how to do it."
Barry also reveals that although Raylan is furious that Arlo took the fall for Boyd's crime, their father/son relationship is not completely severed. Barry says, "They're still talking. The thing is, Raylan doesn't expect Arlo to change. It's beyond that. And the environment is such that you've got to do what you've got to do." Barry says that Raylan and Arlo have very similar characteristics, it's just that they chose different paths in life: "He chose the straight and narrow — he's a cop, right? He gets paid for that and I get paid for what I do."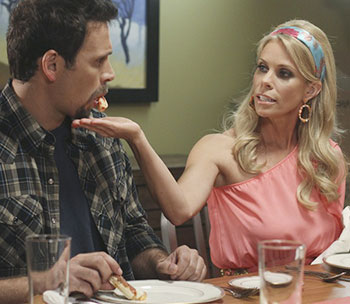 3. Suburgatory: Oooh Barracuda!
You all know how I feel about Surburgatory: Basically if I could hug this show I would never ever let it go. So when I chatted on the phone with the amazing Cheryl Hines last week, I was thrilled to learn about all the Chatswin craziness that is coming up. Everyone knows that Dallas Royce and Sheila Shay are not exactly besties — in fact they usually can't stand each other. Well fans had better start making their Team Dallas and Team Sheila shirts pretty soon, because there's a musical battle headed to Suburgatory. Hines explains, "Well there is an episode coming up where George decides to star a garage band with the guys in the neighborhood. And you know Dallas thinks it's very cute and George says no, it's just a guy thing and we're in the garage so we're just playing with the guys."
Of course, when is Dallas ever going to let a man tell her what to do? And then the trouble begins: "I walk in and Sheila Shay is signing "Barracuda" with the boys, and she's really good! She basically tells me that I don't need to be there and be the Yoko Ono of the group." Oh snap! Hines continues, "So no we're not making cookies together quite yet." Looks like we still have a long way to go before we're going to see Dallas and Sheila hanging out at the Chatswin Country Club together. At least there are going to be plenty of hilarious episodes in the meantime!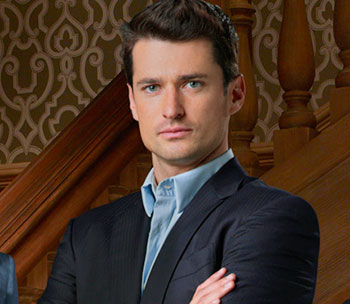 4. Deception: Not Just a "Who Done It?" Drama
Deception is the newest high-class murder mystery drama to hit NBC, and while it is very similar in tone to last year's Revenge, it is still going to be a fun primetime soap opera to get hooked on. Especially because of the oh-so handsome Wes Brown, who dazzles in his scenes as Julian, the brother of the recently murdered deceased Vivian. I caught up with Brown at NBC's TCA party earlier this week, and learned that he loves his character just as much as I do! "The Julian character — I mean, what's not to love? He's this mega-rich playboy who is a little too smart for his own good. It's an intriguing character to play, and he's nothing like myself in real life." (Side-Note: Yep, that's true. For example, Brown drives a Prius, not an Aston Martin like Julian. Hooray for the environment!)
The actor says that audiences are going to have fun trying to figure out all the mysterious of this Monday night drama. "I can't wait for fans to see how much more there is to the series other than just the whodunnit of Vivian Bowers. To those who have only seen the pilot, there is so much more in the first season, and you're going to be hooked." Brown concludes, "All I can say is it's an absolute roller coaster of a series." If it's anything like Revenge's first season than you can bet I'll be ready to watched every week at 10 pm sharp!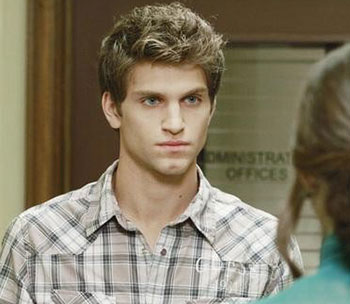 5. Pretty Little Liars: Terrifying Toby!
Pretty Little Liars is one of those shows that has it all: an always intriguing plot, hot boys, and wardrobe-inspiring fashion choices. (I can't tell you how many times I've Googled Spencer's shoes or Aria's necklaces…) Now that the drama of Rosewood is back for the second half of season three, I sweet-talked my way into snagging some details from Executive Producer Oliver Goldstick. Fans were shocked Tuesday night, with a terrifying Toby fully embracing his black hoodie in the opening of the episode. That dark look in his eyes as he chased a skateboarding Lucas down the street was beyond intense, but Goldstick reminded me that we've seen that look once before. "I want you to look back. I wrote the third episode in the series and Toby was coming down that hallway when he returned to Rosewood, and that's the same look on his face."
Goldstick says fans need to think back to when we first met Toby, and why the four friends were so scared of him. "He was somebody who had a lot going on that he wasn't revealing, and there's a lot of mystery to this character," he says. "His relationship with Jenna, we've never met his parents — we don't really know what goes on inside that house, and so we've always kept him as sort of an enigmatic character for a reason. I think now is the time to pay it off." Many fans like me are hoping that Toby is only pretending to be a member of the A Team in order to protect the liars and his lady love Spencer. However, when I suggested this speculation to Goldstick, the EP was quick to shoot it down. "Well that's a fine theory, but I think you're going to find in the next couple episodes that he may have been on this A side the whole time — and may have been infiltrating the pretty little liars. That's what is more shocking and more devastating for our girls and especially Spencer. We explore that more in this season with this infiltration. It wasn't the A Team, it was them." Nooo! Say it ain't so, Toby!
What do you think Santana's "exciting news" will be on Glee? Looking forward to a new season of Justified? How do you think Spencer will feel when she finds the truth about Toby? Tell me everything in the comments below!
Follow Leanne on Twitter @LeanneAguilera
[Photo Credit: FOX, FX, ABC, ABC Family, NBC]
MORE:
Leanne's Spoiler List: Season 2 Secrets from 'Smash,' 'Vampire Diaries' Boss Talks Delena
Leanne's Spoiler List: Seth Gabel Spills 'Arrow' Secrets, 'The Vampire Diaries' Gets Darker
Leanne's Spoiler List: A Fiery 'Pretty Little Liars' Premiere, A Badass Back On 'Revenge'

Megan Fox's 12 Hottest Moments (Moviefone)

Ryan Gosling's 'Airbrushed' Abs: Plus 19 More Reasons We Love the Actor (Moviefone)