Leanne's Spoiler List: 'Gossip Girl' Flashbacks and Fatalities, 'Dexter' Makes His Choice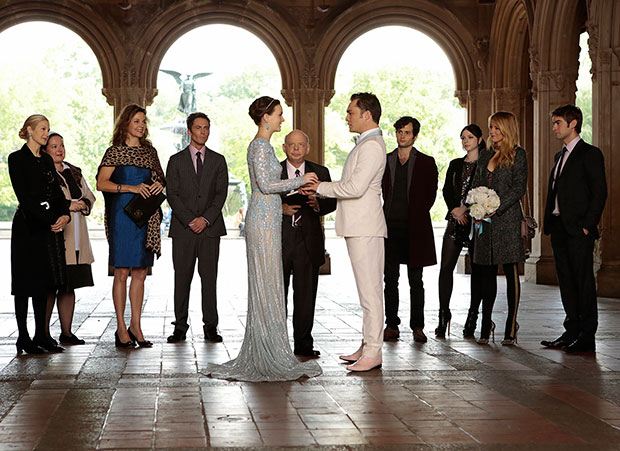 1. Gossip Girl: Finale Flashbacks
Fun-Fact: Did you know that in Monday's episode there was a pretty major spoilerly spoiler about the identity of Gossip Girl? I've known which Upper East Sider is a secret socialite blogger for months now, so I definitely caught the subtle nod. But did you? Not to worry NYC lovers! With only two episodes left in the series, y'all will know soon enough. (But you may want to re-watch the last 30 minutes again just in case you need a bit of a hint.) Lets look ahead, shall we? I hate to say it, but someone major does not make it to the end of the finale. No, this is not escape to the south of France for a vaycay — it's much more serious than that.
Unfortunately I cannot reveal who but I can give you a hint: It's not Blair. Phew! Macaroon and peony-lovers can breath a sigh of relief because our favorite mean-girl will be safe while she marries the man of her dreams. (Side-Note: Is anyone else obsessed with that gorgeous light blue wedding dress?) Lastly, get excited for one of my favorite TV show tricks — flashbacks! In our final episode of The CW hit, fans will be satisfied to see a blast from our character's past as we take a look back at when it all began: 2007. Oh how I miss seeing those always accessorized Constance school uniforms, but luckily we'll be seeing them again very soon! P.S. This may or may not have to do with the identity of Gossip Girl…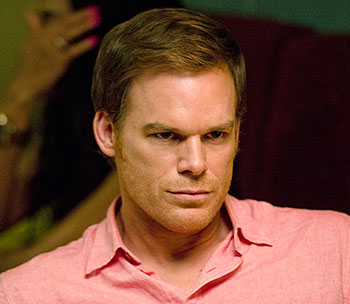 2. Dexter: Who Will He Choose?
Holy freakin' crap. Any Dexter fan knows that this season has been really good — and by good, I mean absolutely amazing. Well, get excited because this Sunday's episode, "Do You See What I See?," is jam-packed with twists, turns, and jaw-dropping moments. Maria LaGuerta gets closer than ever before to finding out the identity of the Bay Harbor Butcher. (Psst! In case you didn't know, it's Dexter!) To say that she is unbelievably dead-set and determined to find this murderer would be an enormous understatement — she may even go as far as plant the evidence she needs to finally catch him. Oh, and how could I forget? Dexter finally chooses between the two women in his life: Deb and Hannah! After a car crash puts Deb in the hospital, many questions are raised: Did Hannah sabotage her boyfriend's overbearing sister? Is Deb trying to frame her brother's psychotic girlfriend? One thing I can reveal is this is definitely not an episode that you want to miss, especially because it may be your last chance to say goodbye to a few characters.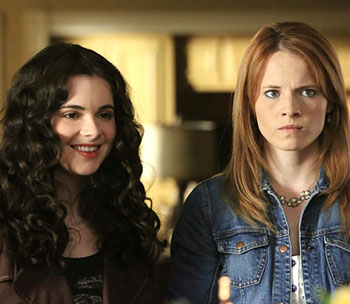 3. Switched at Birth: Independent Ladies!
Yesterday I had the pleasure of visiting the Switched at Birth set and laughing/chatting with the hilariously awesome cast — you know, just a typical Tuesday in my quest for spoilers. The second season of the ABC Family drama premieres Tuesday, Jan. 3, but I can't wait until then! To help spread some early holiday cheer, I sat down with leading ladies Vanessa Marano and Katie Leclerc to tease what's coming up for their characters this season. Leclerc revealed to me that Daphne is trying to get over her former flame when we first see her again. "So Daphne had some issues at the end of Season 1, she got way over-involved in this boy and totally lost herself. " (Damn you, Chef Jeff!) Luckily, this heartbreak isn't going to keep our girl down for long. Leclerc explains, "You have to figure out your independence and you have to figure out what your priorities are and you have to figure out who is going to be with you when you do that."
Our other Switched at Birth sweetheart says Bay is doing her best to stay low-key when we see her in the premiere. Marano reveals, "So Bay, as we left her last season coming out of her rebellion, we see that she's a good kid right now. She's studying and listening to her parents and not conducting illegal activities." The actress says, laughing, "It's weird, I don't know if I like it." But there is one thing that Marano does like about Season 2 Bay: "I like that Bay is starting to get more motivated by her own beliefs in her own worth rather than the approval of male attention." Yeah! Girl power! It doesn't last for long but, go Bay and Daphne!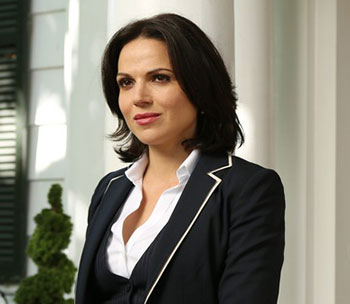 4. Once Upon a Time: The (Not-So) Evil Queen
Once Upon a Time's winter finale was enchantingly exciting, but just in case you need to catch up, read this and come right back. Okay great, now that we're all on the same page, we know that Snow and Emma have been welcomed back to Storybrooke, while Cora and Hook are currently sneaking their way in via a gigantic pirate ship in the harbor. Subtle. With Cora on her way back to "help" her daughter, I made sure to chat with the wickedly wonderful Lana Parilla about Regina's upcoming mommy issues. Parilla says that no matter what evils Cora has done to Regina in the past, some bonds just can't be broken. "She is her mother and at the end of the day, your parents can do no wrong. Even though she has betrayed her multiple times, she still loves her mother," Parilla says. Aww, that's really sweet if you forget the part where Cora killed the love of Regina's life.
Although Regina has never really been an angel herself, fans have been intrigued by the lighter, more compassionate side of the former Fairytale Land Queen. So could there be love in the air for sweeter Regina? "So I don't know if there's going to be love in the future for Regina. We tease a little bit with her and Hook in the ninth episode, but then Hook kind of seems to have his hook in many women… I think she is on the road to redemption and maybe that entails a love for her as well, so we'll see." I don't know about you guys, but I'm going to be mighty pissed if they pair Hook with Regina before Hook and Emma. Captain Swan FTW! Looking into the future episodes, Parillia says that she hopes to see more flashbacks of pre-evil Regina. "I love young Regina because she's a breath of fresh air and I feel really light when I'm playing her and she's more reactive to everything that's going on around her," she says. "She's more on the receiving end and she's learning and I love that whole process when one is learning something, so it was a lot of fun for me." Only one more month until Once Upon a Time magically returns to our TV screens!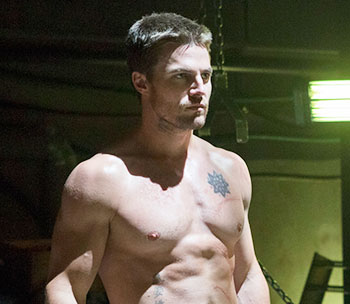 5. Arrow: Romance v. Bromance
This week's episode of Arrow, "Vendetta," shows Oliver getting closer with the masked maven who prefers to dish out vengeance, rather than justice. To help shed some light on tonight's dark CW drama, David Ramsey — aka Arrow's "not-a-sidekick" sidekick — talked to me about tonight's continued problem: Helena Bertinelli. Although Diggle and Helena won't be sharing any scenes together, Ramsey reveals that The Huntress is definitely going to get on the bodyguard's bad side. "Helena's presence will effect the mission. Diggle is going to have a problem with that. Period. End of story."
That's right — it's a classic CW story: Boy with amazing abs fights crime. Boy meets bad girl. Boy's crime fighting partner gets pissed. The End. Ramsey explains that Diggle's main goal has been and will continue to be keeping Ollie focused on the difference between justice and revenge — unfortunately, it looks like Helena's hot bod is going to cloud our hero's judgement. Ramsey reveals, "It's going to cause a problem between him and Oliver. It's going to be one more sticking point for these guys." What do you think is going to win: romance or bromance?
Who do you think is going to bite the dust on Gossip Girl? Excited for Switched at Birth to return? Will Dexter choose Deb or Hannah? Tell me everything in the comments below!
Follow Leanne on Twitter @LeanneAguilera
—Additional reporting by Shuanna Murphy, Alicia Lutes and Sydney Bucksbaum
[Photo Credit: ABC, ABC Family, Showtime, The CW]
MORE:
Leanne's Spoiler List: 'True Blood' Wants Fresh Meat, 'Parenthood' Heads to Court, & More!
Leanne's Spoiler List: 'AHS: Asylum' Mommy Issues, Love and Loss on 'Dexter'
Leanne's Spoiler List: Love is Shaky on 'Grey's Anatomy,' 'Vampire Diaries' Gets Darker
Celeb and TV stories:

Harry Styles Spotted Outside Taylor Swift's Hotel Room The Morning After Their Date Night (PHOTOS)

Fall Bikini Bodies: The Good, The Great, The OMG (GALLERY)