Leanne's Spoiler List: Is There a New Love Triangle on 'The Vampire Diaries'?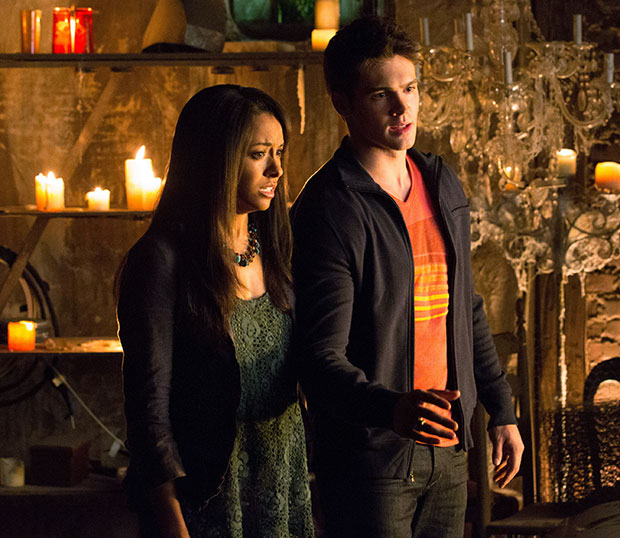 It's October! The leaves are changing, the temperatures are dropping (except in LA… ), and our Fall TV season is finally in full swing. To help celebrate that fact that our DVRs have a purpose again, this week's spoiler list features all of my favorite shows! Wait, no sorry, that's a lie. I watch an obscene amount of television — it's truly frightening — and I'm easily entertained. So if this list really had all my faves, we would be here for at least a few days. 
Okay so to clarify, this week's list highlights six shows that make me all warm and fuzzy inside. The Vampire Diaries' Kat Graham spilled secrets from next week's season premiere, Supernatural fans should be prepared for a new lady passenger in the Impala, and I've got details on the return of our favorite Canadian pop star on How I Met Your Mother! Plus, scooplets (adorably awesome baby spoilers) from Glee, New Girl and The Middle!
1. The Vampire Diaries: Season 4 Repercussions and Romance!
I don't know about you but I am counting down the milliseconds until The Vampire Diaries is back where it belongs: on perpetual repeat on my TV screen. To help us get even more pumped for all the Mystic Falls goodness, I chatted with the unbelievably sweet Kat Graham about what fans can expect from next week's season premiere. When we last saw Bonnie, she was acting like a badass and rebelling against the spirit's wishes to kill Klaus (Joseph Morgan), which in turn would kill a handful of her closest friends (Damn vampire lineage thing!) Graham warns that her witchy ancestors are less than pleased with her decision. "The biggest thing they've done so far is take away her powers," she says. "They're going to do something even worse than that to her for a repercussion. They're going to really really do something bad to her." After learning the truth, I suggest you have a few boxes of tissues close by, TVD fans.
At the request of my Twitter followers (see, I told you I listen!), I made sure to ask about one of the few couple combinations we've yet to see on our screens: Bonnie and Damon (Ian Somerhalder). The actress/singer told me with a smile, "Everyone knows the impact that relationship could have on the show and how heavy and strong that could be. I think it's just better to kind of pace yourself with that kind of storyline." 
Although this potential love triangle (Bonnie, Damon, Elena) won't happen just yet, Graham admits that she loves her Bamon fans and the passion that they bring to the Twitterverse. "The fans just get so insane, which I love, but they would just lose their minds. They would just pass out, so we just want to keep them watching. We don't want to kill them." I'm pretty sure some fans wouldn't mind watching from heaven if it meant their beloved book couple would finally be brought together.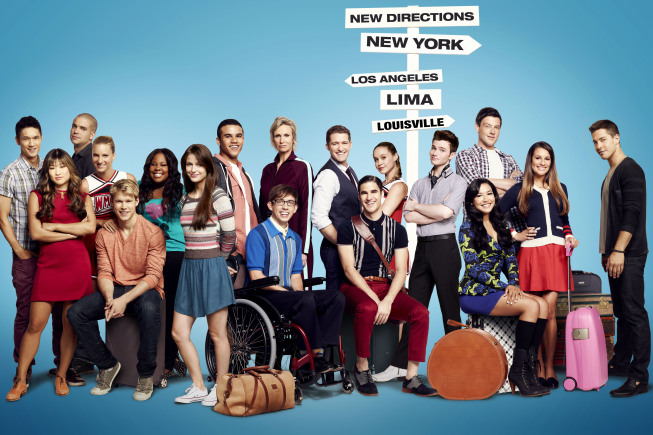 2. Glee: Will a Freshman Flame Rekindle This Year?
Six abs, two seasons, and one tattoo later, Mike Chang and Tina Cohen-Chang are no longer the longest-running couple on Glee. So now that Tina is a single lady, I asked Jenna Ushkowitz what exactly she'd like to see for her character this season. "It would be fun to see Tina with somebody new," she says. "It's been two years of the same guy, so it will be interesting." Of course, at this point I not-so-subtlety segued into something that many fans have been dying to know: Will Tina and Artie get back together?! Ushkowitz told me with a big smile, "Yes! Well, I love working with Kevin so I would definitely like to see that. I don't think that they really got to live out their relationship so it would be fun." Please excuse me while I Twitter bomb Ryan Murphy with my gleequest for this to happen.
It seems that Kevin McHale was drinking from the same Kool-Aid because he's also crossing his fingers for more Artie/Tina romance. (Artina? Tartie? I can't decide which I like better… ) "I do too!" McHale says. "I think that would be really nice to have our senior year come full circle. It's Glee so you can't predict what's going to happen but I'm sure whatever they do is going to be hilarious." 
For now it seems like Artina/Tartie fans are going to have to wait until this whole Artie and Sugar (Vanessa Lengies) thing plays out. McHale reveals, "I always felt like that was kind of unresolved and Rory might have been deported so… " Woah, hey now! Did Artie call immigration on Rory!? The actor says, "I don't think so, but that's a great idea! That's such an incredible idea and I'm stealing it. If you see it happen, you'll know that you came up with it." Welp, no big deal, but it looks like I'm writing plot twists for Glee now. Squee!
3. How I Met Your Mother: It's the Return of Robin Sparkles!
Put on your jelly bracelets, grab your graffiti jean jacket and meet me at the mall because Robin Sparkles is ba-ack! If you don't know who Robin Sparkles is, then I'm sorry, but I 'm not sure that we can ever be friends. With that said, please feast your eyes on this and this. Great! Now that you're fully aware of the most amazing Canadian pop star of all time, you can imagine just how exciting it is to know that we'll be seeing her again this season.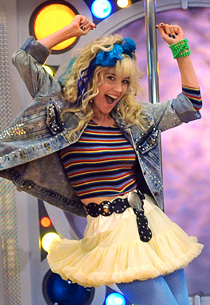 In episode 8, intriguingly titled "Twelve Horny Women," the gang will be swapping stories about their badass pasts. In a flashback, we'll see the "Sandcastles in the Sand" singer completely flip out and engage in some pretty outrageous behavior. What prompted this wave of anger you may ask? A hotel employee politely asked her to turn down the music in her room. Sheesh! Of course, in true HIMYM fashion, Robin's (Cobie Smulders) tale turns out to be just a little bit farfetched. What really happened? You'll have to tune in to find out!
4. The Middle: Sophomore Sue to the rescue!
It's Sue's (Eden Sher) time to shine in tonight's episode of The Middle! Now that she's a sophomore, she's ready to put 200 percent into yet another extracurricular activity. Bunheads fans will see a familiar face roaming the high school halls when Bailey Buntain guest stars as Jenna, an incoming freshman that Sue decides to mentor. "Jenna is that girl who just never has to try," Buntain says. "She makes friends really easily and she's nice and she fits in and it all just comes really easy and natural to her." 
Poor Sue! After a beyond difficult freshman year, it's baffling for her to see someone fit in so effortlessly. Luckily, Sue's mentee doesn't care that the new sophomore has trouble fitting in. Buntain says, "Jenna's just really nice. She doesn't care if Sue is popular or a nerd but watching Jenna and Sue together you see that they're kind of opposites." [Insert your own quip about how opposites attract here.]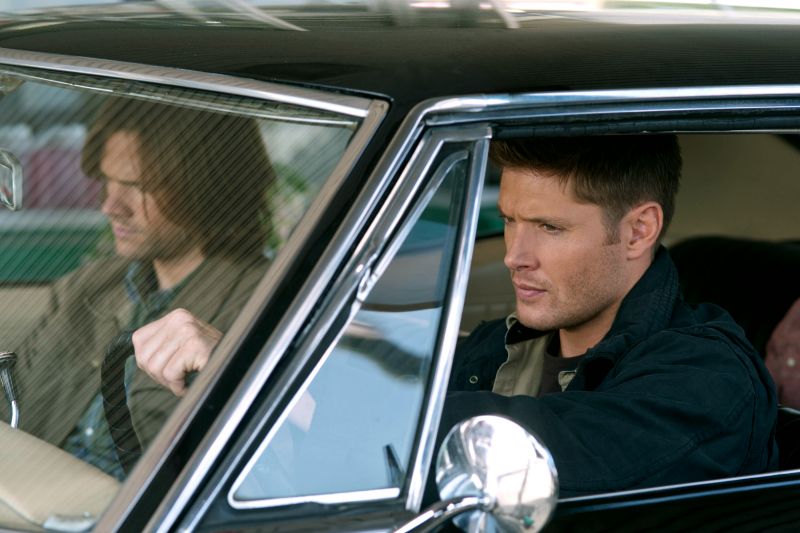 5. Supernatural: Mama Drama for the Boys!
At the end of last year, fans were introduced to Princeton-applicant/Prophet Kevin (Osric Chau), and many will be excited to know that this multi-tasker will be playing a major role as this season progresses. But in episode 2, his presence is going to manifest a different sort of supernatural being for Sam and Dean — a Tiger Mom! Oh yes, you read that correctly.
Since Kevin has been MIA and on the run for over a year, it's only natural that he's be worried about his mother. Dean — who, after a year of non-stop battle in Purgatory is now a hardened (and sexy) warrior — doesn't really care, but Sam approves of Kevin's mission to bring her up to speed. "Kevin, understandably, is worried about his mother," Jared Padalecki tells us on the set of Supernatural. "Dean is very much like, 'Hey, forget about it, we have some work to do. I'm sure she's fine.' [But] Kevin is resolute. She's been compromised, and we have to save her… it puts Dean and Sam in funny situations. There's a Tiger Mommy quote unquote forced upon us, so we find ourselves in a situation where we're like, 'We don't want to buckle our seatbelt! Just chill out and let us do what we do.'" And they do what they do oh-so well, don't cha think?
But according to Executive Producer Jeremy Carver, this motherly influence was a long time coming. "Mrs. Tran does something sort of interesting and fun," he says. "[Her presence] gives the boys, in an odd way, a mother figure that they haven't had in a long time. It's a fun dynamic, and it can be a rather moving dynamic. It also gives you a fourth wheel in the car that you have to deal with." You can check out more Supernatural scoop about tonight's season premiere right here!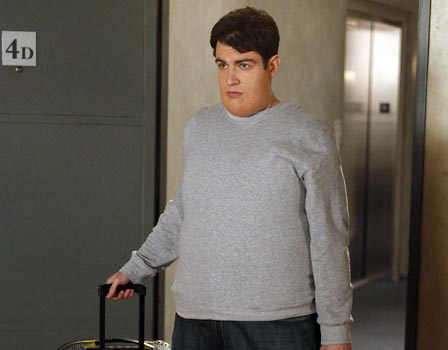 6. New Girl: Prepare for a Thunderdome Thanksgiving!
Question: What is better than Fat Schmidt? Answer: Young fat Scmidt! In this year's Thanksgivng episode, we'll be served another delicious heaping of our favorite chubby companion — in flashback style of course! It seems that before our Schmidt (Max Greenfield) was a thumb ring-wearing, chut-a-ney loving, frittata-cooking stud, he was a boy who was bullied. Unfortunately, that bully was none other than his older cousin Big Schmidt. Now, twentysomething years later, it's time for our Schmidt and ex-marine cousin Schmidt to face off in the ultimate battle royale: a manliness competition! I can't reveal what ridiculousness will ensue, but one thing is for sure: It's going to be oh-so douchey, and I can't wait!
What do you think will happen to Bonnie in the TVD premiere? Excited at the thought of Artina/Tartie getting back together? Who do you think will win in New Girl's manliness competition? And is anyone else planning to dress up as Robin Sparkles for Halloween?! Spill everything in the comments below!
Follow Leanne on Twitter @LeanneAguilera
—Additional reporting by Shaunna Murphy.
[Photo Credit: The CW, FOX, CBS]
MORE:
Leanne's Spoiler List: Will There Be Another Death on 'Revenge'?
Leanne's Spoiler List: What's Next for Leonard and Penny on 'Big Bang Theory'?
Leanne's Spoiler List: Will Finchel Get Back Together? Lea Michele Answers!